CitiFinancial to Close 376 Branches, Cut 720 Jobs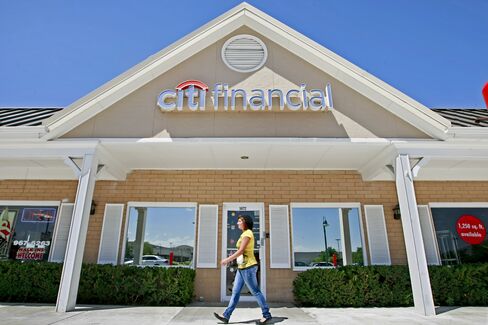 June 1 (Bloomberg) -- Citigroup Inc. will close 376 branches and cut as many as 720 jobs at its CitiFinancial consumer-lending businesses in the U.S. and Canada, under a plan to make the units more attractive to potential buyers.
The job cuts, disclosed by CitiFinancial Chief Executive Officer Mary McDowell in an interview, represent about 6.4 percent of the unit's total staff in the two countries. CitiFinancial will also convert 182 U.S. branches into "servicing centers" catering to customers who might need loan modifications or other debt restructurings, she said.
Citigroup CEO Vikram Pandit has been trying to sell CitiFinancial since January 2009, one of at least 21 businesses the New York-based bank tagged for sale or liquidation after its $45 billion bailout in 2008. The bank, which has sold U.S. and Japanese brokerages, had signaled consumer-lending units saddled with loan losses might be tougher to sell.
The branch cuts "should provide a lot more clarity in terms of potential buyers looking at the full-service network branches, and being able to grow that segment," McDowell said. "We think it does increase the salability and eventually the fundability, because whoever buys CitiFinancial will need to fund it."
CitiFinancial North America, based in Baltimore, has offered personal loans for car repairs, furniture purchases, vacations and medical bills as well as debt-consolidation loans that can be used to pay off credit cards and other bills, according to its website. The unit also refinances mortgages and makes home-equity loans.
New Name
Citigroup plans to rename CitiFinancial by the end of the year, the bank said in a statement today.
"The name will embrace CitiFinancial's commitment to its customers and reflect the strength of its franchise," according to the statement.
In the U.S., CitiFinancial will cut 500 to 600 jobs as it closes 330 branches, McDowell said. Currently, there are about 9,600 employees in the U.S., she said. Following the branch conversions, the U.S. network would have 1,321 full-service branches, she said. CitiFinancial will keep at least one full-service branch or servicing center in every state, she said. Connecticut, Rhode Island and Nevada will have only servicing centers, company spokeswoman Shannon Bell said.
More Hours
The servicing centers will be open more hours, with about eight employees, compared with about four for a typical full-service branch, McDowell said.
In Canada, CitiFinancial will close 46 branches and eliminate about 120 positions, Bell said. The unit currently has about 1,720 in the country, she said.
CitiFinancial, which also has branches in Puerto Rico, claims a 98-year history, tracing its roots to the founding in 1912 of Commercial Credit by Alexander Duncan. Sanford I. Weill took control of Commercial Credit in 1986, one of a series of corporate mergers and takeovers he used to build the modern Citigroup over 17 years. He retired as chairman in 2006, and his successor, Charles O. "Chuck" Prince, was ousted in 2007. Pandit took over late that year.
Citigroup's consumer-lending branch network in North America reached a peak of 2,526 in the second quarter of 2008, following an expansion begun under Prince. That number has since dropped by 276, as the bank sought to cut costs by consolidating CitiFinancial branches within metropolitan areas.
Texas Banker
McDowell is a Texas native and 19-year Citigroup veteran who was trained as an accountant and previously spent 11 years at Ernst & Young LLP. She became CitiFinancial's CEO in 2007, according to a biography on the bank's website.
CitiFinancial North America, which also has branches in North America, had $4.58 billion of revenue in 2008, the last year for which full results were disclosed, according to a November 2009 presentation on Citigroup's website. Costs for bad loans almost doubled that year to $3.37 billion.
Unlike Citigroup's banking operations, which gather deposits from customers, CitiFinancial gets its funding from wholesale debt markets. Pandit has said he wants to focus on "core" banking operations, and many of the businesses tagged for disposal rely on bond sales or other institutional markets where rates have surged since the financial crisis struck.
Overdue Loans
Company executives say CitiFinancial's method of collections, where customers pay in-branch and build ongoing relationships with staffers, has led to better loan performance than in other businesses, such as mortgages, where billing is done mostly by mail.
Delinquencies on personal loans in Citigroup's North American consumer-lending businesses, which include CitiFinancial, averaged 3.3 percent in the first quarter of this year, according to a quarter-end financial statement. That compares with 8.1 percent for mortgages.
At an investor conference last September, Pandit said CitiFinancial will be a "very profitable, valuable business" when the economy improves.
"It's going through a cycle," Pandit said. "Over time as liquidity and funding changes that's when we can approach" potential suitors.
To contact the reporter on this story: Bradley Keoun in New York at bkeoun@bloomberg.net.
To contact the editor responsible for this story: Alec McCabe at amccabe@bloomberg.net.