China's Manufacturing Expansion Slows as Growth Cools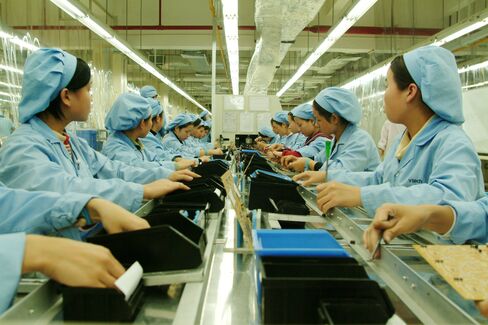 China's manufacturing expanded at a slower pace than estimated in May, prompting stock declines across Asia on concern growth in the world's third-largest economy may slow.
The Purchasing Managers' Index fell to 53.9 from 55.7 in April, the Federation of Logistics and Purchasing said in an e-mailed statement today, less than the median 54.5 estimate in a Bloomberg News survey of 18 economists. A separate index released by HSBC Holdings Plc and Markit Economics fell to 52.7, the lowest level in a year.
The figures came as reports showed a drop in property sales in Beijing, Shanghai and Shenzhen, offering signs that the government crackdown on property speculation is having an impact. The MSCI Asia Pacific Index, which in May had its biggest monthly drop since 2008 on concern the region's growth will be hurt by Europe's crisis, snapped a four-day winning streak.
"The fall in the headline PMI shown in the May surveys might be an early sign of a slowdown" in China, said Brian Jackson, a Hong Kong-based strategist at Royal Bank of Canada. It "may be exacerbated by euro-area weakness and recent measures from Beijing to rein in the property market."
China's Shanghai Composite Index fell for a third day, losing 1.93 percent to 2542.095 at 1:47 p.m. local time. Slower growth may compel China to delay raising benchmark interest rates or letting the yuan appreciate against the dollar even after the economy grew 11.9 percent last quarter.
Chances Fading
The "chances of further policy tightening are fading as a result of events in Europe and a still unfolding correction in the property market," Ben Simpfendorfer, a Hong Kong-based economist at Royal Bank of Scotland, said before today's data. He forecasts rates to stay unchanged this year and the yuan's dollar peg to remain until at least the end of the third quarter.
Premier Wen Jiabao said yesterday in Tokyo that the world needs to guard against the possibility of a second economic slump. China will continue its proactive fiscal policy to consolidate its recovery, Finance Minister Xie Xuren said May 28.
Comparable indicators in manufacturing around the world in May are forecast to indicate global output growth has peaked. Australia's manufacturing growth slowed in May and economists predict reports due today will show U.S. manufacturing cooled while Europe's grew at the same pace as the previous month.
"The overheating risk is likely to ease as tightening measures filter through," Qu Hongbin, chief China economist at HSBC, said in today's release. "We see robust economic growth without double-dip risks not least because of massive existing infrastructure investment and resilient private consumption."
Indicate Expansion
HSBC's survey, covering more than 400 manufacturing companies, is weighted more toward smaller, privately owned business than the government's PMI, according to the bank. Readings above 50 for both surveys indicate an expansion.
The central bank has kept the key one-year lending rate at 5.31 percent and the deposit rate at 2.25 percent since December 2008 after cuts to counter the financial crisis. The yuan is trading at about 6.83 per dollar under a policy in place since July 2008 to aid exporters.
The Shanghai Composite Index fell 9.7 percent in May, the biggest monthly decline since August, on concern the European debt crisis is worsening and the government will step up property measures. The benchmark has declined more than 20 percent this year. In contrast with investors' pessimism, Capital Economics Ltd. said this week that the Chinese economy is "gliding to a soft landing."
Slower Growth
"The economy may continue to maintain relatively fast growth, but the growth rate may slow," Zhang Liqun, a researcher at the State Council's Development and Research Center, said in the statement from the logistics federation. "The May PMI may be an indication that the economic rebound is stabilizing."
An output index fell to 58.2 from 59.1 in April, today's report showed. The new-order index slid to 54.8 from 59.3 and an export-order index dropped to 53.8 from 54.5. The input-price index decreased to 58.9 from 72.6.
The federation also said its average factory employment index for the past three months reached 52.7, the highest since the gauge began in 2005.
While year-on-year economic indicators for May are likely to show slower growth, "all this is telling us is that it is now a year since China's stimulus started to be felt," said Mark Williams, a London-based economist for the firm. Economic momentum "remains strong."
Seasonal Adjustment
Williams also said that the official PMI normally falls in May, "a sign that the seasonal adjustment applied is not particularly effective." Nomura Holdings Inc. and Bank of America-Merrill Lynch expressed similar views ahead of today's data.
The manufacturing index, released by the logistics federation and the Beijing-based National Bureau of Statistics, covers more than 730 companies in 20 industries, including energy, metallurgy, textiles, automobiles and electronics.
Chinese policy makers are trimming stimulus this year after the $1.4 trillion lending binge that revived growth in 2009. Officials are targeting a 22 reduction in new loans and have sold bills and raised banks' reserve requirements to suck money out of the financial system.
Restraining inflation expectations and keeping housing affordable are two of the government's key goals after urban property prices jumped a record 12.8 percent in April from a year earlier. Wuhan Iron & Steel Group, the nation's third-biggest steelmaker, said May 26 that demand for steel is declining, partly because of curbs on property loans.