Cartier Sapphire Bracelet Sells for $6.9 Million in Hong Kong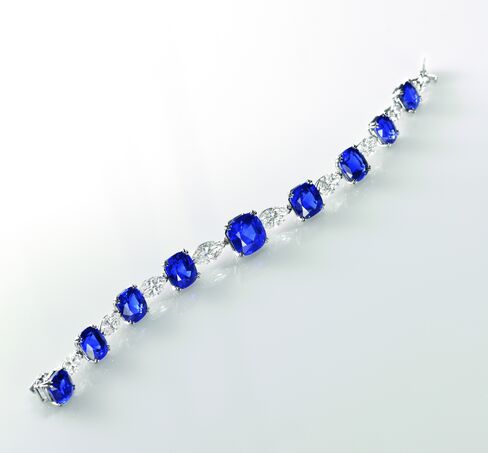 A Cartier bracelet mounted with nine sapphires was auctioned for HK$54 million ($6.9 million) in Hong Kong yesterday, or eight times more than in 1988, as bidders pursued colored stones and ignored some bargain white diamonds.
The 1960 bracelet, with matching stones totaling 50 carats from Kashmir, was won by an unidentified phone buyer who bid through a Mandarin-speaking staff of host Christie's International. The item's per-carat price of $140,000 is just $5,000 less than the record paid in December at Christie's, Hong Kong, for a 16.65-carat sapphire. A carat is a fifth of a gram.
"The bracelet is a better buy, because the sapphires on it have more saturated color," said Donald May, who runs Hong Kong-based gems dealership Brightfield Ltd. "The gems market has calmed down from its peak in December."
Fuelled by Chinese buying, Hong Kong has surpassed Geneva and New York to become Christie's biggest gems market. Jewelry by Cartier, more than other brands, consistently beat estimates. Yesterday's auction tallied HK$470 million, the most for a single gems sale by Christie's, the company said.
"The prices were strong and serious, not inflated," said Francois Curiel, Christie's Asia president and jewelry chief, referring particularly to the Cartier item. The bracelet was last publicly auctioned in New York for $902,000, he said.
"One shouldn't look at jewelry as an investment," Curiel said. "One first has to love and appreciate the piece."
'Flawless Bargain'
Colored stones fetched better prices at this Asia auction than previous ones, while some white diamonds sold for bargains, said May. A 6.14-carat white diamond of the best-possible internally flawless clarity and the fifth-ranked color of H sold for HK$1.16 million, even though it has a market value of about HK$1.4 million, according to May.
"Some people won some really good bargains," May said.
Other highlights yesterday included a heart-shaped fancy-vivid blue diamond weighing 5.01 carats, which fetched HK$36.5 million; a pair of diamond earrings that sold for HK$34 million; and a necklace with 51 vitreous jadeite beads that fetched HK$56.7 million, against a presale top estimate of HK$80 million.
The six-day auction continues today with a sale of watches.