BP Gulf Spill Prompts Criminal, Civil Investigations by U.S.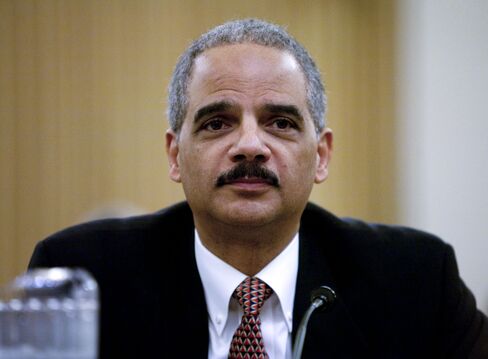 The U.S. Justice Department opened criminal and civil investigations into the BP Plc oil spill in the Gulf of Mexico, the worst in U.S. history.
"We will prosecute to the fullest extent of the law anyone who has violated the law," Attorney General Eric Holder said yesterday. "This disaster is nothing less than a tragedy."
Holder announced the probe at a news conference in New Orleans after President Barack Obama earlier in the day called the spill "the greatest environmental disaster of its kind in our history." The president said, "My solemn pledge is that we will bring those responsible to justice."
The spill began after an April 20 explosion aboard the Deepwater Horizon rig, which London-based BP leased from Transocean Ltd. in Switzerland. Houston-based Halliburton Co. provided oilfield services on the well.
Holder, who said the probe "began some weeks ago," declined to specify which companies are under investigation. He said he surveyed a portion of the damage yesterday, was briefed by Coast Guard officers and met with prosecutors for the areas affected by the spill. BP hasn't been able to stop the flow of oil gushing from the well.
Repaying Taxpayers
The Justice Department will ensure that taxpayer money will be repaid and that damage to the environment and wildlife will be reimbursed, Holder said. The government already has told "all relevant parties" to preserve documents that may "shed light on the facts surrounding this disaster," Holder said.
BP will cooperate with the Justice Department, said Jon Pack, a company spokesman, in an interview. Transocean said in a statement that it will cooperate with authorities, adding, "We will not speculate on actions the Justice Department may or may not take." Teresa Wong, a Halliburton spokeswoman, declined to comment.
The government is reviewing whether there were violations of the Clean Water Act, which carries civil and criminal penalties, and the Oil Pollution Act of 1990, which can be used to hold companies liable for cleanup costs, Holder said. Also under review is whether there were violations of the Migratory Bird Treaty Act and Endangered Species Act, which provide penalties for injuries to wildlife, and other criminal laws.
A criminal probe likely also will examine whether there was a violation of the Refuse Act, which deals with discharges into waterways, said David M. Uhlmann, a professor at the University of Michigan Law School in Ann Arbor. He is former chief of the Justice Department's environmental crimes section.
Exxon Mobil Plea
In the 1989 Exxon Valdez oil spill in Alaska, Exxon Mobil Corp., based in Irving, Texas, and a shipping unit of the company pleaded guilty to criminal violations of the Clean Water Act, Migratory Bird Treaty Act and Refuse Act.
"They're very likely to bring criminal charges against BP and other companies involved," Uhlmann said in an interview.
To prove a misdemeanor Clean Water Act violation, he said the government would need to show that BP or other companies were negligent by acting without the care that would be expected of a reasonable person under the circumstances.
Internal BP memos and interviews with employees may be used by the Justice Department to help make a criminal case, said Roger J. Marzulla of Marzulla Law LLC in Washington, in an interview.
"The environmental crimes section would look at memos from BP employees raising safety concerns," said Marzulla, a former assistant attorney general overseeing the Justice Department's Environment and Natural Resources Division who isn't involved in the BP matter.
'Safety Concerns'
The New York Times reported on May 30 that internal BP documents showed "serious problems and safety concerns" with the rig prior to the explosion that triggered the spill.
Marzulla said the government also may investigate whether BP or other companies lied to the government by submitting false reports to regulatory agencies.
Lawmakers have been urging a criminal investigation. A group of eight Democratic senators, led by Barbara Boxer of California, asked Holder to investigate possible criminal and civil wrongdoing.
They wrote in a letter last month to Holder that they had questions about whether BP made "false and misleading statements to the federal government regarding its ability to respond to oil spills in the Gulf of Mexico."
States also are considering pursuing cases. Mississippi Attorney General Jim Hood said in an interview that he is preparing to file a complaint. He wouldn't say whether the complaint is civil or criminal, or who may be named as defendants.
Relief Wells
Efforts by BP to stop the leak haven't been successful. Relief wells, the first of which is scheduled for completion in August, may be the best hope to stanch the leak, Carol Browner, energy adviser to Obama, said in a Bloomberg Television interview.
BP has spent $990 million -- or 15 percent of its first quarter net income -- on the spill response, according to a statement yesterday.
BP Chief Executive Officer Tony Hayward's effort to stop the leak and clean up the spill is becoming more urgent as the Atlantic Basin hurricane season started yesterday.
The April 20 blast killed 11 workers and triggered leaks that, according to an estimate by a government panel, spewed 12,000 barrels to 19,000 barrels of oil a day into the ocean.