Billion-Dollar Lawyer Desmarais Quits Firm to Troll for Patents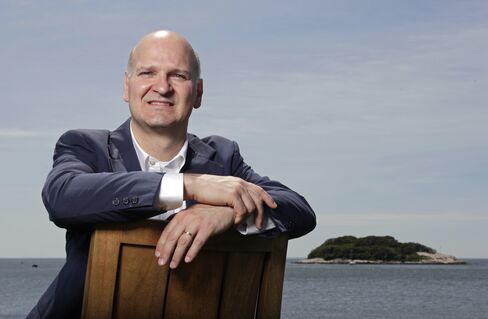 John Desmarais, a former top earner at the 1,500-lawyer firm Kirkland & Ellis, spent more than 15 years representing some of the world's largest patent owners. Now he's one of them, and he's gearing up to slay the kinds of companies he once defended.
Desmarais, 46, in December bought a portfolio of 4,500 patents from Micron Technology Inc., the biggest U.S. maker of computer-memory chips. Today he opens the doors of a new law firm, New York-based Desmarais LLP, which will look for potential infringers of the patents owned by Round Rock Research LLC, his new patent-holding company.
The move is a leap from one side of the patent world to the other: from big-firm lawyer to small-firm chief, and from a champion of companies that makes real products to leading one that simply owns patents.
"It's a huge change," said Desmarais, who withdrew from Kirkland's partnership and the firm's management committee in December and left in May. "I never just get my toes wet doing something different. I jumped in with both feet."
Round Rock is the second-largest owner of patents among so-called nonpracticing entities, or companies that don't sell the technology or services for which they hold patents, according to PatentFreedom, a group that keeps a database of patent holdings.
Those companies are sometimes referred to as "trolls," a phrase coined by a former Intel Corp. executive. The largest nonpracticing entity is Intellectual Ventures Management LLC, started by a former Microsoft Corp. executive, with from 10,000 to 15,000 groups of patents, according to PatentFreedom.
Attention-Getting
"In addition to crossing the barrier from the defense side to the plaintiff side, he's firmly committed himself on the side of nonpracticing entity, which is attracting attention," William F. Lee, an intellectual-property litigator and co- managing partner of Wilmer Cutler Pickering Hale & Dorr LLP, said of Desmarais. "The question of whether allowing nonpracticing entities to litigate is promoting innovation or taxing innovation is a big question."
Desmarais said he bought more than 800 patents on chipmaking technology, as well as patents on photo imaging, telecommunications and search engine technology, plus the largest single cluster of radio frequency identification patents.
Round Rock, based in Mount Kisco, New York, is named for a formation near the beach in Madison, Connecticut, where Desmarais, who is married with two teenage children, has a vacation home. His 14-year-old daughter designed the company's logo and his business card.
Micron Sale
Micron, a Desmarais client, is selling some assets to recoup investments in research and development, it said in an October regulatory filing.
The sale price was confidential, Desmarais said. Micron, based in Boise, Idaho, has a license to use the patents royalty-free, he said.
Round Rock hasn't yet inked any deals or started any litigation, Desmarais said.
"There is a good story about nonpracticing entities, also known as trolls, and a bad story about nonpracticing entities," said John F. Duffy, a law professor at George Washington University.
"The good story about nonpracticing entities is that they are developing liquidity in the market for these patent rights," he said.
On the negative side, they are given patent rights for goods or services they don't make and can sue other companies for infringement, he said.
Gaming the System?
"People may say nonpracticing entities are gaming the system, that there is something wrong with the rules of the patent system that allows them to win cases without adding something to society," Duffy said.
Lawsuits brought by the patent companies peaked at about 500 in 2008, according to PatentFreedom.
Litigation by nonpracticing entities has been on the rise, says PatentFreedom, with 75 percent of their 3,100 legal actions coming since 2003.
"We're not taking the approach of having ridiculous demands and assuming there will be litigation," said Desmarais. "I think our approach will be a lot more reasonable."
He won't rule out litigation in the future, he said.
At Chicago-based Kirkland & Ellis, Desmarais built a reputation trying patent cases for large companies with hundreds of millions, and sometimes billions, of dollars at stake.
$1.5 Billion Verdict
He was the lead trial lawyer for Forest Laboratories Inc. in an effort to block Teva Pharmaceutical Industries Ltd. from selling a generic version of the antidepressant Lexapro. He represented Boston Scientific Corp. in litigation over patents for drug-coated stents. And he won a $1.52 billion verdict for Alcatel-Lucent against Microsoft in 2007, then the largest patent verdict. It was reversed, and Microsoft and Alcatel-Lucent later settled most of their patent dispute.
His skill lies in presenting scientific and technological concepts in a plain-spoken manner to a judge or jury, say clients and lawyers who have worked with him.
"He's a fabulous trial attorney," said Mallun Yen, vice president for worldwide intellectual property at Cisco Systems Inc., the biggest maker of networking equipment. "He is at complete ease in the courtroom and he has a likeability about him that spans across jurisdictions and judges and juries."
Desmarais was raised in Hartford, Connecticut, and lived with his mother, who became a hairdresser after she and his father, a construction worker, divorced. He moved to Valhalla, New York, where he played high school football and met the cheerleader who became his wife.
Chemical Engineering
Desmarais earned an undergraduate degree in chemical engineering at Manhattan College in Riverdale, New York, and graduated from New York University School of Law in 1988.
He spent three years trying drug and bank robbery cases in the federal prosecutors' office in Manhattan. That was followed by a job at a law firm specializing in intellectual property. Then Desmarais joined the New York office of Kirkland & Ellis in 1997.
The departure from Kirkland was amicable, and he is working with the firm as he wraps up matters there, Desmarais said. Kate Kortenkamp, a spokeswoman for the law firm, declined to comment on his departure.
Desmarais LLP will represent Round Rock in asserting its patents. It may represent other patent holders that want to sue big companies.
Large law firms typically won't represent patent holders that sue big companies because doing so can create conflicts of interests with corporate clients, Desmarais said.
Big Firms
"What we're not going to do is reinvent the big law firm experience," Desmarais said.
The firm will work on an alternative-fee basis instead of charging by the hour as most law firms do, he said. It may set a fixed fee for a legal job or collect contingency fees, sharing part of the proceeds of verdicts and settlements.
"It fills a market niche that doesn't exist right now in legal services" Desmarais said.
The firm has hired three attorneys. It will probably reach about 12 lawyers by the end of the year and not exceed 25, Desmarais said.
Filing a patent suit can require large upfront investment, said Mike McKool, chairman of Dallas-based McKool Smith. His firm has spent $200,000 to $300,000 on technological and legal research, then decided not to take cases, he said.
When it sues and wins, a case can generate "enormous," fees, McKool said.
"John has a keen business sense," McKool said. "I think this is a terrific thing for John."