China Stocks Rise for First Time in Four Days; Developers Gain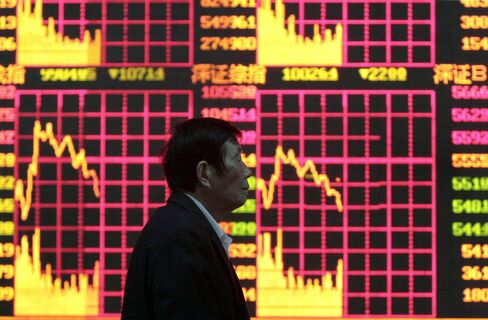 China's stocks rose for the first time in four days as developers and brokerages gained on speculation recent losses were excessive, overshadowing declines among lenders.
Poly Real Estate Group Co. climbed 3 percent and Citic Securities Co. advanced 2.1 percent. SAIC Motor Corp. rose 1.7 percent after the government said it will subsidize purchases of alternative-energy cars. Bank of China Ltd. tumbled the most since August as the lender began a convertible bond sale, while Industrial Bank Co. slumped 5.8 percent after a rights offer.
The Shanghai Composite Index added 3.14, or 0.1 percent, to close at 2,571.42, erasing a 1.8 percent loss. The gauge has dropped 22 percent this year on concern growth at the world's third-largest economy will slow as the government took steps to curb property speculation and Europe's debt crisis threatened export demand. The CSI 300 Index rose 0.5 percent to 2,757.53.
"The market may have formed a bottom provided the government doesn't add more tightening measures," said Zheng Tuo, president of Shanghai Good Hope Equity Investment Management Co.
Poly Real Estate, China's second-largest developer by market value, rose 3 percent to 11.04 yuan, trimming this year's decline to 36 percent. China Vanke Co., the biggest, added 1.5 percent to 7.27 yuan.
A measure of property stocks has plunged 28 percent in 2010, the most among the Shanghai Composite's five industry groups, after the government ordered banks to sets aside more reserves three times, reined in loans for purchases of multiple homes, increased mortgage rates and raised down payment requirements to curb price gains. The gauge rebounded 1.7 percent today.
Urban Migration
Concerns about the nation's property market will have "blown over" over by the end of 2010, according to Donald Straszheim, director of China research at International Strategy & Investment Group.
"The cyclical rise has been eliminated, but the longer-term issue is the ongoing migration rural to urban and the desire for bigger and better housing by the ever more wealthy Chinese," Straszheim wrote.
Citic Securities, China's biggest listed brokerage, gained 2.1 percent to 19.90 yuan, rebounding from its lowest close since January 2009. Haitong Securities Co. climbed 2.6 percent to 10.64 yuan.
Investors opened 7.3 percent more accounts to trade stocks in China during the week ended May 28 than a week earlier, according to the China Securities Depository and Clearing Corp.
Hybrid Boost
SAIC Motor, the nation's largest carmaker, rose 1.7 percent to 16.51 yuan. Chongqing Changan Automobile Co., the partner of Ford Motor Co. and Mazda Motor Corp., gained 5.2 percent to 10.35 yuan. Anhui Jianghuai Automobile Co., a unit of the biggest light-truck exporter, added 3.4 percent to 7.03 yuan.
The government will provide as much as 50,000 yuan for purchases of plug-in hybrid models, which run partly on gasoline, and as much as 60,000 yuan for cars powered only by batteries, the Ministry of Finance said yesterday.
China is facing a more complex trade outlook due to the continuing global financial crisis, Zhong Shan, vice minister of commerce, told a conference in Beijing yesterday, according to a statement posted on the ministry's website today. The country faces weak export demand and rising costs, he said.
A gauge of manufacturing in the euro region declined to 55.8 in May from 57.6 the previous month, Markit Economics said yesterday. That's below an initial estimate of 55.9 released on May 21. Europe is China's biggest export destination, making up 20 percent of total overseas sales.
Domestic Economy
China won't be significantly hurt by the sovereign-debt problems in southern Europe because the nation is "too big" and its domestic economy is "too important," said Antoine van Agtmael, who coined the term "emerging markets."
"I don't think that the problems in southern Europe are going to do a huge economy like China in," van Agtmael, chairman and chief investment officer of Emerging Markets Management LLC, said in an interview with Bloomberg Television.
Bank of China, the nation's third largest, tumbled 5.1 percent to 3.89 yuan. Investors can buy from today the six-year bonds, which are convertible into A shares six months after issue at 3.88 yuan apiece, the company said May 30.
Industrial Bank Co., part-owned by a unit of HSBC Holdings Plc, plunged 5.8 percent to 24.86 yuan on resuming trading after a suspension of six days. The bank plans to raise as much as 18 billion yuan in the rights offer, which began on May 24.
Investors should remain cautious on China's stocks as they face "further downside" risk, according to Nomura Holdings Inc., which closed out a recommended switch into Hong Kong- listed Chinese banks from Asian resource stocks.
"Both the China H- and A-shares markets, while inexpensive, lack obvious catalysts," Nomura analysts led by Sean Darby wrote in a report released today, referring to Chinese companies traded in Hong Kong and yuan-denominated listings.
The following companies were among the most active in China's markets. Stock symbols are in brackets after companies' names.
Fujian Newland Computer Co. (000997 CH) rose 7.1 percent to 13.81 yuan, the most since March 17. The stock was rated "outperform" in initial coverage by Citic Securities Co. analysts led by Tang Chuan. Citic Securities set a share-price estimate of 14.80 yuan.
Zhongshan Public Utilities Group Co. (000685 CH) plunged 6.7 percent to 18.15 yuan, the lowest since April 2009. The water company said in a statement its chairman and general manager "couldn't perform their duties," without giving a reason.
The Shanghai Securities News reported earlier the two executives are under investigation by the government on suspicion of insider trading linked to the company's restructuring in 2007. The report didn't say where it obtained the information. The company couldn't be reached after multiple phone calls and didn't return a recorded message seeking comment.
Before it's here, it's on the Bloomberg Terminal.
LEARN MORE