AIG Unit That's Too Big to Sell Means Asia IPO Likely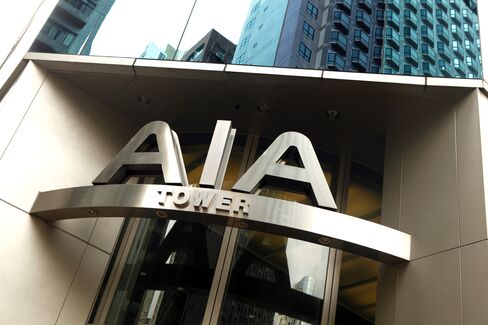 American International Group Inc.'s main Asia unit, with 320,000 agents and 23 million customers, may be too large for a rival to purchase, leaving a public offering the most likely route for divesting the business.
Prudential Plc's agreement to buy AIA Group Ltd. faltered after investors of the London-based firm balked at the $35.5 billion price and AIG rejected a reduced offer. AIG, which was rescued by the U.S. in 2008, could return to its earlier plan of holding a stock offering, the Treasury Department said May 26.
"Without a doubt, the size of AIA magnifies the execution risk of closing a deal," said Angelo Graci, managing director at Chapdelaine Credit Partners, a New York-based bond broker. "At this point it's difficult to see another single buyer come in with a competitive price."
Prudential announced it is in talks with AIG to terminate the deal, and would pay a breakup fee of 152.6 million pounds ($224 million). AIG Chief Executive Officer Robert Benmosche, 66, may now rely on a public offering in Asia to divest AIA, which operates in markets spanning China to Australia and has more than $60 billion in assets.
"Given how well known it is and the fact that the government has pretty much taken out all of the toxic assets, I'd say it actually stands a chance of doing pretty well," said Jack Ablin, who helps manage $55 billion as chief investment officer at Chicago-based Harris Private Bank.
Asian insurers have held the world's two biggest IPOs this year, with Japan's Dai-ichi Life Insurance Co. raising about $11 billion and South Korea's Samsung Life Insurance Co. selling about $4.4 billion of shares.
Price Too High
Prudential CEO Tidjane Thiam, 47, sought to cut the price for AIA to $30.4 billion to appease shareholders who refused to fund a deal at the original terms. New York-based AIG rejected the deal in part because of concern that even at the reduced bid, Prudential shareholders might reject the takeover at a June 7 meeting, said two people with knowledge of the matter. Robin Tozer, a Prudential spokesman, declined to comment.
At least 20 companies worldwide postponed or withdrew initial offerings in May as the European debt crisis sent the MSCI World Index of developed-nation stocks down 9.9 percent.
"If they tried to bring it today, it'd be a problem," said Michael Holland, who oversees more than $4 billion as chairman of Holland & Co. in New York. "The markets will have to heal a little, but the markets also have a very short memory, particularly the IPO market."
AIG, which is selling assets to repay its $182.3 billion rescue, has "several options" for AIA, Benmosche said in a letter to staff yesterday, without specifying what they are.
Repaying Government
Taking AIA public may delay repayment of the bailout because an offering may be several months away and would probably be done in stages, said David Havens, managing director at Nomura Securities International Inc. in New York. An IPO would garner "significantly less" than the original Prudential deal, Catherine Seifert, a Standard & Poor's equity analyst, wrote today in a research note.
The Fed agreed last year, as part of AIG's fourth bailout, to allow the company to pay down a $60 billion credit line with an equity interest in AIA and another non-U.S. life division, American Life Insurance Co., known as Alico. The plan reduced pressure on AIG to sell units in early 2009 when potential bidders were hobbled by losses and an inability to raise funds.
AIG climbed 60 cents to $34.85 in New York Stock Exchange composite trading at 9:52 a.m. Prudential slipped 2.5 percent in London. AIG said in a statement that it will "not consider revisions" to the March terms.
MetLife
MetLife Inc., which is larger than Prudential by market value, agreed about three months ago to pay $15.5 billion for Alico. AIA operates in faster-growing economies including China while Alico gets most of its revenue in Japan.
Thiam had said Prudential would double profit in Asia within three years after an AIA takeover, and the unit's value may increase 80 percent from the acquisition price in that time. AIA had about $1.44 billion in operating profit in 2009, down from $1.59 billion in 2008, Prudential said in a March filing.
"The market is still somewhat excited about the growth in Asia, particularly for the demand for insurance, and deregulation that's going on in the insurance industry in Asian countries," said Reena Aggarwal, a finance professor at Georgetown University in Washington.
AIG had planned to use $25 billion in cash from the AIA sale to pay down a Fed credit line that expires in 2013. That sum includes $16 billion that AIG committed to the Fed as part of the March 2009 deal to lower its borrowing.
Attracted Interest
AIG announced it would divest AIA in October 2008 and last year said it would seek a public listing on an Asian stock exchange. The unit attracted interest from Manulife Financial Corp., Prudential and Temasek Holdings Pte, with all seeking to buy a stake, people familiar with the matter said in May 2009.
AIA may be valued at slightly less than $30 billion in a public offering, according to an analysis done by Graci of Chapdelaine before the purchase agreement was announced in March. AIG is considering talks with Temasek and a Qatar sovereign wealth fund as investors in conjunction with an IPO, the Daily Telegraph reported.
A spokesperson for Singapore-based Temasek couldn't immediately be reached for comment. Manulife, based in Toronto, declined to comment, said spokesman David Paterson.
Prudential Plc has no relation to Newark, New Jersey-based Prudential Financial Inc. and operates in the U.S. through its Jackson National Life Insurance Co. unit.