Salgado's 'Nightmares' Over as Spain Tackles Banks, Labor Rules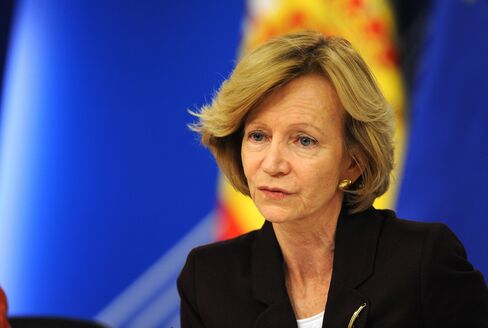 Spanish Finance Minister Elena Salgado's "worst nightmares" ended with the European Union's $925 billion plan to backstop euro-region debt. Now, she's focusing on overhauling the country's savings banks and labor rules to shore up the economy.
"In my worst nightmares, I was worried that we wouldn't be able to put in place a stabilization mechanism, but we now have that," Salgado, 61, said in an interview yesterday at the Finance Ministry in Madrid. "I don't have nightmares anymore."
Greece's near default pushed the yield premium on debt of high-deficit countries such as Spain to a euro-era high last month, before the May 10 announcement of the EU backstop reversed much of the declines. Now, concern that more Spanish savings banks will need bailouts and that the government may struggle to pass its budget is weighing on bonds, even after Salgado crafted the deepest budget cuts in three decades.
The government is backing a series of mergers among savings banks to be completed this month. Around 20 of the regional lenders will remain at the end of the process, Salgado said. That compared with 45 before the decade-long housing boom collapsed, sparking an almost two-year recession and a surge in bad loans that has hobbled the lenders known as cajas.
After the seizure on May 22 of savings bank CajaSur, which accounted for 0.6 percent of the banking industry's assets, Salgado said no more lenders need intervention by the Bank of Spain. The cost of restructuring the savings-bank industry wouldn't be much more than the 12 billion euros ($15 billion) that the state-backed rescue fund, known as FROB, has already raised, she said.
'Solvent' System
"I don't think the new FROB issuances are going to be very significant," she said. "At the end of June we are going to have a more solvent and robust financial system."
A change of the law governing savings banks, whose managers tend to be appointed by regional governments, will allow the lenders to raise funds on capital markets. Still, the government wants to "preserve the key elements" of the mission of the savings banks which in 2008 spent more than 2 billion euros on social programs.
In an attempt to bring down an unemployment rate of around 20 percent, which rises above 40 percent among young people, the Socialist government is also planning to change labor rules to bridge a divide between long-term workers with some of the best protection in Europe and the 24 percent of the workforce on temporary contracts. The plan also aims to provide more "internal flexibility" to companies and workers.
Telecommunications Background
"In the end, what is going to define the labor reform is whether we are capable of improving the situation in those two areas," said Salgado, who worked in the telecommunications industry before joining Prime Minister Jose Luis Rodriguez Zapatero's government after his first victory in 2004.
Salgado headed the telecommunications unit of real estate company Vallehermoso SA in 2003 and was a board member of Abertis Telecom, a unit of Abertis Infraestructuras SA. She has a degree in industrial engineering from the Polytechnic University and an economics degree from the Complutense University, both in Madrid.
The government is trying to complete the labor-law overhauls before it seeks passage of its 2011 budget. The spending plan aims to cut the deficit to 6 percent of gross domestic product from 11.2 percent last year -- the biggest two-year reduction in at least 30 years.
Close Vote
Last week the government, which lacks a parliamentary majority, passed Salgado's spending cuts with a margin of just one vote, signaling it may struggle to win support for the budget.
"I think we will be able to draft a budget that will allow us to find the necessary alliances," Salgado said.
In a move that may help win support from smaller parties that define themselves as left-wing, the government is looking at implementing a new tax on the wealthy. If well designed, such a move could have a "reasonable impact" on revenue, even as it wouldn't produce as much as the 5 billion euros set to be raised by the increase in value-added tax, Salgado said.
"What we want is that those people with most capacity make an extraordinary contribution during the whole period of the economic crisis and its effects, for a few years," she said.