Russia IPOs Leave Funds Cold as Deripaska Seeks Sales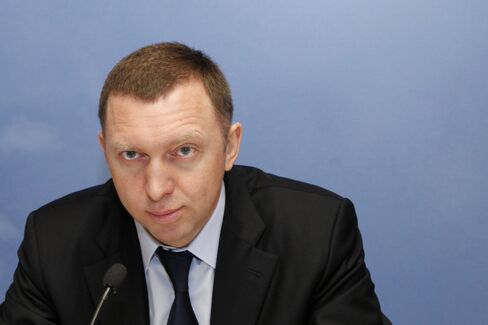 June 1 (Bloomberg) -- Billionaire Oleg Deripaska, who listed his United Co. Rusal in Hong Kong this year, says the city is Russia's best chance to tap into Asian economic growth. Investors, who have watched debt-laden Rusal slump, are yet to be persuaded.
"Hong Kong is the gateway to Asia," Deripaska said in an interview at Hong Kong's Conrad Hotel. "I focus more and more on Asia because I believe we can do better business in Asia than in struggling economies" such as the U.K.
The challenge for the Russian companies seeking to follow Deripaska to Hong Kong will be to show Asian investors why they should care, at a time when initial public offerings worldwide struggle. Funds from RCM Asia Pacific Ltd. to Samsung Investment Trust say Russian IPOs don't fit with their Asia-focused investment strategy.
"Those companies can list here, but who wants to buy them?" said Pauline Dan, Hong Kong-based chief investment officer at Samsung Investment, which oversees about $78 billion. "Our focus is on Hong Kong, China. It's not as if China doesn't have resources itself."
That ambivalence may frustrate hopes by Russian companies to avoid European market turmoil by entering Asia, where wealth is accumulating faster than anywhere else, said Chris Weafer, chief strategist at UralSib Financial Corp. Many of them see Hong Kong as an "easy" alternative to London or New York, with regard to its liquidity and trading rules, as they seek to raise $100 billion over five years to repay debt and grow, he said.
Faltering Markets
Hong Kong, which raised the most IPO funds of any bourse in 2009 according to World Federation of Exchanges data, has not been immune to canceled share sales this year as sovereign-debt concerns in Europe roil global stocks. The MSCI World Index has fallen about 14 percent since its April 15 high.
Aluminum maker Rusal has dropped about 32 percent since its $2.24 billion IPO in January, while the benchmark Hang Seng Index has fallen 1.7 percent.
At least 20 companies around the world postponed or withdrew IPOs in May, including three from Russia: Deripaska's Strikeforce Mining & Resources Plc had sought a listing in Hong Kong, sugar producer OAO Rusagro planned a sale in Moscow and fertilizer maker OAO UralChem had targeted London.
Rusal's IPO, Russia's first in Hong Kong, relied on support from outside Asia. Vnesheconombank, Russia's state-run bank, took 30 percent of the offering, and two more of the five cornerstone buyers were U.S. funds, including Paulson & Co.
"Is Russia on the radar? Honestly? No," said Ben Collett, head of equities for Louis Capital Markets brokerage in Hong Kong. "If you want to trade Russia then you're in Europe."
China Fit
Danny Yan, a fund manager at Taifook Asset Management Ltd. in Hong Kong, said unless a Russian company can show how a "significant" part of its business is related to China, he won't buy it. Wariness among Chinese investors may scupper plans for some of the 40 Russian companies that have met with the Hong Kong exchange or enquired about a listing, according to figures from Igor Vdovin, a member of Russian business lobby RSPP.
"Hong Kong is ambitious in trying to attract listings from companies that are domiciled elsewhere, but our view so far is that this is not a natural fit," said Mark Konyn, chief executive officer of RCM Asia Pacific, which oversees $11 billion.
Among the Russian companies with "Asian credentials" are the energy and metals exporters such as state-run oil producer OAO Rosneft, gas-export monopoly OAO Gazprom and OAO GMK Norilsk Nickel, UralSib's Weafer said.
Rosneft, Norilsk
Rosneft signed a 20-year supply contract with China last year, while Norilsk sold 30 percent of its nickel to the nation and to India. Rusal plans to boost Asian sales to 30 percent of the total this year from 20 percent in 2009.
Rusal set its IPO price on Jan. 22, three days after the Hang Seng began a three-week, 10 percent decline. Rusal fell 11 percent on its first trading day, Jan. 27, a "reasonable" move given global market volatility, Deripaska said that day.
"It was priced toward the very top of the institutional demand curve before the market turned," said Elena Khisamova, head of equity capital markets at VTB Capital, one of Rusal's IPO managers. Still, Rusal's sale was "a huge help in creating the path for future listings" from Russia, she said.
Deripaska, 42, might have struggled to list Rusal in London, where Russian stocks are traditionally brokered, because the U.K. may have insisted on stricter regulation for the debt-saddled company, Weafer said. Deripaska said in April 2008 he would pick a location based on the most "comfortable solution."
Pay Down Debt
Rusal completed Russia's biggest debt restructuring in corporate history in December, agreeing with more than 70 creditors to extend repayments of about $14 billion over seven years. Net debt shrank to $12 billion as of March 31 as the company used the IPO proceeds to repay lenders.
Taking into account the debt and Rusal's $6 billion loss in 2008, the Hong Kong exchange enforced a minimum trading lot of 24,000 shares when the company went public. That put the stock beyond the reach of retail investors, the city's most active traders, and Rusal isn't included in any stock index, said Louis Capital's Collett.
Rusal's subsequent share slump may have hurt other Russian companies hoping to draw Asian investors, said Alisher Djumanov, CEO of Beijing-based Eurasia Capital.
"In Hong Kong, IPOs are associated with big gains," Djumanov said. "Chinese investors kind of assume that if you invest in IPOs you can expect, at least in the beginning, some positive performance."
Last year, IPOs in the city achieved an average first-day gain of 15 percent, according to data compiled by Bloomberg.
Perception Vs. Fundamentals
The success of Russian IPOs in Hong Kong will depend as much on perception as fundamentals, Collett said. Samsung Investment, for one, didn't feel "comfortable" with Rusal's management during the IPO marketing, fund manager Dan said.
"The perception of oligarchs here is bad," Collett said. "The only thing that people know of Rusal is debt and question marks over Deripaska. They don't know what those question marks are."
Deripaska, a nuclear physics graduate, became director of a Siberian aluminum smelter in 1994, aged 26. At the time, several groups vied for control of the industry, including with contract killings, which gave rise to the name of the "aluminum wars."
At the Siberian plant, Deripaska was supported by Trans-World Group, a trader part-owned by Uzbekistan-born entrepreneur Michael Cherney, who since 2008 has pursued legal claims for part of Deripaska's aluminum fortune.
Planned Listings
Even after Rusal's share decline and the delay of the Strikeforce listing, Deripaska still seeks more IPOs for his EN+ Group, the holding company for his Rusal stake and power utility OAO EuroSibEnergo. Hong Kong is a "priority" location for EN+ assets because of their geographical proximity to China, EN+ spokeswoman Elena Rollins said.
Chinese investors need time to "gain understanding" of Russian companies, said Yonghao Pu, UBS Wealth Management's chief investment strategist for the Asia Pacific region.
That may take as long as 10 to 15 years because Russian companies need to build relationships in Asia, Eurasia Capital's Djumanov said. Khisamova of VTB Capital disagrees.
"When we brought first Russian companies to London for equity-raising 5 to 10 years ago, we got the same type of questions," Khisamova said. "After three, maybe five deals, London became very familiar with Russia and a platform of choice" for the nation's companies.
To contact the reporters on this story: Yuriy Humber in Moscow at yhumber@bloomberg.net; Hanny Wan in Hong Kong at hwan3@bloomberg.net.
To contact the editors responsible for this story: Amanda Jordan at ajordan11@bloomberg.net; Darren Boey at dboey@bloomberg.net.