Euro Weakens on Concern Over Europe Spending Cuts, Bank Losses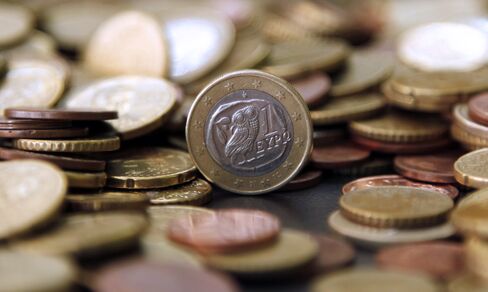 The euro fell to a four-year low against the dollar on concern mounting writedowns at Europe's banks and efforts to reduce budget deficits will hamper the region's economic recovery.
The longest stretch of monthly decreases in 10 years has erased 50 percent of the euro's rally from its October 2000 low to the July 2008 high. Canada's dollar rose against 11 of its 16 most-traded counterparts today on speculation the central bank may become the first Group of Seven country to boost borrowing costs since last year's recession. Europe's currency pared its drop as stocks reduced their losses.
"There are some complications in the euro area which have stopped us from jumping in until the euro gets closer to what we see as a fair value," said Gareth Fielding, chief investment strategist in Zug, Switzerland, at Quantum Global Wealth Management, which oversees $2.5 billion for sovereign-wealth funds and central banks. The euro's "long-term fair value" is seen at $1.20, according to Fielding.
The euro fell as much as 1.6 percent to $1.2111, the lowest level since April 14, 2006, before trading at $1.2163 at 7:50 a.m. in New York, compared with $1.2306 yesterday. It declined 1.6 percent to 110.74 yen, from 112.31 yen. Japan's currency strengthened 0.2 percent to 91.07 per dollar, from 91.26.
European unemployment unexpectedly rose in April, reaching a 12-year high as the region's sovereign debt crisis undermined the outlook for the economy.
Europe's Jobless Rate
The jobless rate in the 16-nation euro area increased to 10.1 percent, from 10 percent in March, the highest rate since June 1998, the European Union's statistics office in Luxembourg said today. Economists had forecast that the rate would remain unchanged in April, according to the median forecast of 26 economists in a Bloomberg News survey.
Europe's banks will have to write off more loans this year than in 2009 and their ability to sell bonds may be curtailed by governments seeking to finance fiscal deficits, the European Central Bank said yesterday in a report.
The euro touched a level below $1.2134, the 50 percent Fibonacci retracement of its increase from its all-time low of 82.30 U.S. cents in October 2000 and its peak of $1.6038, reached in July 2008.
Fibonacci analysis is based on a theory that prices rise or fall by certain percentages after reaching a high or low. Key percentages include 23.6, 38.2, 50 and 61.8. A break above resistance, where sell orders may be clustered, or below support, where there may be buy orders, indicates a currency may move to the next level.
Quantum's Target
"We are heading towards that level," said Fielding, whose fund has the lowest holdings of euros since its inception in 2008. "But you can hardly use the word currency without the next word being overshoot, and we expect the euro to overshoot. That's the area where we would be interested in buying it."
Europe's currency dropped 7.4 percent against the dollar in May, its sixth straight monthly decline. That's the longest stretch since a seven-month streak ending in April 2000.
Fitch Ratings on May 28 removed Spain's AAA credit grade, saying the nation's debt burden is likely to weigh on economic growth.
Europe's currency has slumped 8.4 percent this year against its major counterparts, according to Bloomberg Correlation Weighted Currency Indices. The dollar has appreciated 10 percent, while the yen advanced 13 percent.
Bank of Canada
All except two of 27 economists surveyed by Bloomberg News predict the Bank of Canada's target rate for overnight loans between commercial banks will rise to 0.5 percent from 0.25 percent in a decision due at 9 a.m. Toronto time.
Canada's currency is poised to strengthen against the dollar even without an increase in the central bank's target interest rate today, Commerzbank AG said. The bank suggested investors should sell the U.S. currency versus the Canadian dollar in the event of any advance in the U.S. dollar.
"Due to the turbulence on the financial markets and concerns about the debt crisis in Europe, the council might postpone the first rate step," a team led by Ulrich Leuchtmann in Frankfurt wrote in a note today. "In that case the Canadian dollar is likely to come under pressure, but the move should run out. After all, the first rate step would only be postponed."
The euro dropped 0.7 percent to C$1.2766 versus the Canadian currency, while the U.S. dollar rose 0.5 percent to C$1.0498.
The Australian dollar weakened for a third day after the central bank left its benchmark interest rate unchanged at 4.5 percent and Governor Glenn Stevens sought to gauge fallout from Europe's debt crisis.
Australia's currency fell 1.5 percent to 83.32 U.S. cents, from 84.59 cents yesterday. The Aussie declined 1.8 percent to 75.85 yen.
Before it's here, it's on the Bloomberg Terminal.
LEARN MORE