Henin Loses as Williams, Nadal Advance at French Open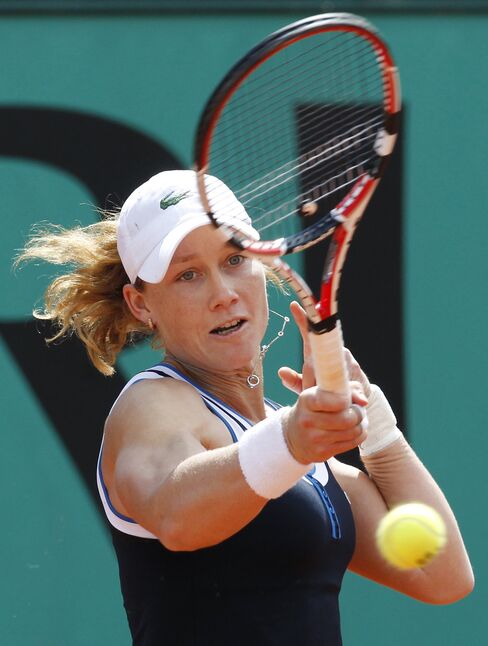 Four-time French Open champion Justine Henin was knocked out in the fourth round at Roland Garros today by Australia's Samantha Stosur, who next will face top seed Serena Williams for a spot in the semifinals.
Men's No. 2 Rafael Nadal, also a four-time champion in Paris, defeated Brazil's Thomaz Bellucci 6-2, 7-5, 6-4 to reach the quarterfinals. Joining Nadal in the final eight was No. 3 Novak Djokovic, who eliminated Robby Ginepri -- the last American in the men's draw.
The seventh-seeded Stosur won 2-6, 6-1, 6-4, ending Henin's winning streak of 24 straight matches at the clay-court Grand Slam tournament in Paris.
Henin, a Belgian whose 28th birthday is tomorrow, quit tennis shortly before the 2008 French Open. The seven-time Grand Slam champion and former world No. 1 returned to the women's tour at the beginning of this year, losing to Williams in the final of the Australian Open.
"I haven't been at my best today," Henin said in a news conference after she lost for the first time at Roland Garros since 2004. "It's of course difficult, but it's still part of the sport."
Henin, who had been the pre-tournament favorite to win the title at 2-1 with bookmaker Paddy Power, defeated Stosur in a three-set match to win a title earlier this month in Stuttgart, Germany.
"She has a lot of qualities, and she improved a lot in the last few months," Henin said. "We can see she's in confidence, also. I think that she's very calm on the court, very quiet. She invests a lot in her game. So a very, very good player."
Williams Defeats Peer
Williams earlier today defeated Israel's Shahar Peer 6-2, 6-2 in 67 minutes. Joining Williams in the quarterfinals was No. 4 Jelena Jankovic of Serbia, a 6-4, 6-2 winner over Daniela Hantuchova of Slovakia.
Williams, an American, is seeking her first title at the clay-court Grand Slam since 2002.
"I felt really consistent today," Williams said in a news conference. "I felt like I was hitting the right shots and the balls were going right. It's always good to feel that way. I actually felt like I could play and move better."
Stosur, 26, entered Roland Garros with 14 wins on clay this year, the most of anyone on the WTA Tour. A semi-finalist in Paris last year, Stosur earlier this year won a tournament on clay in Charleston, South Carolina, and was the losing finalist to Henin in Stuttgart.
Stosur at Net
In today's match against Henin, the Australian produced 26 winners, 12 more than her opponent. Unlike Henin's previous opponents, Stosur rushed to the net almost every chance she got. Out of 19 net approaches, she won the point 79 percent of the time.
After Henin won the first set, Stosur put the Belgian under pressure with heavy top-spin forehands and serves. Trailing 3-1, Henin threw her racket on the Court Suzanne Lenglen and looked over to her long-time coach, Carlos Rodriguez, after she fell on the clay trying to return a high-kick serve with her single-handed backhand. She lost the second set on a service winner by Stosur.
In the third set, Stosur continued to dictate the rallies. She won the match with a smash following another rush to the net.
"She took her chances," Henin said. "She was in control of the rallies and was hurting me a lot with her forehand and her serve."
Nadal was one of two Spaniards to reach the men's quarterfinals. Nicolas Almagro defeated fellow Spaniard Fernando Verdasco, the seventh seed, 6-1, 4-6, 6-1, 6-4.
'My Best Match'
"I probably played my best match today," Nadal said in a news conference.
Djokovic, from Serbia, defeated Ginepri 6-4, 2-6, 6-1, 6-2 and will play Austria's Jurgen Melzer next as he bids to reach the semifinals for the third time in four years. Melzer beat Russia's Teimuraz Gabashvili 7-6 (8-6), 4-6, 6-1, 6-4.
The 98th-ranked Ginepri, who had a 1-4 record on clay in three European tournaments before entering the French Open, matched his career best by reaching the fourth round at Roland Garros and said he will leave Paris with a "positive feeling."
Ginepri, who also reached the fourth round of the French Open in 2008, had his best Grand Slam result when he advanced to the semifinals of the 2005 U.S. Open before losing to Andre Agassi in five sets.