Franchitti Wins Indianapolis 500, Giving Ganassi Another Title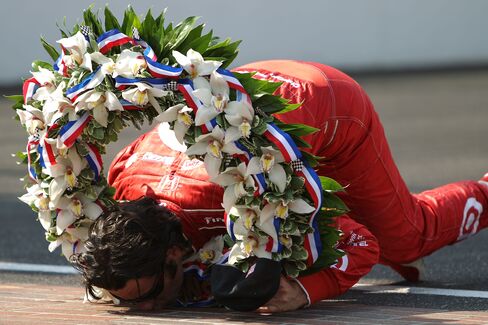 Dario Franchitti drove to his second victory in four seasons at the Indianapolis Motor Speedway, making Chip Ganassi the first car owner to win the Indianapolis 500 and Daytona 500 in the same year.
The 37-year-old Franchitti, who is married to actress Ashley Judd, led 155 of 200 laps and held off Dan Wheldon of England to become the second Scot to win the Indianapolis 500. Jim Clark was the first in 1965.
Franchitti had left open-wheel racing after 2007, when he won his first Indianapolis 500 title, and raced for Ganassi's team in Nascar's Sprint Cup and Nationwide Series. He returned to IndyCar with Ganassi last season and won the series title.
"To come back from a year away and win the championship and then win the Indy 500 it just means so much," Franchitti said yesterday during his post-race news conference.
It was the fourth career Indy 500 win for Ganassi, who got a Daytona 500 victory from Jamie McMurray in February.
"It says a lot about Chip, the people he employs," Franchitti said. "It's the same mindset -- we're here to win. All he wants to do is win."
Franchitti took the lead for good with eight laps remaining when defending champion Helio Castroneves had to stop for fuel. Franchitti made his last pit stop on lap 164 and was able to conserve fuel to become the 17th driver to win multiple Indianapolis 500 titles.
'Lucky Guy'
"I'm a lucky guy to be in this business and to be able to work with people that accomplish that," Ganassi said after the race. "I didn't drive either car. I didn't change any tires. I didn't put any fuel in the cars. I'm very, very lucky is what it comes down to."
Franchitti crossed the finish line under a yellow caution flag, which came out after Mike Conway clipped Ryan Hunter-Reay and sailed into the catch fence surrounding the track.
Wheldon had his second straight runner-up finish for Panther Racing. Marco Andretti of the U.S. was third, followed by Englishman Alex Lloyd and 2008 winner Scott Dixon.
Danica Patrick, who was booed by the crowd during driver introductions, finished in sixth place. Castroneves, who was seeking his record-tying fourth title, finished ninth.