Santos Crushes Rival in Colombia Presidential Vote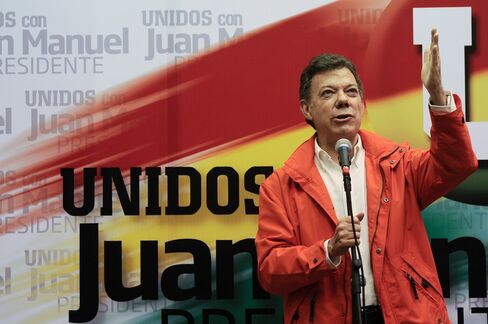 Colombia's former Defense Minister Juan Manuel Santos appeared likely to become the country's next president after beating his nearest rival, Antanas Mockus, by a two-to-one margin in a first-round ballot yesterday.
Santos won 47 percent of votes against 21 percent for the former Bogota mayor, who ran on an anti-corruption platform for the opposition Green Party, the national voting registry said. While Santos fell short of the majority needed to avoid a June 20 runoff, he had the widest margin of victory since the runoff system began in 1991.
The strong showing, which surprised pollsters who had predicted a tie, means Colombia is likely to continue the U.S.- backed economic and security policies of President Alvaro Uribe over the next four years, analysts said. Bonds rose.
"With me Colombians can sleep soundly," Santos, 58, told supporters chanting Uribe's name yesterday in Bogota. "We won't retreat from what has been achieved these past eight years."
The result caused Colombian bonds to rally this morning. The yield on the benchmark 11 percent bonds due July 2020 fell five basis points, or 0.05 percentage point, to 8.02 percent at 9:47 a.m. New York time, according to Colombia's stock exchange. The price rose 0.338 centavo to 120.134 centavos per peso.
Colombia's bond and currency markets are trading in the so-called next-day market today, in which payment and delivery are made the following trading day, due to a holiday in the U.S. The peso was little changed at 1,972.26 per U.S. dollar from 1,971.93 on May 28.
"It's going to take a very large mistake from Santos for him not to win," said Alberto Bernal, head of fixed-income research at Bulltick Capital Markets in Miami, in a phone interview.
Security Strength
Santos is the cousin of the current vice president and member of the family that founded Colombia's biggest newspaper, Bogota's El Tiempo.
As defense minister from 2006 to 2009, he oversaw some of the biggest defeats for the Revolutionary Armed Forces of Colombia, or FARC, including a 2008 raid into Ecuador that killed the Marxist rebels' No. 2 leader, Raul Reyes.
Mockus, 58, capitalized on voter concerns over the weak job market and corruption. The philosopher and mathematician took a giant pencil to campaign rallies to symbolize what he said would be the priority of a post-Uribe government: improving education.
He surged into a statistical tie with 32 percent support to Santos' 34 percent in the final pre-election poll taken May 20-21 by Ipsos-Napoleon Franco. In March he had trailed by 24 percentage points.
Polling 'Shame'
"The opinion poll companies should hang their heads in shame," said Rupert Stebbings, head of the Colombian unit of Chilean brokerage Celfin Capital SA. "All Santos has to do is not fall off the horse over the next three weeks and the market will get what it wants."
German Vargas Lleras finished third with 10 percent, ahead of six other candidates. He said he would consult members of his Radical Change party, which backed Uribe's policies in congress, before deciding who to back in the runoff.
Yesterday's vote saw the biggest turnout since 1998, with 49 percent of 30 million eligible voters casting ballots. The government says the campaign was the safest in four decades. Still, two soldiers were killed in combats with rebels and several explosive devices deactivated.
Uribe's Coattails
"Santos clearly rode Uribe's coattails," said Cynthia Arnson, director of the Latin America program at the Woodrow Wilson International Center for Scholars in Washington. "However, the surge in support for Mockus toward the end of the campaign sends a strong signal that Colombians also want respect for the rule of law, not just a strong hand."
Santos' pledge to crush the FARC, while resonating with voters, may worsen already tense relations with Colombia's neighbors, analysts said.
Venezuelan President Hugo Chavez, who ordered tanks to the border in response to the raid in Ecuador, said yesterday he hopes "God illuminates the Colombian people so they elect a government that's not a mafia and doesn't attack its neighbors." A judge in Ecuador has requested Santos' arrest.
Santos, if elected, will have big shoes to fill, said Stebbings. Uribe's approval rating stands at 63 percent after more than seven years in office.
Murders, Kidnapping
When Uribe took office in 2002, murders reached 28,837 a year and there were 2,880 kidnappings. His security policies, backed by $700 million in annual U.S. aid, expanded the armed forces and improved intelligence gathering, helping almost halve the number of murders and slash kidnappings 93 percent by 2009.
The improved security helped attract a record $10.6 billion in foreign investment in 2008 compared with $2.1 billion in 2002. The $242 billion economy grew 7.5 percent in 2007, the fastest pace in 30 years. The peso has strengthened 35 percent against the dollar since 2002, more than all other major Latin American currencies except Brazil's real.
The IGBC stock index, which has increased 10-fold since Uribe took office, has gained 5.4 percent in dollar terms this year, more than all major regional indexes tracked by Bloomberg.
Still, South America's fourth-largest economy is emerging from the global financial crisis more slowly than its neighbors. The unemployment rate, at 12.3 percent, is the highest in the region and the International Monetary Fund estimated May 28 that gross domestic product will expand 2.25 percent this year, the lowest after Venezuela, which is still in recession.