BP Reverts to Containing Oil Spill After Plugging Effort Fails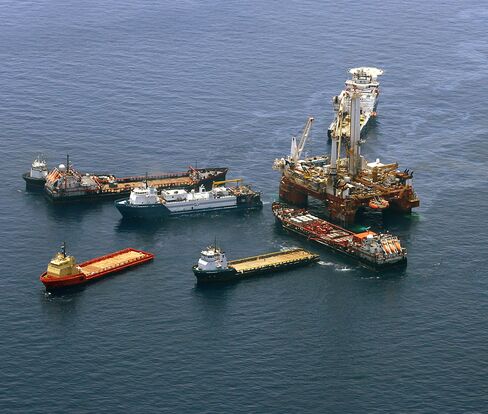 BP Plc began outlining its plan to contain oil leaking from its Gulf of Mexico oil well after the company and U.S. government officials abandoned a three-day effort to plug the hole.
In a two-step process, underwater robots will shear away sections of damaged pipe, according to a BP illustration posted today on the spill command's web site. That should permit BP to install a "snug seal" to a new pipe that would carry "a great majority of the oil" to a drill ship on the surface, Doug Suttles, the BP executive in charge of the spill response, said yesterday in a press conference. The job will take four to seven days, he said.
Failure to plug the well from the top, a method dubbed "top kill," means "the real solution is a relief well," Mary Landry, the government's on-scene spill coordinator, said yesterday. Drilling a relief well to intersect the damaged well near the bottom of the hole will give BP better control over the pressurized flow of oil and gas, allowing it to inject drilling mud and cement to plug the flow.
BP's "best forecast" for finishing the first of two relief wells it has begun drilling is early August, Suttles said. Meantime, curbing the amount of oil spilled will reduce pollution, he said. The undersea gusher already is estimated to be the biggest oil spill in U.S. history, and more than twice as big as the Exxon Valdez disaster in 1989.
'Small Increase'
Cutting off the damaged pipe may result in a "small increase" in flow from the well, BP Managing Director Robert Dudley said today on CNN's "State of the Union." "We would not expect to see a large increase, if any, by cutting this off and making a clean surface."
Dudley's statement contradicted the assessment of White House energy adviser Carol Browner, who said today on CBS's "Face the Nation" that the operation could increase the leak by as much as 20 percent for as long as a week.
"What our experts are saying is that when you cut the riser, the kink may be holding some of the oil in, and so we could see an increase," Browner said. "Our experts are saying as much as 20 percent."
BP has no choice but to continue trying to stop the spill, even if it risks increasing the flow, Jason Kenney, an Edinburg-based analyst ING Commercial Banking, said today in an interview.
"This is war," Kenney said. "As in all wars, it very rarely goes smooth. This has never been done before at this water depth. Ultimately, containment and all the rest of it will be options that have to be used in future deep water drilling. It has to be more secure."
BP hasn't abandoned trying to stop the leak completely before August, spokesman David Nicholas said today in an interview.
Data Flow
"We got a huge amount of data out of the top kill and we will be analyzing that to inform our future options," Nicholas said. Alternatives include installing a second piece of equipment on top of the well at the seabed with valves that could shut off the pipe.
If those are successful, it may still be a month before the flow is stopped, Les Ply, a retired mud engineering consultant for the oil industry, said in a telephone interview yesterday. "I think we're looking at a week to 10 days to get this riser and cap in place."
BP had diverted 22,000 barrels of oil to the drill ship through a smaller pipe before top kill failed to stop the gusher with jets of mud. That earlier recovery "gives us confidence" more oil can be routed to the ship, Suttles said. He wouldn't quantify how much they might capture, or the odds of success the so-called lower marine riser package cap will work as intended.
Cost Increase
Kenney, the ING analyst, revised his estimate today of how much the spill will cost BP to $22 billion, should the spill persist to August, compared with $5.3 billion if top kill had succeeded.
Nevertheless, he reiterated a "buy" rating on the stock and doesn't own the shares. "BP can digest whatever cost this is going to take," Kenney said today in an interview.
Energy Secretary Steven Chu and Interior Secretary Ken Salazar agreed to allow BP to revert to a containment strategy. After BP's first containment effort, a 100-ton steel box, failed, it devised a smaller alternative called "top hat" and another device that was eventually used, a small pipe inserted in the broken pipe leaking oil.
"Every day that this leak continues is an assault on the people of the Gulf Coast region, their livelihoods, and the natural bounty that belongs to all of us," President Barack Obama said in a statement yesterday after the top kill effort failed. "It is as enraging as it is heartbreaking."