BP Begins New Well-Capping Strategy After 'Top Kill' Failure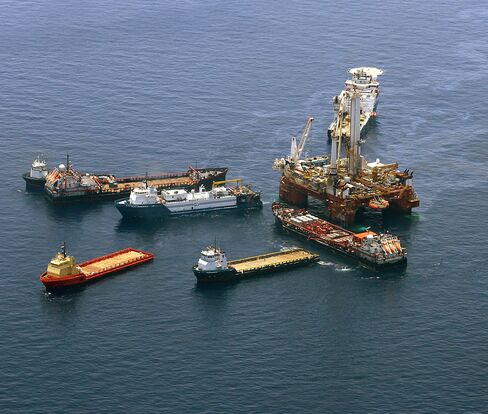 BP Plc began working on a new plan to cap a leaking oil well in the Gulf of Mexico after a three-day effort to stop the flow with a blast of pressurized fluids was unsuccessful.
The company started using high-horsepower pumps on May 26 to ram a mixture of mud-like drilling fluid and rubber scrap into the oil and gas that's been gushing for more than five weeks, a process known as "top kill."
At a press conference yesterday, Doug Suttles, the BP executive in charge of the spill response, said the top kill strategy didn't work. BP will now try a containment device known as a lower-marine riser package cap, Suttles said.
"Obviously we're very disappointed," by the failed approach, Coast Guard Rear Admiral Mary Landry said at the press conference. She said efforts to stop the leak have been "a little bit of a roller coaster ride."
At the outset of the top kill effort, BP put the chances of it succeeding at 60 percent to 70 percent. The company made three pumping attempts, injecting more than 30,000 barrels of mud into the hole, Suttles said.
"I am disappointed that this operation did not work," BP Chief Executive Tony Hayward said yesterday in a statement. "The team executed the operation perfectly, and the technology worked without a single hitch. We remain committed to doing everything we can to make this situation right."
Salazar to Return
"Every day that this leak continues is an assault on the people of the Gulf Coast region, their livelihoods, and the natural bounty that belongs to all of us," President Barack Obama said in a statement yesterday after the top kill effort failed. "It is as enraging as it is heartbreaking."
Obama said May 28 his administration is exploring "any and all reasonable contingency plans" should BP fail to stop the spill, estimated to be more than twice as big as the Exxon Valdez disaster in 1989.
Interior Department Secretary Ken Salazar will visit Houston later this week, while Environmental Protection Agency Administrator Lisa Jackson will go to Louisiana, Mississippi and Alabama, the Joint Information Center said yesterday in a statement.
BP didn't provide an estimate of when the flow might be stopped with the new method. Installing the cap should take about four to seven days, and after that the company will begin installing a new blowout preventer, a series of valves designed to cut off the flow from the well, Suttles said.
The cap will attach to the top of the well's existing blowout preventer and will then funnel oil and gas into a pipe that extends to a ship on the surface.
New Blowout Preventer
After the attachment of the lower-marine riser package cap, BP plans to install the new blowout preventer on top of the existing one, Suttles said. BP will then try to use the valves on the new blowout preventer to stop the flow.
"We're still looking at a month before we get this thing killed," Les Ply, a retired mud engineering consultant for the oil industry, said yesterday in a telephone interview. "I think we're looking at a week to 10 days to get this riser and cap in place."
The new method, if successful, would stop the leak long enough for a so-called relief well to be drilled nearby and provide a permanent seal.
Relief Wells
Crews are ahead of schedule in drilling a relief well and are about halfway to the end, with approximately 6,000 feet left to go, Suttles said. Completion of the well is still expected by around early August, he said.
Drilling on the second of two relief wells, which was temporarily suspended so that its blowout preventer could be available if the top kill failed, is expected to resume "shortly," David Nicholas, a spokesman for BP, said yesterday in a telephone interview.
Six state agencies in Louisiana said yesterday they've asked BP for $300 million to lessen the impact from the oil spill on their communities.
The well has gushed 12,000 barrels to 19,000 barrels of oil a day, making it the largest oil spill in U.S. history, a government panel estimated May 27. Hearings wrapped up yesterday in Louisiana into the death of 11 workers killed in the April 20 drilling rig explosion that triggered it.
BP fell 5 percent to 494.8 pence in London trading on May 28 and has lost 25 percent of its market value since the blast. The stock rose 5.9 percent a day earlier, the biggest gain in more than a year, after reports of progress on the top kill.
Oil from the spill may have spread underwater for 22 miles toward Mobile, Alabama, researchers aboard a University of South Florida vessel reported May 27. Initial tests aboard the Weatherbird II show the highest concentrations of "dissolved hydrocarbons" were 400 meters (1,312 feet) below the surface.
Before it's here, it's on the Bloomberg Terminal.
LEARN MORE