Obama Calls BP Oil Spill an 'Assault' on Gulf Coast Region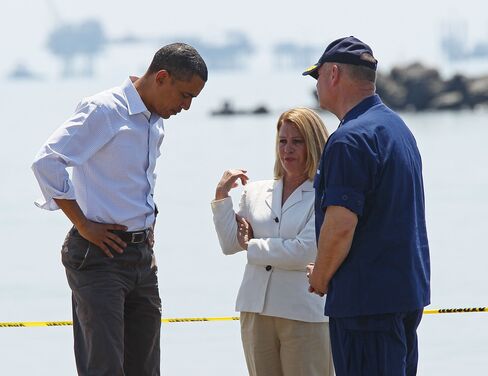 President Barack Obama called the oil spill from a damaged BP Plc well in the Gulf of Mexico an "assault" on the region and its residents and vowed to keep it a top priority until the damage is cleaned up.
"This isn't just a mess that we've got to mop up; people are watching their livelihoods wash up on the beach," Obama said yesterday at a U.S. Coast Guard station in Grand Isle, Louisiana, a barrier island south of New Orleans where he was briefed on efforts to plug the leak. "This is our highest priority."
The president said his administration is exploring "any and all reasonable contingency plans" should BP fail in its latest attempt to stop the spill, which may be the largest on record and more than twice as big as the Exxon Valdez disaster in 1989.
Obama returned to the Gulf Coast for the second time this month as he sought to blunt criticism of his administration's response to the spill. The president said there are no "silver bullets" to stop the leak and mitigate the damage.
"This is a man-made catastrophe that's still evolving," he said. Not every decision "is going to be right the first time out," and Obama said he expects there will continue to be frustration and anger until the situation is resolved.
Responsibility
"The buck stops with me," he said, reiterating a point he made at a White House news conference on May 27. "I ultimately take responsibility for solving this crisis."
In remarks directed at residents of the Gulf Coast, Obama said, "You will not be abandoned, you will not be left behind."
The spill threatens the region's fishing and tourism industries. As Obama's appearance was shown on the flat-screen TV in the office of Dean Blanchard Seafood Inc. in Grand Isle, Dean Blanchard said he may shut down after losing $5 million worth of sales over the past month.
"I think he's a liar," Blanchard said. "He said he promised he wouldn't interrupt my cash flow."
The 51-year-old Louisiana native said he is trying to sell what he can and is considering moving to Costa Rica, where there is a strong fishing market. "I'm out of business," he said.
Vickie Lemoine, who lives along the main road through town, said Obama needs to do more.
"I don't think he's been tough enough on BP," said Lemoine, whose 17-year-old daughter, Hanna, posted hand-painted signs in their front yard that read, "BP we want our beach back" and "shame on you BP."
Keeping Attention
Chris Camardelle, 50, a commercial fisherman, said he was hoping to hear the president say that the oil leak has been stopped. Though that didn't happen, Camardelle said he doesn't want Obama's departure to cause attention to fade from his hometown.
"I hope in six months they still know that we're still Grand Isle down here," he said.
While in town, the president met with Coast Guard Admiral Thad Allen, who is overseeing the spill response, and regional leaders including Governors Bobby Jindal of Louisiana, Charlie Crist of Florida and Bob Riley of Alabama.
He got a briefing on the latest attempts to plug the well and limit environmental damage. BP yesterday was adding golf balls and scraps to the drilling mud it's pumping into the well to choke off the oil
'Full Force'
"Our response will continue with its full force regardless of the outcome of the 'top kill' approach," Obama said. Allen will "get whatever he needs to deal with this crisis."
The gushing well has taken center stage in Obama's presidency, even as he tries to push for an overhaul of the nation's financial regulations, monitor tensions on the Korean Peninsula and address 9.9 percent unemployment.
Republicans have been critical of the administration's response, seeking to draw parallels to the botched government reaction to devastation from Hurricane Katrina in the Gulf in 2005. The issue dogged then-President George W. Bush, a Republican.
Obama said May 27 he's "confident that people are going to look back and say that this administration was on top of what was an unprecedented crisis."
Obama got a first-hand look at some of the damage from the spill yesterday when he toured the beach in Port Fourchon, Louisiana, which was speckled with tar balls.
Viewing the Beach
Wearing boots and a casual shirt, Obama bent down several times to touch the sand as Allen explained clean-up efforts. Obama said he spotted some dolphins off the shore.
"Obviously there's precious wildlife in this area even though you see a whole bunch of oil rigs in the background," he said.
Before the president arrived in Louisiana, environmental activists called for a full federal takeover of the spill response and for more resources to be put into it.
"What we have found on the ground is that BP is having too much say in what's happening on the water," said Aaron Viles, campaign director for the New Orleans-based Gulf Restoration Network. "They are fighting a forest fire with an eye dropper right now."