Koruna May Drop on Czech Election, Deficit, BNP Says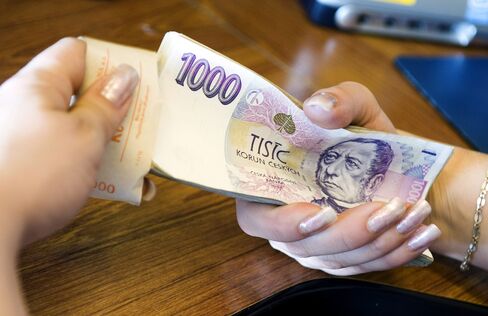 The Czech koruna is poised to weaken 2.2 percent as elections starting today may fail to produce a government with enough support to tackle the 163 billion-koruna ($7.8 billion) budget deficit, according to BNP Paribas SA.
The koruna will likely drop to 26.20 per euro by the end of June from 25.62 yesterday, estimates by BNP, France's largest bank, show. Societe Generale SA's forecast is for the koruna to decline 0.7 percent to 25.80 per euro in the same period.
The currency has depreciated 2.4 percent from a seven-month high on April 15 amid concern Greece's debt crisis will spread and spending cuts in Europe will slow economic recovery. The Czech May 28-29 vote will probably produce a minority government or a coalition dominated by the Social Democrats, who have pledged to increase welfare spending, opinion polls show.
"We're quite defensive on the koruna," Elisabeth Gruie, a currency strategist at BNP Paribas, said in a phone interview from London. "It will be difficult to form a coalition with sufficient majority to implement budget cuts. A lack of yield will put additional pressure on the currency" for the country whose benchmark interest rate is less than the rate for the 16-nation euro region, she said.
The koruna weakened 0.8 percent to 25.832 per euro today as of 5:05 p.m. in Prague, the worst performance among more than 170 currencies tracked by Bloomberg worldwide.
Social Democrats Lead
As many as six parties have a chance to enter parliament after the general elections, with Social Democrats poised to win the most seats in the lower house, according this month's polls by Factum Invenio and Stem. No party is forecast to win a majority, leading to a coalition government, the polls show.
The Stem poll shows the Social Democrats winning 75 seats and the Communists 28 seats in the 200-member lower house. The two parties pushed through increases in welfare spending in December, scaling down budget cuts proposed by the interim government. The Civic Democrats would get 55 seats, followed by TOP 09 and Veci Verejne with 21 each, according to Stem.
The Factum poll gives the Social Democrats and Communists a combined 90 seats, followed by 55 for the Civic Democrats, 26 for Veci Verejne, 21 for TOP 09 and 8 for the Christian Democrats.
"I would personally wait with investment in the koruna until a coalition is formed," said David Sykora, a senior currency trader at CSOB AS, the Czech unit of KBC Groep NV in Prague. "A government fighting the deficit would be positive for the koruna. On the other hand, a coalition of the Social Democrats and Communists with their populist spending plans would be devastating for the Czech economy and the currency."
Widening Gap
The Czech budget shortfall widened to 5.9 percent of gross domestic product last year when the economy fell into the worst recession since communism ended 20 years ago. The next government needs to cut the deficit to within the EU's limit of 3 percent of GDP by 2013 to meet criteria to adopt the euro.
The current government, which seeks to borrow a record 280 billion koruna ($13.4 billion) in 2010, approved selling as much as 3 billion koruna in bonds to help cover damage caused by floods. It will do everything it can to ensure the bonds don't raise the fiscal deficit above the 5.3 percent target for this year, Prime Minister Jan Fischer said on May 24.
In Czech politics, "fragile coalitions and minority governments are the norm," Nigel Rendell, a senior emerging- market strategist at RBC Capital, wrote in a May 27 report to clients. "The tough fiscal decisions that have been ignored for too long will not be resolved anytime soon, adding to the risks of holding koruna-denominated assets."
Spending Cuts
The next government will have to save 60 billion koruna next year to meet the deficit target of 4.8 percent of GDP, Finance Minister Eduard Janota said in an interview with Hospodarske Noviny published May 26.
"Additional savings will be needed to achieve the 2011 target, a tough task for the new government amid still uncertain growth prospects," said BNP's Gruie.
Policy makers cut their benchmark two-week repurchase rate by a quarter point to a record low of 0.75 percent on May 6, reducing the economic growth outlook to 1.8 percent for 2011 and predicting inflation will stay below the 2 percent target in 12-18 months. The central bank forecasts the economy will expand 1.4 percent this year after contracting 4.1 percent in 2009. The European Central Bank's benchmark rate is 1 percent.
Rates will probably remain on hold this year, with a further reduction possible to keep the koruna from strengthening, Morgan Stanley and Citigroup Inc. said this month.
Two-Month High
Bonds have fallen from a high on April 19, sending the yield on the benchmark local-currency note due in 2019 up 49 basis points to 4.07 percent today, a two-month high. The similar-maturity Hungarian bond yields 7.321 percent and Polish debt yields 5.775 percent.
"The market has to brace itself for a period of uncertainty," BNP's Gruie said. "There are doubts whether the fiscal deficit will be contained this year."
The main PX equity index advanced 2.1 percent to close at its highest level in more than a week, paring its May losses to 8.3 percent, the worst monthly selloff in 15 months.