World Cup Champion Italy's Aging Team Brings Worries of Flop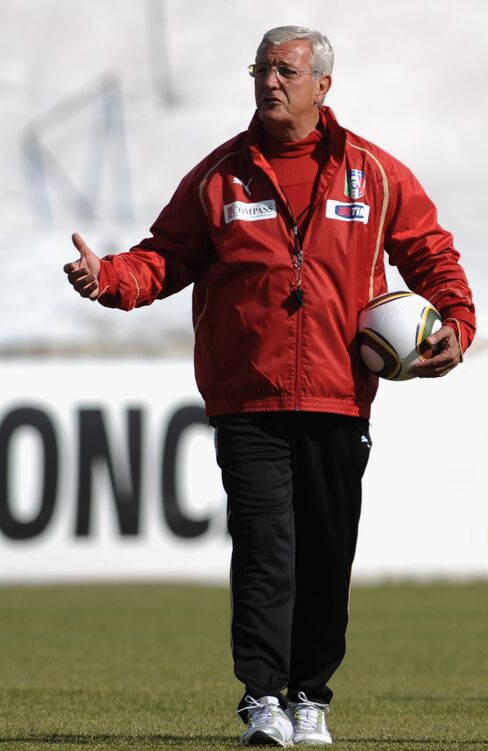 Italians may have a preference for older vintages when it comes to wine. It's a different matter when it comes to their champion soccer squad.
Supporters of the country's national team are questioning whether coach Marcello Lippi's reliance on some of the players who won the 2006 World Cup will leave the team tired and unable to recapture past performances when this year's tournament starts June 11 in South Africa.
The 11 Italians that took the field to win the final four years ago had an average age of 29. Lippi has selected six of those starters to defend their title, including 32-year old Gennaro Gattuso, who was benched for the majority of AC Milan's 38 league games this year, and 36-year old captain Fabio Cannavaro, whose contract with Juventus isn't being renewed. By comparison, the 11 Spanish starters who won the 2008 European Championship had an average age of 26.
"In the World Cup you play seven games in a month, we don't need a national team of 24-year-old players," Lippi told Italian sports daily La Gazzetta dello Sport after announcing a preliminary 30-man roster on May 11. "You can value a player not just by his age and his technical skills. Enthusiasm, experience, charisma: this is all part of the evaluation."
Eleven of the 30 players Lippi chose in a preliminary roster on May 11 are 30 or over. The coach has also been criticized for paying little regard to performances during this season's Italian Serie A championship.
"Lippi is making the same mistake as Bearzot in 1986," said Italy supporter Giovanni Cimmino, 35, referring to former coach Enzo Bearzot's decision to select several players from the World Cup winning squad of 1982 to defend the title four years later in Mexico. "The difference is that Lippi has alternatives and Bearzot didn't." Italy was beaten 2-0 by France in the round of 16 in 1986.
Juventus Squad
Lippi's initial list includes six players from Juventus, who finished seventh this season. The club lost 15 games and gave up 56 goals, more than relegated Atalanta. No players from champion Inter Milan have made the squad and Lippi selected just one from second place AS Roma.
"Lippi has called too many old Juventus players, and most of them are just reserves who've sat on the bench as Juve has played a horrible season," said Cimmino, who organized barbecues on his terrace in Milan for every Italian match in the 2006 World Cup.
For this year's event, Italy is the sixth favorite at 14-1 with U.K. bookmaker Ladbrokes.com. That means a successful $1 bet would bring in $14 plus the original stake. Spain, at 7-2, and Brazil, at 9-2, are the favorites.
Few Choices
Lippi's options are limited.
Inter, which became the first Italian team to complete the sweep of national championship, Italian Cup and Champions League in the same season, often plays without an Italian in its starting line-up. It defeated Bayern Munich 2-0 in the Champions League final on May 22, with defender Marco Materazzi's two minute substitute appearance the only contribution from an Italian.
"It's not the manager's fault," Premier League champion Chelsea's Italian coach Carlo Ancelotti, who played under Bearzot, said in an interview in London. "He's not made any mistakes -- it's just not a good moment for Italian football. The players are not good enough."
Lippi said he won't be influenced by outside voices, just as he wasn't when he led the team to its surprise World Cup victory in Germany.
"If I had to listen to public opinion four years ago, I should have left out players like Cannavaro and (Gianluigi) Buffon and I should have resigned," Lippi said. Goalkeeper Buffon went 453 minutes without conceding a goal in the 2006 tournament, while defender Cannavaro was named FIFA world player of the year.
Historical Past
Lippi coached Juventus to five Serie A titles between 1995 and 2003, winning the European Cup in 1996.
Among notable absences on attack are Roma's Francesco Totti, Inter's Mario Balotelli and Sampdoria's Antonio Cassano. On defense, he didn't pick Andrea Barzagli, who has played 25 times for Italy and won a Bundesliga title with Vfl Wolfsburg.
"Since I started coaching my decisions have never been affected by external campaigns," the coach said.
Lippi has said in previous interviews that he favors players who fit well into a group, excluding Cassano and Balotelli, and said age isn't important for a tournament that lasts one month. Quality is and Ancelotti, who represented Italy at the 1986 and 1990 World Cups, believes Italy won't defend its success in South Africa.
"I don't think the team will go very far at all," he said.
Lippi trimmed his roster to 28 after cutting Fabio Grosso, who scored the winning penalty in the 2006 final against France, and Juventus teammate Antonio Candreva on May 18.
The final list of 23 must be presented June 1.