Whitney, Roubini Too Bearish on Banks, Brown Says: Tom Keene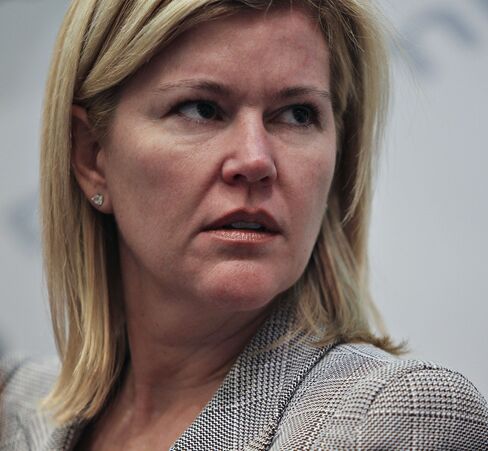 Nouriel Roubini and Meredith Whitney are ignoring bank valuation in their forecasts for the sector, according to Thomas Brown, chief executive officer at Second Curve Capital LLC, a New York hedge fund.
While Whitney and Roubini are correct in saying banks still face losses, Brown said they're overlooking that financial stocks are undervalued. A former bank analyst at Donaldson Lufkin & Jenrette, he was atop Institutional Investor's analyst ranking eight times in the 1980s and 1990s.
"The biggest thing for both of them for the last 15 months has been a lack of attention to valuation," Brown said in a Bloomberg Radio interview today with Tom Keene.
Bank stocks in the Standard & Poor's 500 Index trade for
1.3 times book value, or assets minus liabilities. The valuation sank to 0.5 in March 2009 following the credit crisis that intensified following the collapse of Lehman Brothers Holdings Inc. in 2008. The average ratio since 1993 is 2, according to data compiled by Bloomberg.
"If I'm right and earnings are continuing a recovery, then the valuations of these companies will continue to recover," said Brown.
Whitney, the New York-based chief executive officer of Meredith Whitney Advisory Group known for forecasting Citigroup Inc.'s dividend cut in 2008, said in a May 4 interview on Bloomberg Radio that the largest U.S. banks are susceptible to another dip in the consumer-credit market.
Roubini, the New York University professor who predicted in 2006 that a financial crisis was imminent and who is sometimes known as "Dr. Doom," wrote in a December posting on his website that the "vulnerabilities and imbalances" that created the credit crisis have yet to be resolved.
Outlook for KeyCorp
Brown cited KeyCorp, Ohio's second-largest lender, as an example of a bank with good growth prospects.
KeyCorp has rallied 39 percent this year to $7.97. The Cleveland-based company reported a first-quarter loss that was smaller than analysts' expectations.
"They will make money here in the second quarter," Brown said. "When they report a quarter where they make money where all their credit indicators are positive, that will be a catalyst to move KeyCorp's stock higher."
Columbus, Ohio-based Huntington Bancshares Inc. has done a "great job" recovering from the recession and focusing on growth, according to Brown. The shares had climbed 69 percent this year.
Bigger banks have suffered from the uncertainty of financial regulation and how restrictive it may be, according to Brown. While he has not historically been a "fan" of Bank of America Corp., he said the shares are "very attractive to me at these levels."
Shares of the Charlotte, North Carolina-based lender have gained 5.8 percent this year.
Before it's here, it's on the Bloomberg Terminal.
LEARN MORE