Whirlpool Chief Repairs Maytag, Spurs Takeover Talk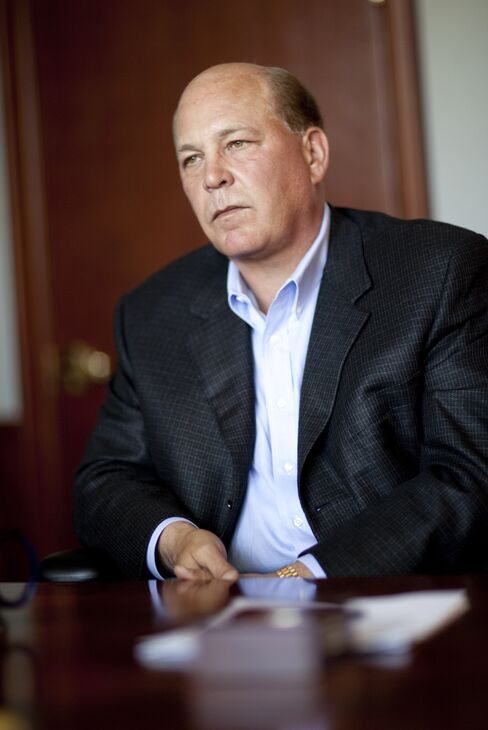 Whirlpool Corp.'s Jeff Fettig may have found the right repair for Maytag.
The 53-year-old Whirlpool chief executive officer squeezed costs from labor to pumps in Maytag washers and the work is paying off, driving profit to more than double last quarter. The shares soared fivefold from a 2009 low, in part on speculation Whirlpool may draw interest from private-equity buyers.
"When there's talk, it's just because we're undervalued," Fettig said in an interview at the company's Benton Harbor, Michigan, headquarters. "Our job is to do the things to prove that we're undervalued, so we won't be."
Fettig says if the company can sell more KitchenAid refrigerators in the U.S., Brastemp microwave ovens in Brazil and air conditioners in India this year, the stock has room to keep rising. He declined to comment further on takeover talk.
While pushing into those markets, Fettig is trying to lower Whirlpool's annual breakeven point by chipping away at the number of machines factories need to make before they become profitable. His goal is that new products will cost at least 10 percent less to make than predecessors, and the cost of building existing models will fall as much as 2 percent a year. Expenses dropped by an additional 14 percent, or $254 million, last year, on top of reductions Fettig made since buying Maytag in 2006.
Washing Cycle
The CEO's experience and ability were part of the reason Brian Rogers, chief investment officer of T. Rowe Price Group Inc., bought Whirlpool's stock last year as a bet on consumer spending and housing recovering in the U.S.
"Roughly 15 months ago, it looked as though people thought this company would never sell another washing machine," the Baltimore-based fund manager said. "You look for people who execute well and play the hand they're dealt well, and I think that's what Whirlpool has done."
T. Rowe held about 3.4 million Whirlpool shares, or 4.5 percent of the total, as of March 31.
Demand is now rebounding in North America, where Whirlpool gets more than half its revenue, driven by market-share gains and an economic stimulus package that spurred appliance sales. The company raised its annual profit forecast last month.
"This is not a one-year wonder," Fettig said of the company's progress in the May 3 interview. "We can sustain it for some time because we didn't cut our marketing or our innovation. We increased it, but took aggressive action on every other element in the cost structure."
'Surviving the Storm'
Standing in Fettig's way are rising prices for commodities such as oil, and a U.S. unemployment rate that, at 9.9 percent in April, may derail the recovery in consumer spending. Fettig said last month he expects material costs to rise at the high end of the company's $200 million to $300 million forecast.
When material costs surged in 2008 and demand began plummeting, Fettig called Mike White, a Whirlpool director and now CEO of DirectTV, and proposed lowering the annual profit target. The forecast was cut that October.
"This was about liquidity and surviving the storm," White said in an interview. "Jeff has been an integral part of enabling us to get ahead of the wave in terms of the cost-cutting required for the recession."
Most Growth
After the $2.6 billion purchase of Maytag, Fettig closed eight factories in North America and sold underperforming units, such as Hoover vacuums and Amana commercial microwaves. A ninth plant closes next month in Indiana. The next step is expanding in Brazil and India, two markets with young populations and households lacking appliances, he said.
"Those will be the markets that will grow the most percentage-wise in the next 10 or 15 years," Fettig said.
Whirlpool, which dates back to 1911 when it produced its first motor-driven wringer washers, doesn't break out sales for the two countries. Latin America accounted for 27 percent of first-quarter revenue, up from 19 percent a year earlier. The region's sales gained 66 percent to $1.14 billion, while Asian sales rose 60 percent to $192 million.
Whirlpool jumped $5.66, or 5.7 percent, to $104.66 at 4:04 p.m. in New York Stock Exchange composite trading.
Whirlpool's stock has gained 55 percent since Fettig took over in July 2004, compared with a 4 percent gain in the 81- member Standard & Poor's 500 Consumer Discretionary Index. The company's price-to-earnings ratio is 12.9, compared with 16.1 for that index.
The valuation is inexpensive and a takeover is a possibility, according to Laura Champine, an analyst at Cowen & Co. in New York who rates the shares "outperform."
"It would be a big deal, but not out of the question," Champine said in an interview.
'Hard Work'
Most costs are now tied up in the 50 million appliances Whirlpool sells each year, many of which, such as dishwashers and washing machines, used more than 100 different kinds of water pumps.
Fettig asked designers to use more common parts, and Whirlpool plans to cut the number of pump types it buys by 72 percent to 43 by the end of next year. That will save about $10 million annually.
To help get there, he says he's applying lessons from the corn and soybean farm north of Indianapolis in Tipton, Indiana, where he was raised and worked "from the time I could walk." Fettig, one of nine children, bailed hay, fed cattle and detasseled corn by hand in the July heat. When he was older, his grandfather gave him his own plot to work.
"My learning was, hard work does pay off if it's focused and you do it well," he said. "And every time I have a challenge now, at least in the back of my mind, I always think it could be worse."