Hong Kong Auction Totals $294 Million on Chinese Bids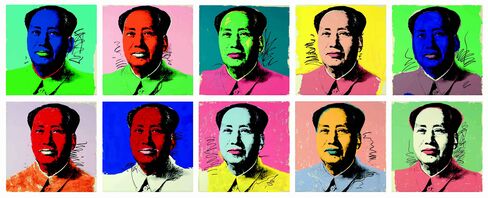 Paintings, imperial Chinese treasures and gems were auctioned for HK$2.29 billion ($294 million) in Hong Kong, the second-highest tally for an art sale in the city, with Chinese buyers paying top dollar for the rarest items.
Of the 2,548 lots offered during the six-day Christie's International auction, 85 percent sold. The most expensive item was a 500 year-old bronze statue of the Amitayus Buddha that was sold for HK$70 million to London dealer Richard Littleton, who outbid about five Chinese contenders.
"Chinese buying of antiques is still very strong and people there are getting more knowledgeable and discerning about what they buy," said Littleton, of New York-based advisory Littleton & Hennessy Asian Art, in an interview.
China's languishing stock markets and falling property prices resulting from government cooling measures have eroded the wealth of the nation's rich, making them more circumspect about spending on big-ticket items such as antiques, said Andy Xie, Morgan Stanley's former chief Asia economist who now works as an independent economist.
Too Expensive
That showed when Chinese bidders passed on a 300-year-old ink-on-paper album by Shitao that Christie's had expected to fetch HK$120 million. That lot failed to sell because it was too expensive, said Beijing-based dealer Ye Hongtao.
Still, the rarest items, especially those made of precious materials, sold for several times estimates. On June 1, 30 antique carved rhinoceros horns went on the block and drew furious bidding from a packed saleroom of mostly Chinese buyers. All 30 items were sold, some for several times estimates.
"Buying those objects is a one-in-a-lifetime opportunity," said Wu Qun, a Beijing-based dealer and auction regular who paid HK$26.4 million for a libation cup carved with eight stallions. "These are good purchases."
Demand for Chinese contemporary art, which showed signs of rebound at Sotheby's April auction, appeared to have cooled at this sale with paintings by top artists of that genre Zeng Fanzhi, Zhang Xiaogang and Liu Ye rarely breaching HK$3 million.
Setting a precedent for a major auction house in Hong Kong, a complete set of 10 screenprints of Mao Tse-tung by Andy Warhol was offered and sold for HK$6.6 million, against a presale high estimate of HK$5 million.
Selling Western Art
"We detect a growing interest in Western Impressionist and modern art in Hong Kong, so we may bring more of these here," said Eric Chang, Christie's Hong Kong-based head of Asian contemporary art, at a news conference on May 30.
Asia's growing appetite for Western art shows at the Art HK exhibition that coincided with Christie's auction and was held at the same harbor-front venue. In that 4-day event that ended May 30, the first formaldehyde work by artist Damien Hirst to be shown in Hong Kong, called "The Inescapable Truth," was sold by London's White Cube Gallery for 1.75 million pounds ($2.6 million) and an Anish Kapoor was sold for 550,000 pounds.
At other auctions held in Hong Kong to coincide with Christie's event, a work by the Indonesian painter Affandi, "Three Faces," was sold for an artist record of HK$3.8 million by Jakarta-based Larasati Auctioneers.
At Christie's, works by established Chinese masters, especially Zao Wou-ki (1921-), consistently beat estimates. All 17 of his abstract paintings found buyers who paid a combined $43 million for his works.
'Profound Depth'
"There's a profound depth and intensity in Zao's paintings that appeal to all cultures," said Eric Huang, a Taipei-based buyer and dealer who paid HK$15.8 million for an oil painting by Zao at Sotheby's October auction in Hong Kong. "That's why his works resonate so well with collectors."
Christie's and Sotheby's hold biannual auctions in Hong Kong that are barometers of Asia's art market and their results serve as reference prices in private transactions.
Before it's here, it's on the Bloomberg Terminal.
LEARN MORE