Rudloff Says Europe Debt Concern Hampers Derivatives, Leverage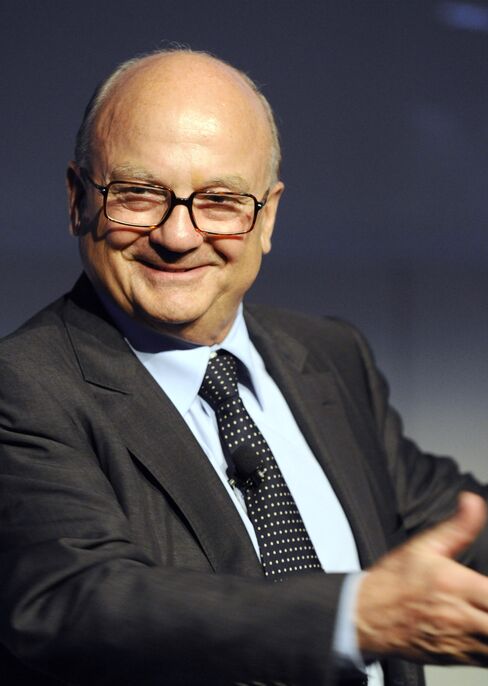 Europe's debt crisis is intensifying fear among investors and making strategies that use leverage and derivatives to increase returns less attractive, said Hans-Joerg Rudloff, the chairman of Barclays Capital.
"All of this creates a climate which does not lend itself for investment, particularly not for so-called sophisticated trading strategies with all of their derivatives and leverage," Rudloff, the chairman of Barclays Plc's securities unit who pioneered the Eurobond market in the 1980s, said in a phone interview from Moscow.
Investors who rely on leverage to amplify returns face increased risks as concern that Europe's debt crisis will spread has sent price swings in global equity markets to the highest level in a year and pushed up volatility in all 16 major currencies traded against the dollar this year. Nobel Prize winning economist Robert Mundell said debt restructuring may be "inevitable" in parts of the euro area and Steve Hanke, the architect of currency regimes from Argentina to Estonia, warned a Greek default may become unavoidable.
The Dow Jones Industrial Average tumbled as much as 9.2 percent on May 6, the most since the crash of 1987, as waves of electronic selling overwhelmed U.S. trading systems, according to data compiled by Bloomberg.
The MSCI All-Country World Index's 30-day historical volatility rose to 26 yesterday, the highest level since May 2009, according to data compiled by Bloomberg. Swings in currencies from the Turkish lira to the South Korean won have more than doubled this year, the data show.
'Fear Is Justified'
"The fear is somewhat justified because there are forces at work which nobody understands anymore," said Rudloff, a former chairman and chief executive officer of Credit Suisse First Boston Ltd. "The Dow Jones drops 1,000 points in two minutes and wipes out 9 percent of the American stock exchange capitalization. Then you have to live with many reports from obscure sources which declare bankruptcy of the European monetary system."
Regulators worldwide introduced rules this month in a bid to stabilize markets. On the same day that Germany announced a partial ban on short-selling, the U.S. Securities and Exchange Commission filed rule proposals under which exchanges would halt trading in individual stocks that swing more than 10 percent. German Chancellor Angela Merkel has struggled to win European allies to support the trading curbs.
"The credibility of the world's leading politicians has declined dramatically as they seem to be unable to create the necessary political and economic order," said Rudloff, who is also chairman of BlueBay Asset Management, which oversees about $37 billion.
Financial Lifeline
Euro-area ministers agreed on May 2 to provide 110 billion euros ($135 billion) of aid to Greece as the country tried to control a deficit that reached 13.6 percent of gross domestic product last year, more than four times the European Union limit. When that failed to stop the euro's slide, the EU and International Monetary Fund offered a financial lifeline of almost $1 trillion to member states.
Derivatives are contracts whose value is derived from stocks, bonds, loans, currencies and commodities, or linked to specific events such as changes in interest rates or weather.
Rudloff began his career in the telex room at Kidder, Peabody & Co. in New York in the 1960s. He joined Kidder's international arm in the 1970s and was made chairman, then jumped to CSFB in 1980 as deputy chairman. Much of CSFB's profitability came from its position as the dominant player in the burgeoning Eurobond market under Rudloff's leadership.
Russian Expansion
Rudloff became chairman and CEO of CSFB in 1989 and in 1993 took a board position at the bank and its parent company Credit Suisse Group after expanding the company's investment in Russia. He later set up London-based investment bank MC Securities, which focused on eastern European and Russian transactions, and in 1998 became chairman of Barclays Capital.
Traditionally a fixed-income business, Barclays Capital is expanding into European and emerging-market equities following its acquisition of the North American operations of Lehman Brothers Holdings Inc.
Rudloff said the equity product was in "full swing" in the U.S. and Europe and the bank hired two senior financiers in Russia last year to run its retail and investment banking arms in Russia.
Barclays has rebranded Expobank, a Russian retail bank it acquired in 2008 for $745 million.
Debt Financing
"The build-up in Russia takes time but is moving ahead steadily under the guidance of our executives in Moscow, with the investment banking side developing rapidly while the commercial bank is being put on a very sound footing," Rudloff, who sits on the board of Russia's largest oil producer OAO Rosneft, said in the interview from Moscow.
Barclays Capital was one of the four arrangers of Russia's first sovereign Eurobond since defaulting in 1998. The government sold $5.5 billion of the securities, the second-biggest emerging-market debt offering on record, in April. Barclays has also arranged financing recently for TNK-BP International Ltd., BP Plc's oil venture with a group of Russian billionaires, along with OAO Lukoil, Russia's largest non-state oil company, VTB Bank, the country's second-biggest lender, and Russian Railways, Rudloff said.
"We are one of the biggest foreign lenders in the country," Rudloff said. "We just completed many capital market transactions."