Ford Said to Plan End of Neglected Mercury After Seven Decades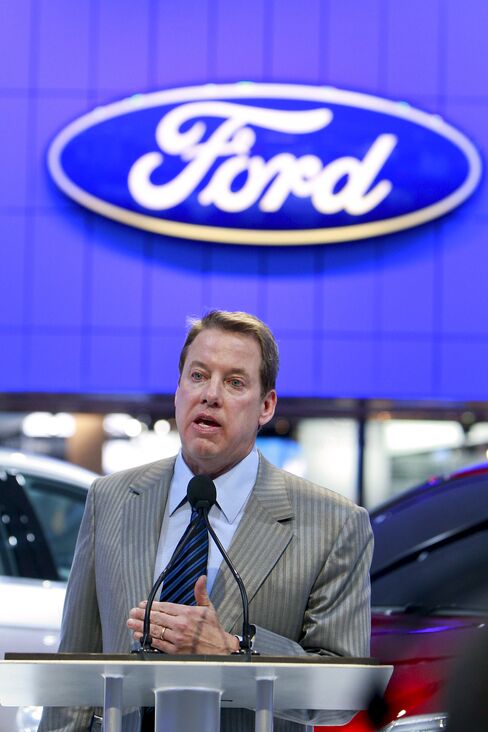 Ford Motor Co. is preparing to wind down the Mercury line, created in 1939 by Edsel Ford, after sales plunged 74 percent since 2000, said two people familiar with the plan.
The automaker's top executives are preparing a proposal to kill Mercury to be presented to directors in July, said the people, who asked not to be indentified revealing internal discussions. Mercury, losing two of four models next year, will be starved of products and promotion, the people said.
Chief Executive Officer Alan Mulally emphasized the automaker's namesake brand as he revived the only major U.S. automaker to avoid bankruptcy. The timing of Mercury's demise depends on how fast executives can convince the brand's dealers, who also sell Lincoln models, to close or merge with Ford showrooms, they said.
"Mercury is a forgotten brand," said John Wolkonowicz, an auto analyst with IHS Global Insight in Lexington, Massachusetts. "Many Americans probably already think it has been discontinued. Mercury was too similar to Ford from the very beginning."
Mulally also is unloading Ford's European luxury brands, after the automaker failed to achieve a goal to have them generate one-third of automotive profits. Ford in March agreed to sell Volvo to China's Zhejiang Geely Holding Co. It sold off Jaguar, Land Rover and Aston Martin in the last three years.
"We continue to evaluate all of our models and brands," Mulally told reporters in Washington, D.C., yesterday. "We have no change in our position about Ford or Lincoln or Mercury."
Detroit's Departed
Mercury would join Pontiac, Saturn, Oldsmobile and Plymouth among the departed Detroit brands of the 21st century. Sales will end within four years, one of the people estimated. General Motors Co., as part of its U.S.-backed reorganization last year, sold or closed four of its eight brands sold domestically.
Edsel Ford, son of founder Henry Ford, established Mercury during the Great Depression as a mid-priced alternative to mainstream Ford and upscale Lincoln. Edsel's great grand-daughter, Elena Ford, now the automaker's director of global marketing, initially opposed discontinuing Mercury, which she was in charge of promoting prior to 2002, the people said.
Doing away with Mercury is supported by Ford Executive Chairman Bill Ford and other members of the founding family, who have 40 percent voting control of the automaker through a special class of stock, the people said. With Mercury accounting for 1.9 percent of Ford's global sales in the first quarter, the family has decided ending it is best for the business, the people said.
'End of an Era'
"Edsel Ford is revered in the family and Mercury was his creation," said Wolkonowicz, a former Ford product planner. "This is the end of an era."
Bill and Elena Ford declined to comment, said Mark Truby, a Ford spokesman.
"Our plans regarding Mercury have not changed," he said. "Like any good business, we constantly assess our business portfolio. If things change, we will let you know."
Mercury sales peaked in 1978 at 579,498, when it had the slogan "At the Sign of the Cat." Deliveries fell 84 percent to 92,299 last year. As the U.S. auto market recovers, Mercury's sales are up 23 percent this year through April, less than Ford Motor's overall gain of 33 percent, according to researcher Autodata Corp. of Woodcliff Lake, New Jersey. Mercury had 0.9 percent of the U.S. market through April, unchanged from 2009.
"We'll miss Mercury because there was still a market for it, albeit small," said Stephen Amabile, a Lincoln Mercury dealer in Springfield, Pennsylvania. "The brand has been starved for product. It's no secret that the company just wants to polish the Ford oval and rebuild Lincoln."
Focus on Ford
Mulally, since arriving from Boeing Co. in September 2006, put a priority on improving quality and expanding the offerings of the Ford brand to lessen its dependence on pickups and sport- utility vehicles. He ended three years of losses at the Dearborn, Michigan-based automaker by earning $2.7 billion last year and has said 2010 will be "solidly profitable."
Ford rose 60 cents, or 5.3 percent, to $11.99 at 4 p.m. in composite trading on the New York Stock Exchange. The shares have risen 20 percent this year.
As Mulally focused on the namesake brand, Mercury withered, the people said. Ford's ad spending on Mercury fell 88 percent from 2005 through 2009, according to researcher Kantar Media of New York. Last year, Ford stopped selling the Mercury Sable, a sibling to the Taurus. The Mountaineer, Mercury's version of the Explorer, is to go away next year as Ford rolls out a new version of the SUV.
Since Mulally's arrival, Ford stopped giving Mercury exclusive features and technology, the people said. That made Mercury less distinctive than comparable Fords, which tend to be priced lower.
'On the Cheap'
"The reason Mercury failed throughout its existence is because Ford never wanted to spend any money on it," Wolkonowicz said. "Ford always wanted to do it on the cheap and the results were what you'd expect."
Mercury's top-selling model is the Milan, a sibling of the Ford Fusion, with sales up 53 percent this year. Mercury also sells its own version of the Ford Escape SUV, known as the Mariner, which has had a 22 percent sales gain through April. Ford is scheduled to replace those models in 2012 and 2013 and could drop the Mercury versions, Wolkonowicz said.
Mercury's second best-selling model, the Grand Marquis, is being retired next year as Ford stops producing a trio of large, rear-wheel drive sedans that also includes the Lincoln Town Car and Ford Crown Victoria. Mulally has emphasized more fuel-efficient models, such as the Fiesta and Focus small cars Ford is introducing this year in the United States. Neither has a Mercury counterpart.
Oldest Buyers
"The Grand Marquis has the oldest buyer demographics in the industry with an average age of 70," Wolkonowicz said. "There are still members of the Depression generation who will miss Mercury."
The brand's cultural heyday came in the 1950s, when hot-rodders favored its engines, which were larger and faster than those found in Ford models, Wolkonowicz said. James Dean drove a Mercury in the 1955 movie "Rebel Without a Cause."
Along with Lincoln, Mercury sponsored "The Ed Sullivan Show" on CBS in the 1950s and 1960s. Detective Steve McGarrett, played by actor Jack Lord, drove a black Marquis in the "Hawaii Five-0" TV series on CBS in the 1970s.
As Mercury's sales plunged, so too have its profits, Wolkonowicz said. With one-quarter of the sales it had a decade ago, it's hard to rationalize the line's continued existence, he said.
"I'm not surprised to see Mercury go because they don't sell enough of them," Wolkonowicz said. "It's been a case of benign neglect for years."
Before it's here, it's on the Bloomberg Terminal.
LEARN MORE