Financial Adviser Starr Charged With $30 Million Fraud by U.S.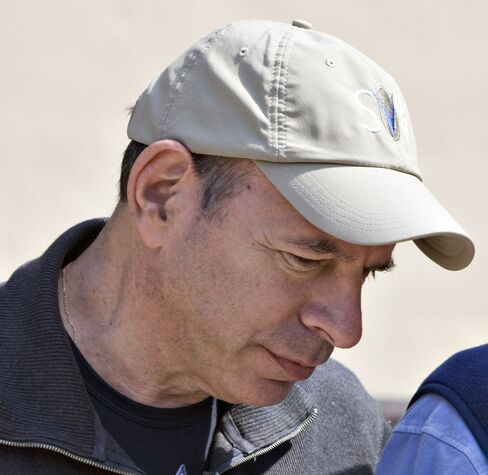 Kenneth Ira Starr, a New York investment adviser who has represented actors including Sylvester Stallone and Wesley Snipes, stole millions of dollars from heiress Rachel "Bunny" Mellon and other clients in a scheme to buy a $7.5 million apartment, prosecutors said.
Starr was arrested yesterday in New York and accused of fraud in what federal prosecutors said was a $30 million scheme that involved socialites, celebrities and athletes. Charged at the same time was Andrew Stein, the former borough president of Manhattan and New York City Council president, who is accused of a tax crime and lying to investigators.
Starr, the manager of more than $700 million, "systematically defrauded his clients," Robert Beranger, an agent with the Internal Revenue Service, said yesterday in a criminal complaint in Manhattan federal court.
"He used his access to famous and powerful clients to burnish an image of trustworthiness, leading his clients to entrust him with management and control of their financial affairs," sometimes assuming "total control" over their "financial lives," Beranger said in court papers.
Starr's associates included his son, an unidentified "former national official of a major political party," and an unidentified partner at a prominent national law firm, the complaint says.
Apartment Purchase
The alleged fraud centers on Starr's purchase in April of a five-bedroom, 6 1/2-bathroom Manhattan apartment with a 32-foot granite lap pool and a 1,500-square-foot garden. Starr used more than $7 million from four client accounts to make the cash purchase, authorities said. The victims aren't named in court papers.
Among the alleged victims is Rachel "Bunny" Mellon, the 99-year-old of widow of philanthropist Paul Mellon. Mellon's family-owned company Oak Spring Farms LLC lost more than $5 million, prosecutors said.
Alex Forger, manager of Oak Spring Farms and attorney for Mellon, said she is "shocked" by the "allegations of criminality" by Starr, whom she has known for many years. Forger said Mellon didn't yet know the extent of her losses. "He had full authority to invest on her behalf," Forger said in an interview.
Others victims included former William Morris Agency Chief Executive Officer Jim Wiatt and actress Uma Thurman, said people familiar with the situation. Wiatt declined to comment through a spokesman. Thurman's publicist, Stephen Huvane, didn't immediately return a call.
Two Schemes
Starr, 65, a nonpracticing lawyer, cheated clients of his New York-based Starr Investment Advisors and Starr & Co. through two schemes, prosecutors said.
In some instances, he solicited investments in what he claimed were "sure deals," then diverted funds to himself or to associates or into risky ventures where he had stake, the government said. One recipient of funds was a company affiliated with ex-professional basketball player Julius "Dr. J" Erving, who led the Philadelphia 76ers to their last National Basketball Association championship in 1983.
Starr is also accused of stealing client funds in what prosecutors called a Ponzi scheme, using money from some investors to repay others. "Sometimes, he simply stole money from his clients," U.S. Attorney Preet Bharara said at a press conference yesterday in Manhattan.
Federal agents yesterday searched Starr's Manhattan offices while the U.S. Securities and Exchange Commission won a court order freezing 23 Starr-related bank accounts, Bharara said. Prosecutors also are scrutinizing other accounts Starr managed, Bharara said.
Court Appearance
In Manhattan federal court, a magistrate released Stein, 65, on $250,000 bond. His lawyer, Andrew Maloney, said his client "stunned" by the charges.
Stein isn't accused of participating in Starr's alleged thefts.
Starr was ordered held in prison after prosecutors said they couldn't locate $14 million that he allegedly stole.
"I believe in the law," Starr said in court. "I would never flee. My children are here, my wife is here."
Late yesterday, Starr lost his appeal over the denial of bail.
"The defendant is a serious risk of flight," U.S. District Judge John Koeltl said at a hearing last night. "The defendant plainly has a motive to flee."
Assistant Manhattan U.S. Attorney William Harrington said in court yesterday that Starr was found hiding in a closet after agents came to arrest him. Joshua Klein, Starr's defense lawyer said his client was "petrified" at the time.
Klein asked a federal judge to reconsider and release Starr on a $5 million bond.
SEC Lawsuit
The SEC filed a civil lawsuit yesterday accusing Starr of using his signatory authority over clients' accounts to transfer their money to his own account. The SEC also sued Starr's wife, Diane Passage, who the complaint says "purports to be a producer of films and plays, and a philanthropist."
Starr & Co. provides corporate and personal consulting advice, tax work, and financial services to clients, the government said in court papers. Starr told prosecutors at a March 10 meeting that the firm employees 65 people, has about 200 clients, and prepares about 1,500 returns annually, prosecutors said.
Its clients include actors, philanthropists and hedge fund managers, Bharara said. Starr is also a major Democratic Party contributor, having donated $35,000 to New York Attorney General Andrew Cuomo's gubernatorial campaign and $70,000 to former Governor Eliot Spitzer, according to state campaign finance records.
Cuomo's Campaign
"We have discussed the matter with the U.S. Attorney's Office and will follow their direction with respect to money contributed by Mr. Starr," said Josh Vlasto, a spokesman for Cuomo's campaign.
Starr is affiliated with Diamond Edge Capital Partners, a firm that markets investments to public pension funds. One of Starr's partners at Diamond Edge is Marvin Rosen, a former Democratic National Committee finance chairman. A call to Rosen's spokesman wasn't immediately returned.
The fraud came to light after a lawyer for a Starr client alerted prosecutors, Bharara said. At the same time, investigators from the Manhattan District Attorney's Office were conducting their own probe. District Attorney Cyrus Vance Jr. joined Bharara at yesterday's press conference.
Court papers cite unauthorized transfers from clients' accounts beginning in 2008. In one instance, a client identified as "a former hedge-fund manager and well-known philanthropist" found that $1.7 million had been moved out of her account, the complaint says.
'Jacob The Jeweler'
Separately, Starr used $13.9 million from a Manhattan jeweler and his wife to invest in a series of companies with which he was affiliated, prosecutors allege. The jeweler, a friend of Starr's who isn't identified in court papers, had been jailed after pleading guilty to obstructing justice, prosecutors said. The jeweler's lawyer, Benjamin Brafman, identified them as Jacob Arabov, who is known as "Jacob the Jeweler," and his wife.
Starr "invested their monies in questionable investments, with direct benefit to himself, his wife" or his associates, the complaint says. "It appears that all of the investments are tainted by fraud."
According to the complaint, Starr routed investor funds to entities including Wind River LLC, a shell company created by Stein; Glassnote Entertainment Group LLC, which represents music artists and employed Starr's wife; Sundown Hills LLC, whose bankruptcy filing was signed by a "retired prominent basketball player" in January; Bregman Productions Inc., a movie producer; and Universal Identification Solutions LLC, a company Starr partially owns.
Tax Debt
In January, Erving, a hall of famer, filed a bankruptcy petition in U.S. Bankruptcy Court in Atlanta on behalf of Sundown Hills, according to court papers in that case. He listed himself as a debtor and member of the corporation. Dorna Taylor, his lawyer, didn't immediately return a call.
Daniel Glass, the founder and principal at New York-based Glassnote Entertainment, didn't immediately return a voice-mail message left at his office.
In related allegations, prosecutors said Stein, 65, took steps to shield his assets in the face of more than $1 million in tax debt. Besides creating Wind River, he shifted money between bank accounts, used others' credit cards to pay his expenses and lied to the IRS.
In 2008 and 2009, Wind River was the recipient of about $1.6 million that came from Starr, Arabov's wife, and an entity called Marose LLC, prosecutors said. Marose is registered in New York State records to Rosen, the ex-Democratic Party fundraiser.
Snipes, Stallone
Prosecutors said Stein, who is accused of making false statements in a tax filing, was the beneficiary of the transfers. "Those monies were then all withdrawn to pay for the extravagant personal expenses of Andrew Stein," the complaint says, citing hundreds of thousands of dollars in American Express bills.
Starr was a witness in the 2008 trial of Snipes, who was convicted by a federal jury in Ocala, Florida, of failing to file income tax returns. Snipes's lawyer, Brian Mahany, didn't immediately return a call yesterday.
Starr was sued in 2002 by Stallone, who claimed Starr's financial advice caused him to lose $10 million on the stock of Planet Hollywood International Inc., a theme-restaurant chain.
Starr & Co. also served as financial adviser to celebrity photographer Annie Leibovitz and actress Joan Stanton, who was the voice of "Lois Lane" in the "Adventures of Superman" 1940s radio series, according to court papers in various lawsuits. Other clients included Louisa Sarofim, the heiress of the Brown & Root construction fortune, and playwright Neil Simon, according to court papers in a lawsuit filed against Starr by Stanton.
The civil suit is SEC v. Starr, 1:10-cv-04270, U.S. District Court, Southern District of New York (Manhattan).