ABB Offers 20% More Than Emerson for Chloride Group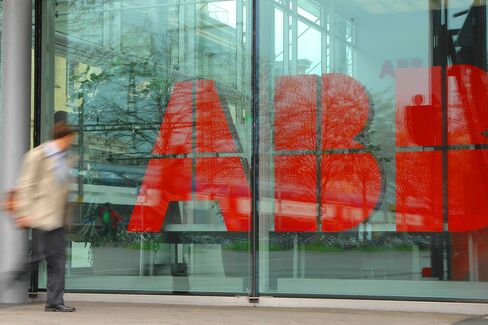 ABB Ltd., the world's biggest supplier of power grids, agreed to buy Chloride Group Plc for 864 million pounds ($1.3 billion) in cash, setting up a potential bidding clash with Emerson Electric Co.
Chloride investors will receive 325 pence a share in cash, Zurich-based ABB said today in a statement. That's 56 percent higher than Chloride's closing price of 209 pence in London on April 23, the day St. Louis-based Emerson made its approach. The U.S. company said it's considering its next move. Chloride shares rose the most in six weeks.
ABB bid 20 percent, or 141 million pounds, more than Emerson to get Chloride's seal of approval. Management at Chloride, Britain's biggest maker of gear to protect against power outages, rejected Emerson's offer on April 26, prompting the U.S. company to take its proposal directly to investors.
A purchase of London-based Chloride would mark ABB's second acquisition in as many months to exceed $1 billion, ending a decade of sitting on cash reserves that swelled to $7.2 billion last year.
"It's a full, but fair offer," said Nick Webster, an analyst at Numis Securities. "Shareholders would take this."
Chloride's back-up power equipment will complement ABB's offerings spanning factory robots and automation equipment as well as substations and power grids, ABB Chief Executive Officer Joe Hogan said in today's statement.
Emerson will outline its response to ABB's move in due course, the U.S. company said today in a statement.
Emerson's Options
A bid of 325 pence would be the minimum price to lure Chloride shareholders, David Stormont, a fund manager at Hermes, which owns a stake in the U.K. company, said in a May 27 interview. Emerson's proposal of 275 pence "materially" undervalued Chloride, while the U.S. manufacturer will have to decide whether it can afford to pay more, he said.
Emerson CEO David Farr had his first conversation with Chloride last week, when Tim Cobbold, Chloride's chief, presented the U.K. company's half-year results to him and answered Farr's questions in a conference call, Chloride spokesman Andrew Hayes said.
Should Chloride withdraw from ABB's offer or select another suitor, it would have to pay a break fee of 8.54 million pounds, according to the Swiss company's offer document.
Chloride climbed 19 percent to 344.5 pence, the biggest intraday jump since April 26, at the close of trading in London. The stock has surged 91 percent this year. ABB rose 0.2 percent to 19.26 Swiss francs.
Ventyx Purchase
ABB agreed to buy Atlanta-based Ventyx, a software maker, for more than $1 billion on May 5. The Swiss company is considering other acquisition targets, Chief Financial Officer Michel Demare said on May 17.
ABB had been in contact with Chloride for a year and a half before the deal was announced, discussing how the two companies could "work together," Hogan said in a conference call with journalists today.
"We approached Chloride when Emerson made their most recent offer," Hogan said. "It wasn't like we were new to one another. I could make a phone call."
Hogan, a former General Electric Co. executive who joined ABB in 2008, said he's targeting the market where demand for power meets industrial robots and automation.
Order Recovery
Annual revenue at Chloride rose 2.8 percent to 336 million pounds. The company said on May 24 that an overhaul will save 3.8 million pounds a year in costs and that, with "positive signs" in markets and orders, the board is confident in the manufacturer's prospects.
Chloride is a "bit back in the value chain," though it will help ABB tap so-called bundled contracts, where a customer demands an array of services under one order, Richard Frei, an analyst at Zuercher Kantonalbank, said in an interview.
"Strategically it makes a certain sense, but the price is rather expensive," Frei said. "They have clients like hospitals, which is not the primary market of ABB. But then, if you take a big chemical factory where they already are delivering the automation and perhaps some things in distribution, then it clearly can have a strategic logic."
Credit Suisse is acting as financial adviser to ABB. Citigroup Inc. and Investec are jointly advising Chloride.
Emerson most likely will return with a higher offer, said Steven Winoker, a New York-based analyst with Sanford C. Bernstein & Co. Chloride offers distribution access and a market that would be expensive to build.
"I suspect that they will come back to the table," Winoker said in a telephone interview. "I would be surprised if they did not."
Winoker doesn't predict a third party will enter the contest because of the increasing price to buy Chloride, which he said was a good dealmaker for drawing a bid from ABB and agreeing to a sale for 20 percent more than Emerson's bid.
"That's pretty impressive," he said.
Before it's here, it's on the Bloomberg Terminal.
LEARN MORE