China May Start State-Guided Carbon Market by 2014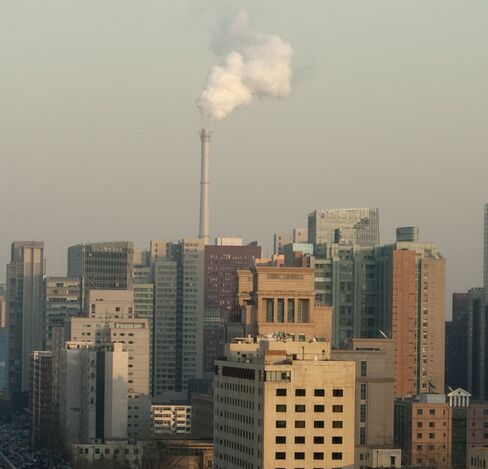 May 28 (Bloomberg) -- China will likely set up a domestic market for trading carbon emissions by 2014 and hand companies "half-mandatory" targets for limiting their greenhouse gases, said a government official who oversees climate-change issues.
Authorities are drawing up rules for a market to be run by "associations" overseen by the government, Feng Shengbo, deputy director of the China Clean Development Mechanism Management Center, said in an interview.
"The government will not directly control the market but if the associations make misleading policy it's for the government to guide them," Feng said yesterday on the sidelines of a conference in Cologne, Germany.
China and India, which have captured the most investment in emissions-reducing projects overseen by the United Nations, are trying to set market mechanisms to encourage polluters to slow their growth of carbon-dioxide emissions even as both resist legally binding limits on the gases they release. Those plans contrast with market delays seen in several richer nations.
"Part of the reason they are doing that is to get a jump on the clean-energy economy of the 21st century," Annie Petsonk, international counsel at the Environmental Defense Fund, said on a panel at the conference today. "If America does not get its act together on this, we will be left behind."
U.S. lawmakers have yet to endorse President Obama's offer of an emissions cut of 17 percent from 2005 levels. The U.S. climate bill is stalled in the Senate.
Industrialized Nations
Australia postponed legislation to set up a carbon market in April with Prime Minister Kevin Rudd saying he wanted to assess action taken by other nations. European Climate Commissioner Connie Hedegaard said this week that the European Union, which runs the world's largest carbon market, will only increase its targets for cuts to heat-trapping emissions should other countries make progress.
China, the world's biggest polluter, pledged to reduce the amount of carbon dioxide it emits for each unit of economic output by 40 percent to 45 percent by 2020 from 2005 levels in the run-up to last year's Copenhagen climate summit. Chinese negotiators resisted a cap on the absolute amount of greenhouse gases the country emits, arguing that the U.S. and other wealthy nations should bear the brunt of emissions cuts.
"From the government point of view, an absolute reduction is not realistic for China at the current stage," Feng said.
Chinese Targets
The government may set targets for Chinese companies to reduce the amount of carbon they emit for each yuan of profit, Feng said. To help them meet those targets they may be able to buy carbon-offset credits from projects, industries or even cities that reduce their own carbon intensity, he said.
"I don't think they will be very hard targets," Feng said. "But if they are too loose, we can change them."
Only Chinese companies will be allowed to trade in the market during its initial phase, he added.
China will also block projects by companies in the steel, cement and coal industries that exceed targets for pollution, the State Council said this month. The government will suspend project approvals for industries set to miss their targets and close down projects that do not have approval by shutting off power and water supplies and asking banks to withhold credit.
India may let power companies start trading renewable-energy credits this year as it bids to encourage reductions in greenhouse-gas emissions. The market may be worth as much as $16 billion within five years, Indian Bureau of Energy Efficiency Director-General Ajay Mathur said in January.
Feng declined to say how much China's carbon market might be worth.
To contact the reporters on this story: Ben Sills in Cologne at bsills@bloomberg.net Ewa Krukowska in Cologne at ekrukowska@bloomberg.net
To contact the editor responsible for this story: Todd White at twhite2@bloomberg.net