China IPOs Post World's Biggest Gains as Stocks Drop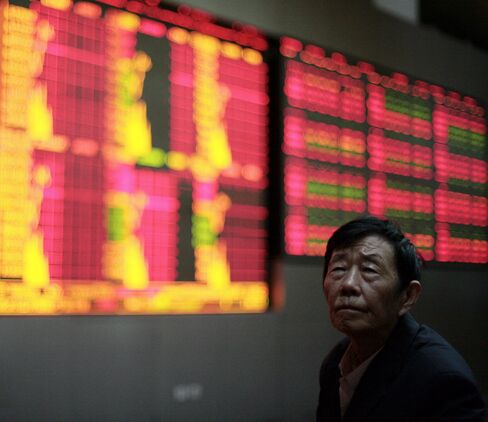 China has the world's worst performing equity market this year and the best returns on initial public offerings.
While the Shanghai Composite Index has slid 19 percent for the steepest drop among the 10 largest stock markets, IPOs are beating the country's benchmark equity indexes by 33 percentage points on average in their first month of trading, data compiled by Bloomberg show.
Chinese individuals restricted from international investments have helped snap up $25 billion in IPOs this year, three times more than were sold in the U.S., as inflation erodes savings and the government clamps down on property speculation. The rally by newly listed companies has made their shares almost twice as expensive relative to profits as the broader stock market, a sign to firms from KBC-Goldstate Fund Management to hedge fund Platinum Partners that a bubble may be forming.
"Most of the China IPOs are overvalued," said Larry Wan, Shanghai-based deputy chief investment officer at KBC-Goldstate, which oversees about $583 million. "It's difficult to believe they are going to be able to deliver the sort of exponential growth that the valuations imply."
The fastest expansion among the 20 biggest economies has helped spur the surge in China's IPO market. The country's gross domestic product grew 11.9 percent in the first quarter, the most in almost three years and about four times the U.S. GDP.
World's Biggest IPO
The amount raised from Chinese IPOs may double after the sale by Beijing-based Agricultural Bank of China Ltd. The nation's third-largest lender by assets will seek at least $30 billion in Shanghai and Hong Kong, according to the Beijing Times. That would be the world's biggest initial offering, exceeding the $22 billion deal by Industrial & Commercial Bank of China Ltd. of Beijing in 2006.
Chinese IPOs have advanced 32 percent on average in their first month of trading, while the Shanghai Composite Index and the Shenzhen composite declined, Bloomberg data show.
The rally by newly listed companies has been primarily fueled by individual investors, even as concern that Europe's debt crisis will hamper the global economic rebound spurred a selloff in equities around the world, according to Andy Xie, an independent economist in Shanghai.
"Chinese investors have this traditional belief that you can't lose money buying new stocks," said Xie, formerly Morgan Stanley's chief economist for the Asia-Pacific region. "This is not sustainable. China's economy has big bubbles, so does the IPO market. Investors can't be fooled forever."
Inflation, Property Market
Local investors who have a total of 146 million brokerage accounts are seeing their investment choices outside of equities limited by inflation that's eroding China's $7.2 trillion of savings and government curbs on mortgage loans.
Consumer prices climbed 2.8 percent last month, surpassing the one-year savings rate of 2.25 percent. The pace of inflation is forecast to rise 3.4 percent this year, the median estimate of 18 economists surveyed by Bloomberg shows.
Citigroup Inc. of New York and Paris-based BNP Paribas SA project that home prices will drop 20 percent this year, after Chinese policy makers increased bank reserve requirements three times in the past three months to slow lending. Property prices surged the most on record in April, according to the National Development and Reform Commission.
"Chinese investors can't allocate their money off-shore," said Lei Wang, who helps oversee $20.2 billion at the Santa Fe, New Mexico-based Thornburg International Value Fund. "Most of the money is locked up at the home market, so for some of those investors, IPOs are a good short-term profitable trade."
Relative Value
Gains by Chinese IPOs have pushed valuations to an average 46 times estimated profits, Bloomberg data show.
That's almost three times as much as companies traded in Shanghai, valued at 16 times earnings, and about double the ratio for Shenzhen-listed stocks.
Chongqing Water Group Co. is valued at 34.9 times its estimated profit after a 59 percent advance in its first month of trading. That's more than double the average price-earnings ratio for companies in the Shanghai gauge, which fell 5.2 percent over the same period.
The $511 million IPO in March gave the supplier of water to the southwestern municipality of Chongqing a market capitalization of $4.9 billion.
'Rocket Shots'
Investors in East Money Information Co., the Shanghai-based provider of online financial information, paid 56 times the company's estimated profits in its IPO, or 117 percent more than the average company in the Shenzhen measure of equities, Bloomberg data show. The company gained 93 percent in its first month of trading, helping to push its valuation to 92 times earnings, or more than three times the broader market.
The Shenzhen index rose 4.9 percent in the same span.
"A lot of the ones trading were really rocket shots," said Uri Landesman, president of New York-based hedge fund Platinum Partners, which oversees more than $500 million. "It definitely does look like there could be bubble-like tendencies in the Chinese IPO market."
Before it's here, it's on the Bloomberg Terminal.
LEARN MORE