BP Well May Have Leaked More Than Twice Exxon Valdez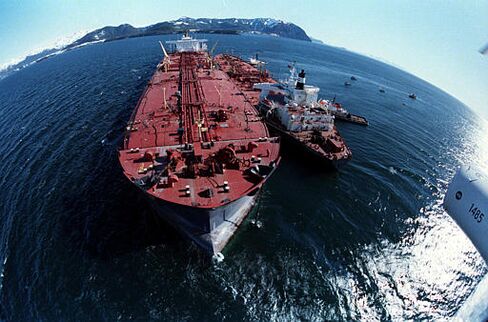 BP Plc's Gulf of Mexico oil well may have spilled more than twice the oil that the Exxon Valdez dumped, according to figures from a U.S. government panel.
The BP well may have gushed 12,000 to 19,000 barrels a day, more than the company has estimated, Marcia McNutt, director of the U.S. Geological Survey and science adviser to Interior Secretary Ken Salazar, said today in a conference call.
From April 22, when the Deepwater Horizon drilling rig sank, through yesterday, and based on the midpoint of McNutt's calculations, the well may have leaked about 527,000 barrels, more than double the Exxon Valdez's 257,000-barrel spill.
"Now we know what we always knew -- this spill is much larger than BP has claimed," Congressman Edward Markey, a Massachusetts Democrat, said today in a statement. "What's clear is that BP has had an interest in low-balling the size of their accident, since every barrel spilled increases how much they could be fined by the government."
The panel, or Flow Rate Technical Group, was appointed May 20 by U.S. Coast Guard Admiral Thad Allen, head of the federal spill response, after BP reported collecting oil at a rate of 5,000 barrels a day, matching its estimate of the spillage while undersea cameras showed more oil gushing into the Gulf.
"The lower end of that range is certainly comparable with the volume from the Exxon Valdez, and the higher end of that range is well above it," Stan Senner, former science adviser to trustees administering the Exxon Valdez settlement, said today in a telephone interview from Houma, Louisiana. "That's the generally accepted figure. People will argue to this day that the size of the Exxon Valdez spill has been underestimated."
Damage Assessment
An accurate, scientifically based estimate of the spill will be essential in assessing damage to natural resources such as marshes and fisheries from the spill, Allen said. Federal officials have closed about 22 percent of the Gulf to fishing, idling commercial and recreational vessels, and Louisiana Governor Bobby Jindal said yesterday oil has polluted 100 miles (161 kilometers) of his state's coastline.
BP had said 5,000 barrels of day is the best estimate, although subject to error because the flow can't be measured directly.
"We haven't made any estimates of the flowrate from the well," said David Nicholas, a BP spokesman in Houston. "What we've always said is that no matter what the estimates would be, our approach to this incident would be exactly the same. We're trying to stop the flow of the well."
Explosion, Fire
Academics who had disputed BP's estimates were advisers to the group, U.S. Coast Guard Rear Admiral Mary Landry said last week.
The well, about 40 miles off Louisiana's coast, began leaking after an April 20 explosion and fire on the Deepwater Horizon drilling rig. BP, based in London, leased the rig from Geneva-based Transocean Ltd., the largest deepwater driller.
"A whole series of failures," preceded the blowout, BP Chief Executive Officer Tony Hayward said yesterday on CNN.