Apple IPad Outshines Mona Lisa as Global Sales Start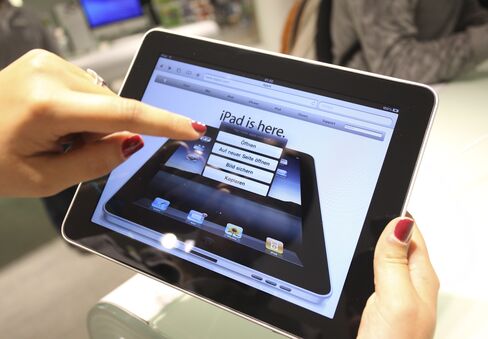 In the basement of Paris's Louvre museum, the early line for Apple Inc.'s iPad far surpassed that for entry to see the Mona Lisa.
Hundreds queued up at the Apple store in the Carrousel du Louvre shopping center in the museum complex, with staff cheering every purchase, as sales outside the U.S. of the tablet computer began today. In Sydney, fans braved the chill of the Southern Hemisphere autumn to be among the first to buy the device, while in Tokyo people waited for as long as 40 hours to make a purchase.
"I tried to buy one in Seattle when I was there about 15 days ago, but they were sold out; so I decided to wait till it came to Europe," said Julien Boidin, 28, who works for Microsoft Corp. in Paris and has an iPhone and a Macintosh computer. "I live in Normandy and commute for four hours a day. I needed something for the train ride."
Following the sale of one million of the devices in less than a month of its April 3 debut in the U.S., the iPad is now available in Australia, Canada, Japan and six European countries. The maker of the iPhone and iPod, which this week became the world's most valuable technology company, has popularized a new category of computer between a smartphone and a laptop. Apple may sell 8 million iPads this year, according to Royal Bank of Canada.
"The thing with Apple is it's not just a piece of technology, it's actually the whole experience," said Rahul Koduri, 22, an engineering student in Sydney, who arrived at 2 a.m. yesterday to be first in line. "They just fit into your lifestyle so well. There's no other product that does it."
Underestimated Demand
The company, based in Cupertino, California, delayed the release of iPads outside the U.S. after underestimating demand at home. In Europe, the iPad will be available in Germany, France, Italy, Spain, Switzerland and the U.K.
Apple is betting the iPad, which starts at 499 euros ($618) in continental Europe -- more than the $499 it sells for in the U.S. to reflect higher value-added taxes -- will entice enough consumers willing to pay a premium over low-cost notebooks. Rivals such as Microsoft have failed to turn tablet computers into popular consumer devices.
"I don't really need it, but I want it," said Jake Lee, a 17-year-old student, who camped overnight outside the store on London's Regent Street. "I wanted to be one of the first people to get the iPad in the U.K."
'Big Hit'
Countries outside the U.S. are likely to account for 43 percent, or 3.5 million units, of iPad shipments this year, Mike Abramsky, an analyst at RBC in Toronto, wrote in a May 20 report. The U.S. will probably be the biggest market with 4.7 million units, followed by France with 805,000 and the U.K, with 585,000, according to the report.
The iPad has a 9.7-inch touch-screen display that lets users view books, magazines, video, play games and surf the Internet.
"I'm going to use it for the Internet, e-mail, video, and controlling the other Macs at home," said Andy Parkinson, a communications engineer, 51, who bought his iPad in London. "I think it is a big hit here. It already looks very good."
German companies such as Allianz SE, Europe's biggest insurer, may equip thousands of sales reps with the devices as a way to improve consultations and speed contract signings, weekly magazine WirtschaftsWoche reported.
'American Hype'
Apple Chief Executive Officer Steve Jobs said the company sold 1 million iPads in the first 28 days, compared with the 74 days the iPhone took to reach that mark. Apple said this month that demand continues to exceed supply.
"I'm buying it for my friend in Malta because it's not available there yet," said Isma Lanani, standing in line at the Louvre. "He manages a hotel there, but this is for his personal use. He's Apple crazy."
Some U.K. customers said they don't expect such a huge rush for iPads as in the U.S.
"Americans are very good at hyping these things up; perhaps British people are a bit more wary," said Emily Dexter, 22, who works for a television production company. "I'm not going to buy one because I can't afford it."
The iPad will spur a sixfold increase in industrywide shipments of tablet computers to 398 million by 2014, research firm IDC said this month. Shipments worldwide will rise to 46 million from 7.6 million this year, according to the Framingham, Massachusetts-based IDC.
For All Generations
On May 26, Apple became the most valuable technology firm in the world, after its market value hit $222.1 billion, higher than Microsoft's $219.2 billion, on optimism it can keep adding customers for its iPhone, Macintosh computer and iPad. The shares gained $3.53, or 1.4 percent, to $256.88 at 4 p.m. in Nasdaq Stock Market trading.
Jobs last month said second-quarter profit almost doubled and sales soared 49 percent on demand for the iPhone. The results don't yet include the iPad, which went on sale after the close of the period for the company.
The iPad's first wave of reviews praised its ability to deliver digital books and video quickly, saying it measures up well against other devices, including Amazon.com Inc.'s Kindle e-book reader.
"To all those people who don't think they need one, I just want to say, 'you just wait and see,'" said Toru Iijima, a 39-year-old information technology professional in Tokyo. "This is great for people who don't like computers. I want to get one for my grandparents and my child."