Agrium CEO Seeks Next Fertilizer Target After CF Bid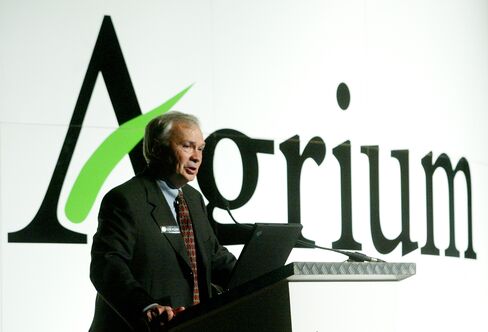 May 27 (Bloomberg) -- Agrium Inc. Chief Executive Officer Mike Wilson, still smarting from a failed $5.4 billion bid for fertilizer maker CF Industries Holdings Inc., said he expects more industry consolidation and is seeking his next target.
Expanding Agrium's North and South American network of farm retail outlets tops Wilson's shortlist of potential deals, he said in an interview at Bloomberg headquarters in New York. The company also would look at opportunities in nitrogen, phosphates or potash crop nutrients, he said.
"We don't wait for someone to knock on the door," he said. "You're going to see organic growth and acquisitions."
Wilson, who completed nine acquisitions valued at about $3.4 billion in the past five years at Calgary-based Agrium, was part of a four-way takeover battle as he pursued CF in an unsolicited bid to become the world's second-largest publicly traded producer of nitrogen-based nutrients.
About $11 billion of fertilizer and agricultural-chemicals mergers and acquisitions are pending or have been completed since the end of 2008, according to Bloomberg data. BHP Billiton Ltd. and Vale SA, the world's two largest miners, are among companies buying fertilizer assets as the expanding global population boosts demand for food, fuel and fiber.
Vale, the Rio De Janeiro-based miner of iron ore and nickel, has agreed to purchase assets including phosphate mines from Bunge Ltd. for $3.8 billion to help meet demand for crop nutrients in South America. Melbourne-based BHP in March acquired Athabasca Potash Inc. for about C$298 million ($283 million) to add to the land in Canada it's exploring for potash, a mineral containing potassium that's used to make fertilizer.
Internal Opportunities
"If you have BHP and Vale out there, two new players of significant size, the structure of the industry should change," Wilson, 59, said, referring to the potash business.
Agrium is likely to maintain its focus on expanding its retail network and on opportunities within the company, such as the growth of an Egyptian joint venture and its distribution business in Europe, said Charles Neivert, a New York-based analyst at Dahlman Rose & Co. who rates the shares "hold."
"The problem for Agrium is finding something to acquire in the nutrients that is more attractive than its internally generated opportunities," said Neivert.
Agrium rose C$1.82, or 3.2 percent, to C$58.81 at 4:15 p.m. in Toronto Stock Exchange trading.
Falling Corn Prices
The shares have fallen 10 percent this year as North American corn prices dropped amid forecasts of rising grain stockpiles. In that time, Potash Corp. of Saskatchewan Inc., the world's largest potash producer by capacity, declined 8.1 percent and Plymouth, Minnesota-based Mosaic Co. the biggest manufacturer of phosphate fertilizer, slipped 21 percent in New York.
"Agrium has diversified up and down the value chain," said Chris Damas, an independent Barrie, Ontario-based equity analyst at BCMI Research. "It's a relatively low risk investment at a time when many investors are risk-averse."
The company's bid for CF ended in March after it failed to convince its Deerfield, Illinois-based rival to begin merger talks. U.S. nitrogen fertilizer maker Terra shunned a bid from Norway's Yara International ASA in favor of being acquired in March by CF for $4.7 billion.
Agrium's bid lost momentum as CF's stock price rebounded last year, Wilson said in the May 20 interview.
"What happened is that damn market started to improve," he said. "As a result their financing became more viable and they became emboldened."
Potash Drive
Agrium mines potash in the Canadian province of Saskatchewan, where BHP is considering development of a mine near the town of Jansen. BHP CEO Marius Kloppers said in August his company would spend "billions of dollars" on the project. A decision on whether to proceed is due in 2011.
The Australian miner is more likely to acquire an existing producer than develop its own potash supply, Potash Corp. Chief Executive Officer Bill Doyle said last week.
Wilson said he would prefer BHP to acquire Potash Corp., which is also known as PCS, and its 22 percent of global capacity, rather than construct additional mines that may curb prices. Agrium can produce 2 million tons of potash a year, while Jansen has a projected capacity of 8 million tons, or about 16 percent of this year's estimated global demand.
"Everybody has BHP buying PCS -- I hope they do," Wilson said in the interview. "God forbid, I'd sooner have them buy than build."
Agrium may delay a planned mine in Western Canada should BHP and Vale both go ahead with their potash projects, Wilson said. Vale is considering the development of potash reserves in Argentina it bought from London-based Rio Tinto Group last year.
Retail Network
"If they both build green-field facilities and they start up in 2016 or 2017, the market will be pretty crappy," he said.
Agrium is adding to its network of farm centers in the Americas that sell seeds, fertilizer and pesticides and give advice to farmers. The company aims to generate $1 billion of retail earnings before interest, tax, depreciation and amortization by 2014, up from an estimated $500 million to $550 million this year, Wilson said.
"I'm confident we can do it," he said.
To contact the reporter on this story: Christopher Donville in New York at cjdonville@bloomberg.net
To contact the editor responsible for this story: Simon Casey at scasey@bloomberg.net.