Top Hat, Bustle Not Required for Posh 1865 Afternoon Tea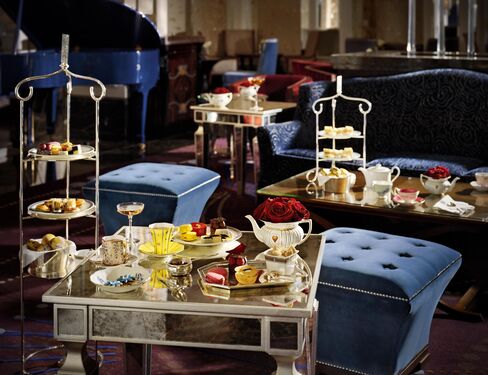 The Langham is offering afternoon tea at 1865 prices -- the equivalent of seven pence (roughly one shilling six pence or 10 U.S. cents) -- on June 10 to mark the 145th anniversary of the first such service at the London hotel. The Wonderland Afternoon Tea, which features finger sandwiches, scones and French pastries, normally costs 35 pounds ($50). It recently won the Tea Guild's Top London Afternoon Tea 2010 award. Bookings open on June 1 (tel. +44-20-7965-0195) and a minimum of 60 teas will be available.
The owners of Arbutus are to call their new London venue Les Deux Salons and said they expect to open the Parisian-style brasserie in late September. The eatery, on the site of the Pitcher & Piano, on William IV Street, near Trafalgar Square, will accommodate 100 customers on the ground floor and 50 upstairs. There are also two private rooms.
The design is by Martin Brudnizki, the man behind the Club at the Ivy and Hix plus Le Caprice in New York.
"We were keen to get a French name because we want the place to have a French feel, but also a contemporary London feel," said Will Smith, the co-owner with chef Anthony Demetre. "We also wanted a name people could pronounce." Like Arbutus?
The Moscow-based Novikov Restaurant Group has secured a site at 50 Berkeley Street in London and plans an Asian seafood restaurant, a Mediterranean eatery and a Far Eastern-themed bar, according to caterersearch.com, citing the company.
Jun Tanaka (Pearl) and Sanjay Dwivedi (Zaika) are among chefs taking part in the Foodies Festival at Hampton Court this weekend. You can get 2-for-1 by quoting "Foodies 241" when you book for the three-day event, which opens on May 29, Square Meal says.
Joel Antunes is a chef you soon may hear more about. He was feted in London in the early 1990s for Les Saveurs, before moving to the U.S., where he most recently headed the Oak Room at the Plaza Hotel. He's back, cooking in the Park Plaza Westminster Bridge, where he prepared dinner on Tuesday night for chefs including Pierre Koffmann, Eric Chavot and Stuart Gillies. Dishes included pigs' feet with gnocchi souffle.
It's not all bad news for Gordon Ramsay. His Camden hotel, York & Albany, is winner of the AA Best Guest Accommodation 2010 title. The chef will appear later this year in "Ramsay's Best Restaurant," successor to "The F Word." Look out for Simon Davis, business partner of the restaurant critic Fay Maschler, who is being lined up for a role.
Skylon celebrates its third birthday on June 7 with a five-course tasting menu -- featuring scallops, lobster, salmon, chicken and strawberries -- by chef Helena Puolakka. Guests will be greeted with a glass of Taittinger (just the one?) and there's music from Urban Soul Orchestra. There are 160 places and tickets costing 65 pounds are available on +44-20-7654-7800.
Leong's Legend, a restaurant serving Taiwanese street food, soup dumplings and dim sum, opened a branch in Bayswater on May 24. For more information, http://tinyurl.com/2v89bgr.
Byron, a purveyor of posh hamburgers, has opened a branch near Angel, at 341 Upper Street, N1 0PB. Tel. +44-20-7704-7620.
A weekend visit to my relatives in Doncaster, home to an excellent food market, was depressing in terms of restaurants. So much for our food revolution, I thought, until I hopped on the train to York for lunch at J. Baker's Bistro Moderne. The grazing menu of seasonal modern British dishes was inspired in terms of focus and execution. I'd be happy to have such a meal in London. The chef is Jeff Baker who held a Michelin star at Pool Court in Leeds and worked at La Tante Claire in London.
I finally made it to Haandi, off Brompton Road. I'd heard good things about this Indian restaurant and it exceeded them, with good service and an open kitchen turning out fresh and beautifully spiced north-Indian dishes. It's part of a chain based in Nairobi, where the chefs are trained. It's near Zuma and one of my new preferred watering holes, at Bar Boulud, my favorite London restaurant of the past year.
Jonny Woo, a cross-dressing performance artist, will host a "Fete Surprise" dinner and cabaret evening, at 1901 restaurant on June 5. Tickets are 49 pounds for canapes, a three-course meal, drinks and outrageous party games. Tel. +44-20-7618-7000.
Cooking classes at L'Atelier des Chefs on Wigmore Street start at 15 pounds for "Cook, Eat and Run," where you learn to cook your own lunch in 30 minutes, and then eat it.
(Richard Vines is the chief food critic for Muse, the arts and leisure section of Bloomberg News. Opinions expressed are his own.)
Before it's here, it's on the Bloomberg Terminal.
LEARN MORE