Keith McNally Tries Pizza at Pulino's, a Bowery Flop: Food Buzz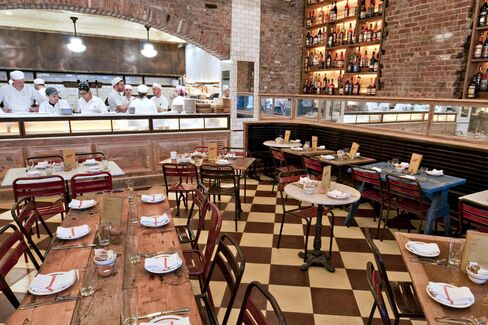 There are many good pizzerias in New York. Pulino's is not one of them.
Chef Nate Appleman's Left Coast, arugula noodlings just miss the target. His boss, restaurateur Keith McNally, can't win them all. He already has the city's best brasserie with Balthazar and possibly the second best with Pastis. If his Minetta Tavern isn't our best steakhouse (I prefer Keens), it certainly comes close.
There is one thing Pulino's does better than other pizzerias. It takes reservations. Except that a pizzeria shouldn't take reservations a month ahead. Such is the absurdity of McNally's faux-upscale take on cheap lowbrow fare.
Resist the urge to ask someone wearing plaid for a menu. I thought it was a staff uniform; it's just how the trendy clientele dress. This is, after all, the new Bowery. It might not be the Disney-fied new Times Square, but there is a Daniel Boulud restaurant a stone's throw away and a giant Whole Foods market across the street. The Bowery used to be about drugs and cigarettes. Few people smoke in front of Pulino's. They're all chatting on their iPhones.
Request a seat outside. Ambulance sirens make you curse the infirm and motorcycles make you wonder where all the Vespas are on the new Bowery. The noise and fumes are the tradeoff against even-higher "say again?" noise levels inside.
Mexican Godfather
Sit at the bar for a shorter wait. Counter seats have backs; they're less for lumbar support than creating an invisible wall to keep the chirping hordes behind you from crimping your space.
Order a Mexican Godfather, a mix of smoky mezcal, bitter Campari and citric grapefruit. It's the choice antidote for the Bowery sausage (lamb, beef and pork), with a clean, concentrated headiness that reminds you it was ground in-house. Anoint toast with piping-hot chickpeas or a briny stew of octopus and shrimp. Goat meatballs are as light and airy as the patrons, which is to say, very.
Appleman won his praise out West at A16 and SPQR for butchering whole animals and putting their parts to good use. He's amenable to Lower East Side staples as well, buying the excellent smoked sablefish from Russ & Daughters. Seasonal salads, like hen-of-the-woods mushrooms with escarole, or roasted asparagus with ramps, are a marked improvement over the fare at red sauce joints, until you chomp down on a large piece of plastic in your fennel salad.
Domino's-Style Pies
Pulino's forgoes Neapolitan-style pies with bubbly, blistered crusts like the ones at Motorino, as well as Sicilian riffs with thick, spongy dough, as at Veloce.
Appleman's pizzas are closer to cracker-like Roman pies, except they're so thin the dough is translucent. Slices are cut into squares, making Domino's thin-crust the unintentional point of reference. Of course the raw materials are better here; the dough exhibits a satisfying chewiness on those occasions when it's not torched into submission.
The toppings are disrespected too. The wood-burning oven results in a four fromage pie with nuked, desiccated cheese. Margherita-style comes with forgettable tomatoes and olive oil, evoking any other $2-a-slice joint. The mozzarella on pizza bianca is about as creamy as Polly-O string cheese.
The tattooed Appleman hasn't yet learned that heat regulation is the most important aspect of cooking. Fazzoletti pasta were dried out to the point of resembling tortillas. Strip steak, ordered medium-rare, was charred to a ho-hum medium. Pork belly was crafted to look, taste and feel like a block of charcoal.
This isn't reservations food. This is snack food. So drop by late at night. Order a spicy sausage pie with broccoli rabe charred just enough to collapse in the mouth. Pour chili-spiked "orange oil" all over (a nod to glow-in-the dark street pizza). And knock back a bottle of Lambrusco, a fruity, bubbly red that a server aptly describes as "pizza-cola." It's all good enough.
Rating: *
The Bloomberg Questions
Cost? Most dishes under $20.
Sound level? 75-80 (loud).
Date place? Really. You can do better than pizza.
Inside tip? At breakfast, Appleman transforms the rich beauty of eggs into bland, Styrofoam-like strands in an ill-conceived riff on pasta all'amatriciana.
Special feature? Great shrimp pizza; excellent farro pudding with goat's milk yogurt for dessert.
Will I be back? For a late night snack.
Pulino's Bar & Pizzeria is at 282 Bowery at Houston Street. Information: +1-212-226-1966; http://www.pulinosny.com
What the Stars Mean:

****         Incomparable food, service, ambience.
***          First-class of its kind.
**           Good, reliable.
*            Fair.
No stars     Poor.
Sound-Level Chart (in decibels):
51 to 55: Church on a weekday. 56 to 60: The vegetable aisle at the Food Emporium. 61 to 65: Keyboards clacking at the office. 66 to 70: My alarm clock when it goes off inches from my ear. 71 to 75: Corner deli at lunchtime. 76 to 80: Back of a taxi with advertisements at full volume. 81 to 85: Loud, crowded subway with announcements.
(Ryan Sutton writes about New York City restaurants for Muse, the arts and leisure section of Bloomberg News. The opinions expressed are his own.)
Before it's here, it's on the Bloomberg Terminal.
LEARN MORE