Hyundai Steel Plans New Automotive Products, Expands Research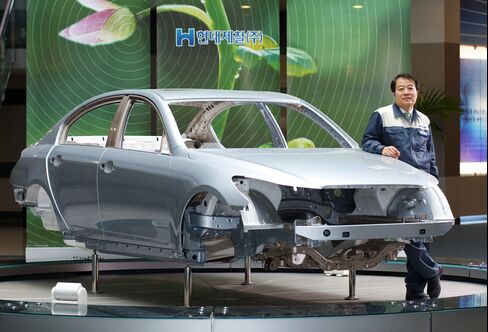 May 26 (Bloomberg) -- Hyundai Steel Co., South Korea's second-biggest steelmaker, will develop new automotive products for use in cars including the Sonata and Elantra by adding about 200 researchers, increasing competition for Posco.
The steelmaker wants to make lighter, stronger and easy-to-shape sheets for Hyundai Motor Co. and Kia Motors Corp., Senior Executive Vice President Cho Won Suk, 57, said in an interview. The carmakers are South Korea's largest.
Hyundai Steel, spending 6.2 trillion won ($5 billion) on two plants, is competing with bigger rival Posco in South Korea's automotive market as sales soar for the nation's largest carmakers. The "challenge" is to compete on quality after the expansion, said Nomura International Ltd.
"Auto steel requires the best technology among steel products and not everyone can enter the market," Lee Jin Woo, who helps manage $8.8 billion at KTB Asset Management Co., said in Seoul. "It will take time, but Hyundai Steel will be able to go up to that level. Posco cannot help but to be hit one way or another."
Hyundai Steel has dropped 2 percent this year in Seoul trading, outperforming the 26 percent decline of Pohang-based Posco, the nation's largest producer of the metal.
The steelmaker will spend 80 billion won on product development over the next 12 months, and expand its research department by up to 67 percent in two to three years, Cho said. Cho, who holds a doctorate in metal engineering from the University of Michigan, Ann Arbor, didn't forecast how much sales to its sister company may increase by.
Automotive Steel
Hyundai Steel sold 700,000 metric tons of automotive steel, or 7 percent of total sales, last year and may increase that for 2010, Chief Executive Officer Park Seung Ha said in January.
Hyundai Motor sources 40 percent of its steel from Posco, 10 percent from overseas mills including Nippon Steel Corp., according to Nomura. The rest were from affiliate Hyundai Hysco.
"Our edge is that we can get involved in an early stage of car development, which will enable us to tailor make products" for Hyundai Motor, Cho said at Hyundai Steel's research and development center in Dangjin, where technicians were tearing apart vehicles to study the steel used.
Hyundai Steel plans to start supplying steel for the exterior part of cars, which is the "the most difficult area" technology wise, next year, he said. Cho was previously head of two research centers in the U.S. for Hyundai Motor and Kia.
Hyundai Motor boosted sales 26 percent in the first quarter, helped by its revamped Sonata sedans and Tucson sport-utility vehicles. The carmaker, which also makes the Elantra compact sedan, and affiliate Kia are seeking to sell 5.4 million vehicles this year, a 17 percent gain from a year ago.
Captive Market
Hyundai Steel "has a captive market that will digest its output to some degree, which is a big merit," said Kim Gyung Jung, an analyst with Eugene Investment & Securities Co.
The mill began commercial operation of its first blast furnace in April, and production at the second one may start next year, boosting capacity 70 percent to 19.5 million tons. The plants may help boost operating profit 69 percent to 1.27 trillion won in 2011, KB Investment & Securities Co. said May 6.
Hyundai Steel, which is considering a third blast furnace, made steel in electric-arc plants that use scrap as raw materials before the new mill started. Blast furnaces burn iron ore and coal.
To contact the reporter on this story: Sungwoo Park in Seoul at spark47@bloomberg.net.
To contact the editors responsible for this story: James Poole at jpoole4@bloomberg.net; Andrew Hobbs at ahobbs4@bloomberg.net