'Sex and City' Girls Watch Veiled Arab Woman Eating Fries: Film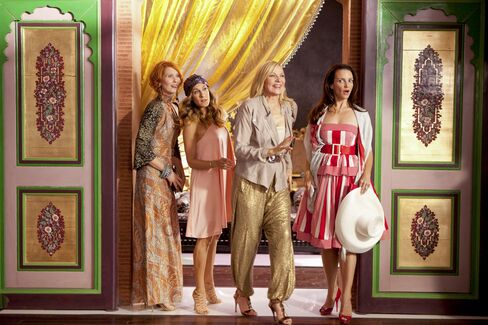 During their lavish Mideast escapade in "Sex and the City 2," Carrie and the girls gawk at an Arab woman slyly munching French fries through her veil. The scene grabs your attention, then quickly fades away -- just like the rest of the movie.
You would think the Abu Dhabi setting -- great shopping, problematic sex, at least for women -- would provoke more than stale jokes about gays, Arabs, menopause and motherhood. For thrills we have to settle for Carrie buying bargain shoes at a market stall and Samantha getting arrested for kissing on a beach.
As the movie starts, Carrie (Sarah Jessica Parker) and her three best friends -- Samantha (Kim Cattrall), Charlotte (Kristin Davis) and Miranda (Cynthia Nixon) -- are ready to escape from New York.
Carrie feels her marriage to Mr. Big (Chris Noth) is turning humdrum and Charlotte is a harried mother of two young daughters. Miranda is being harassed by her law-firm boss and Samantha is reeling from the first signs of menopause.
After attending the over-the-top gay wedding of their friends Stanford and Anthony -- complete with an all-male chorus, swans and a song-and-dance number by Liza Minnelli -- the ladies luck into an all-expenses-paid trip to Abu Dhabi courtesy of a wealthy sheik who wants PR-whiz Samantha to promote his five-star hotel.
Camel, Karaoke
They fly over on the sheik's luxurious airline, get chauffeured in separate white Maybachs and are ensconced in huge hotel suites with their own butlers. Writer/director Michael Patrick King, who piloted the first movie and many of the TV episodes, then delivers a series of adventures and mishaps, like a female-buddy version of "Road to Morocco."
"Sex and the City 2" was shot in Morocco after Dubai and Abu Dhabi turned it down. Abu Dhabi, you may recall, is the enlightened place where a teenager who claimed she was gang-raped faced possible lashing for having sex out of wedlock. (She subsequently retracted her allegations.)
The absurdity of having four liberated American women on the loose in such a sexually repressive place offers bizarre possibilities. All we get, though, is Charlotte falling off a camel while trying to talk on her mobile phone and the girls doing a karaoke version of "I Am Woman" at a glitzy nightclub.
Samantha's beach faux pas forces the foursome to leave on short notice. Back in New York, they re-evaluate their lives and realize things could be much worse -- having to sneak French fries through a veil, for instance.
"Sex and the City 2," from Warner Bros. Pictures, opens tomorrow across the U.S. Rating: *
What the Stars Mean:

****          Excellent
***           Good
**            Average
*             Poor
(No stars)    Worthless
(Rick Warner is the movie critic for Muse, the arts and leisure section of Bloomberg News. Opinions expressed are his own.)