World Cup Player Isn't 'Under the Radar' at Westpac New Zealand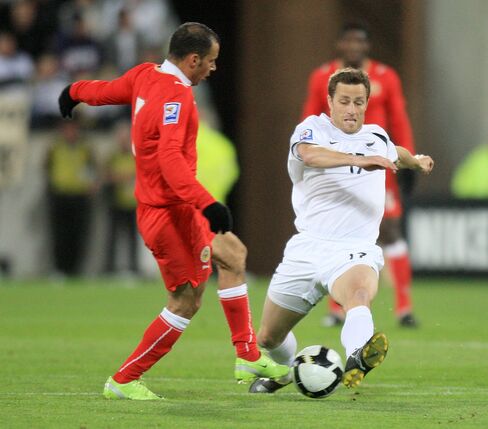 May 26 (Bloomberg) -- As his colleagues at Westpac Banking Corp. in Wellington look forward to watching New Zealand's first soccer World Cup appearance in 28 years from afar, Andy Barron will have the closest possible view as a member of the squad.
Barron, who helps manage about NZ$1 billion ($661 million) of assets for high net-worth customers in Westpac's wealth division, is heading to the tournament in South Africa after being selected to the All Whites' 23-man roster.
"In the last few months at least, my mind kind of has been on the World Cup and not work," Barron said in a telephone interview. "That's going to be natural isn't it? It's going to be an amazing journey."
Barron, 29, juggled his job helping invest clients' money in stocks, bonds and managed funds with assisting his country's qualification for soccer's championship. New Zealand also played in the 1982 edition in Spain, losing all three matches.
He's one of six players on coach Ricki Herbert's squad not under contract to professional clubs who may find themselves lining up against 2006 World Cup winners Fabio Cannavaro and Andrea Pirlo of Italy in South Africa next month. Slovakia and Paraguay are the two other teams in New Zealand's group.
"I can't imagine there will be too many other amateurs there," said Barron, who has scored once in 14 appearances for the national team.
The central midfielder said the majority of his colleagues were unaware of his extracurricular activities until November, when he took part in a World Cup playoff against Bahrain. New Zealand won 1-0 over two games to seal its place at the 32-team tournament.
'Under Radar'
"Most of them didn't know for a long time, apart from my team obviously," added Barron. "I tried to stay under the radar but that went out the window when the news cameras followed me into work after the Bahrain game. The more publicity we've got the harder it's been to keep under wraps."
Barron was born in Invercargill in southern New Zealand, and graduated six years ago from William Carey University in Hattiesburg, Mississippi, with a degree in business finance. He says he's fortunate to have an understanding employer.
He had about 10 weeks off last year to fulfill commitments with the All Whites. At the eight-nation Confederations Cup, New Zealand tied with Iraq before losing to host South Africa and Spain. The team also played World Cup qualifiers.
"It'll be more this year," said Barron, who has had professional stints with the Minnesota Thunder of the United Soccer League in the U.S. and Lisburn Distillery FC in Northern Ireland. "Thankfully I've got a great team and they can pick up slack and help me through when I'm not here. Westpac has just come to the party big time."
Sports Leave
His exploits on "sports leave" with the All Whites have turned some of his colleagues onto soccer in a country where rugby is the national sport, according to Kelly Maiden, a Wellington-based wealth operations manager at the bank. Maiden said World Cup draws have already been printed out and put up on the office walls.
"We weren't really into soccer before he started but I guess now we do have to watch it," Maiden said in a telephone interview. "We do our homework because otherwise he'll be disappointed because we don't know what he's talking about."
Switching from his role as a senior operations administrator to representing his nation on the soccer field has gotten easier, Barron said, adding that he still needs time to adapt.
"You've just got to turn off and switch back onto something else," he said. "It takes a while to adjust."
Long-Shot
William Carey coach Nigel Boulton, who coached Barron in his senior year, said it wasn't a surprise that he'd made his way onto the national team.
"He was always a player who looked as though he would play at a high level after graduating," Boulton said in an e-mail interview. "I'm surprised he never made it in one of the English leagues or here in the U.S., but I'm sure his banking career played a part in those kinds of decisions and opportunities."
The All Whites, who lost 2-1 to Australia in Melbourne two days ago, play another three tune-ups against fellow qualifiers Serbia, Slovenia and Chile before taking on Slovakia on June 15 in their opening game of the World Cup in Rustenburg.
New Zealand, rated a 2,000-1 long-shot with North Korea to win the World Cup by U.K. bookmaker William Hill Plc, then faces defending champion Italy five days later before finishing group play June 24 against Paraguay.
While in South Africa, Barron said he won't completely leave behind his day job more than 7,300 miles (11,755 kilometers) away in the New Zealand capital.
"I'll take my iPhone, that's for sure," Barron said. "I'll have to keep an eye on the portfolios."
To contact the reporter on this story: Dan Baynes in Sydney at dbaynes@bloomberg.net
To contact the editor responsible for this story: Christopher Elser at at celser@bloomberg.net