Vekselberg to Revive Soviet Oil Plant to Save Town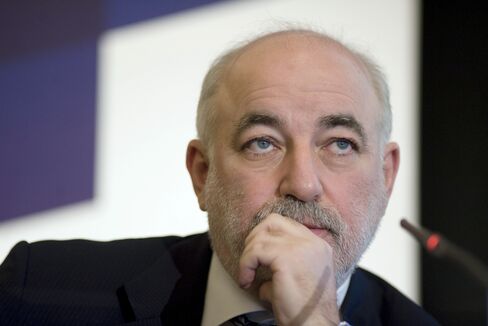 May 26 (Bloomberg) -- Russian billionaire Viktor Vekselberg plans to renovate a money-losing, Soviet-era synthetic oil plant as President Dmitry Medvedev demands the rich invest in towns left impoverished by dying industries.
Vekselberg's Renova Group is set to bid for the state's stake in the factory at Slantsy near Prime Minister Vladimir Putin's hometown of St. Petersburg, said Yakov Tesis, the holding company's director for the project. Russia's 16th richest man would spend $40 million immediately to get the plant producing oil again, Tesis said.
Russia's billionaires doubled in number last year, while unemployment rose as high as 9.4 percent and the economy shrank the most since 1991. Political leaders are pushing the wealthy to invest in what are known as "mono-cities" from the Stalin-era, where a single company would provide most of the jobs and housing and fund schools. Such struggling towns are home to about 12 percent of Russia's 142 million people, according to the Independent Institute for Social Policy.
"Today this asset is loss-making, there are thousands of people there, and entering this project, you take on serious social responsibilities," Tesis said in an interview. "You can't just get out of it."
The government's offer of state assets to private industry will be "hard to refuse" politically, said Natalya Zubarevich, head of regional studies at the Moscow-based institute.
State Sale
Renova owns 40 percent of the Zavod Slantsy plant, which was built to produce a petroleum-like fuel from shale rock containing oil. Renova has mines near St. Petersburg that contain oil shale and plans to buy the state's 56 percent stake in the factory. The government will auction its share on May 31, according to the Federal Property Agency's website.
Putin publicly berated Oleg Deripaska and other business owners in Pikalyovo, a town of 23,000 near St. Petersburg, in June last year for "lack of professionalism and perhaps simply greed" after idled factories and wage arrears sparked protests.
"We are waiting for a true owner of the plant, someone who would worry about solving the plant's problems," said Alexander Khopersky, the mayor of Slantsy, home to 35,000 people. "It is closely connected with the town's development: its stability, stable jobs, stable salaries."
Russia will spend 27 billion rubles ($878 million) this year to support single-company towns, Putin said at a government meeting in Moscow on May 20.
Vekselberg's Interest
While the Zavod Slantsy plant is the only hope for the town's economy, the potential for "innovation and efficiency" sparked Vekselberg's interest, Tesis said. Renova aims to upgrade the plant and produce synthetic fuel that can compete with petroleum, he said.
Shale oil is a cheaper alternative to fuel oil, at about 8,000 rubles a metric ton, freezes at lower temperatures and contains less sulfur, Tesis said. By 2012, Renova plans to produce 1 million tons of shale a year and process that into 140,000 tons of shale oil at Slantsy, where production has been suspended since 2004.
Vekselberg, 53, said in April he will step down as executive director of BP Plc's Russian venture after Medvedev asked him to lead a new technology center near Moscow.
Shale Projects
OAO Inter RAO UES spokesman Anton Nazarov said the state-run power utility is interested in shale projects. The press office at OAO Rosneft, another potential bidder, declined to comment.
Renova, which bought into Slantsy in 2007, resumed mining that had been shut in for three years at Leningradskoye, Russia's largest shale mine. The deposit holds reserves of as much as 1 billion tons.
Unlike U.S. shale projects, Leningradskoye holds no natural gas reserves, Tesis said. The country has 37 billion metric tons of shale reserves while Russia's total shale gas reserves were never counted, he said citing data from 1981.
OAO Lukoil, Russia's biggest non-state oil producer, and Polish, Finnish and Estonian companies have expressed interest in buying the fuel, Tesis said. Lukoil spokesman Dmitry Dolgov declined to comment.
Estonia, the only country that now uses oil shale as a primary energy source, stopped buying Russian shale in 2005, Tesis said. The Nazi army used Estonian shale oil to fuel battle tanks and air bombers during World War II.
During the Soviet era, as much as 9 million tons of shale a year was extracted at Leningradskoye and turned into fuel for ships and boiler houses.
Renova sees the sale of the state's stake in the plant as the first step to reviving the local economy, Tesis said.
"Without a private investor in the plant, the town will die, there is nothing else there."
To contact the editor responsible for this story: Anna Shiryaevskaya in Moscow at ashiryaevska@bloomberg.net; Ilya Khrennikov in Moscow ikhrennikov@bloomberg.net
To contact the editor responsible for this story: Will Kennedy at wkennedy3@bloomberg.net; Amanda Jordan in London at ajordan11@bloomberg.net.