Nissan CEO Ghosn Defends His Plan for Growth in Electric Cars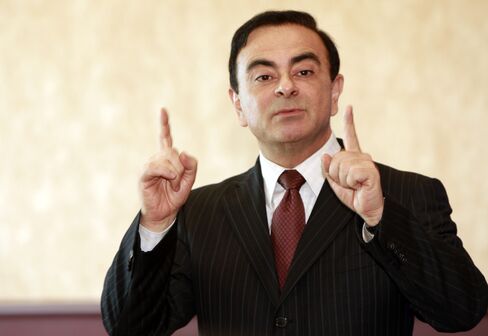 Nissan Motor Co.'s Chief Executive Officer Carlos Ghosn defended his plan to sell 500,000 electric cars a year by 2012, saying skepticism from analysts and competitors won't deter him.
"We understand that when you go into innovation or new technology, some people are more bullish and some are more bearish," Ghosn said yesterday during an event at the Detroit Economic Club. "Five hundred thousand units is only 0.8 percent or 0.9 percent of the car market."
Ghosn, 56, also CEO of Renault SA, is trying to sell more electric cars through both companies than rivals are planning. General Motors Co. aims to build 45,000 of its Volt electric car, which also uses gasoline, annually by 2012. California-based startup Tesla Motors Inc. has said it will sell about 20,000 of its Model S sedan starting next year.
Yokohama-based Nissan, Japan's third-biggest carmaker, will begin selling its Leaf electric car in Japan and the U.S. this year. Tax credits and rising fuel prices will spur demand for the $32,780 vehicle, which will cost $25,280 after U.S. subsidies, according to Ghosn.
The car is sold out for 2010, with 13,000 pre-orders in the U.S. and 6,000 in Japan, he said yesterday.
Ghosn's sales goal isn't realistic, said James Hall, principal of 2953 Analytics, a Birmingham, Michigan-based consulting firm. The cars are expensive, recharging takes several hours, and the 100-mile range is insufficient for most Americans, he said.
'No way'
"There is no way Nissan will sell that many unless he has deals to sell to government fleets that we don't know about," Hall said. "He has to hope that federal money will move the car."
Nissan rose 0.8 percent to 652 yen as of 9:30 a.m. in Tokyo trading. The stock has dropped 20 percent in 2010. Renault fell 6.9 percent in Paris yesterday, extending its decline this year to 26 percent.
Ghosn plans to mark the start of construction today at a Nissan battery plant in Smyrna, Tennessee, which is scheduled to open in 2012 and have the capacity to make lithium-ion battery packs for as many as 200,000 vehicles annually.
Renault, based in the Paris suburb of Boulogne-Billancourt, has orders for 115,000 electric cars in Israel and Denmark, Ghosn said. He declined to say over what time period those vehicles would be delivered. Nissan's Infiniti luxury brand will have an electric car in 2012, he said.
IHS Global Insight, a Lexington, Massachusetts-based research firm, forecasts Nissan will sell 57,000 Leaf cars globally in 2012, rising to 127,000 in 2015.
"What competitors are saying or what analysts are saying won't change the course of events for us," Ghosn said.
Before it's here, it's on the Bloomberg Terminal.
LEARN MORE