Kim Jong Il Orders Military to Combat, Group Says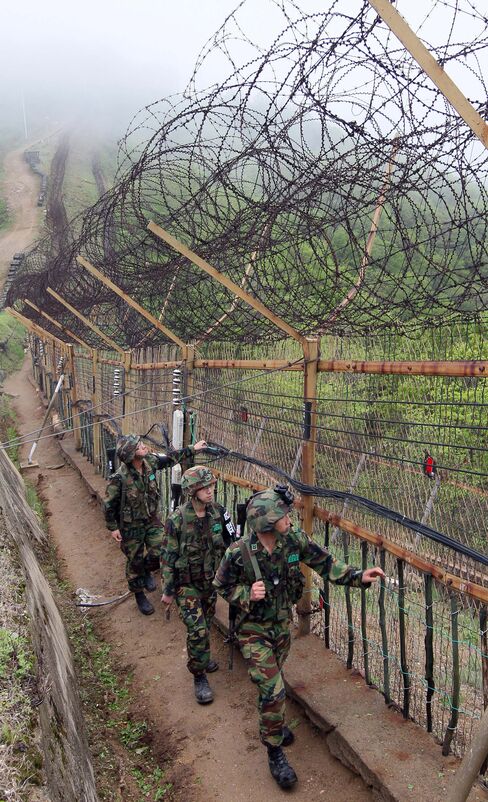 May 25 (Bloomberg) -- North Korean leader Kim Jong Il told the military to be combat-ready in a message that coincided with South Korea's announcement that it blamed his regime for the sinking of a warship, a dissident group said.
Kim's order was broadcast on May 20 by O Kuk Ryol, vice chairman of the National Defense Commission, according to the website of North Korea Intellectuals Solidarity, a Seoul-based group run by defectors from the communist country.
The Korean won weakened 3 percent against the dollar and the Kospi stock index dropped to the lowest in more than three months. The report added to perceptions of increased tension on the Korean peninsula following the March 26 sinking of the 1,200 ton Cheonan, with the loss of 46 lives.
South Korea yesterday announced plans for joint military exercises with the U.S. off the west coast where the ship sank, while North Korea today warned of military action in the area after accusing the South of violating its territory in the disputed zone.
"For Kim Jong Il to be giving such an order is pretty serious," said Kim Yong Hyun, professor of North Korean studies at Seoul-based Dongguk University, adding that he doubted that such a direct order was given.
Secretary of State Hillary Clinton said today that China understands the gravity of escalating tensions with North Korea.
'Working Together'
"We expect to be working together with China in responding to North Korea's provocative action and promoting stability in the region," Clinton told reporters in Beijing at the end of two days of talks with Chinese leaders. "We pledged to stay in very close consultation."
Clinton said her discussions in Beijing about North Korea had been "very frank and detailed." China has yet to publicly accept the finding of an international panel, which concluded that a North Korean torpedo sank the warship.
"We do not agree on every issue, we don't agree even sometimes on the perception of an issue, but that is partly what this dialogue is about," Clinton said, adding that this enabled the discussion to include areas of discord including missile sales to Taiwan and human rights.
Ready to Respond
While Kim doesn't want war, North Korea is ready to counter any attacks, O said in the message, according to the dissident group, which cited an unidentified person in the country. The organization was among the first in South Korea to report on North Korea's botched currency revaluation late last year.
Defectors formed North Korea Intellectuals Solidarity in 2008. It has about 250 members and is led by a former computer-science teacher in the communist country.
Threats of war by North Korea carried by the state-run Korean Central News Agency are commonplace. A March 26 report warned of "unprecedented nuclear strikes" against enemies while a June 9, 2009 bulletin warned of "merciless strikes" using the country's nuclear deterrent.
Lee Jong Joo, a spokeswoman at the Unification Ministry in Seoul, said she couldn't confirm the defectors' report as the closed-circuit radio, on which the message was said to be delivered, cannot be monitored by South Korea's government. A spokesman at the South Korean Defense Ministry, who declined to be identified, said the government can't comment on North Korea's military status.
Won Drop
The won fell 3 percent to 1,251.1 per dollar as of the 3 p.m. close in Seoul, the biggest drop since March 30, 2009, according to data compiled by Bloomberg. The Kospi index sank 2.8 percent to 1,560.83.
South Korean defense-related stocks rallied. Speco Co., a construction company that supplies the military, rose 14.9 percent to 5,520 won. Victek Co., which makes electronic warfare equipment, gained 4.9 percent to 4,300 won.
Tensions heightened on the Korean peninsula following last week's report by a South Korean-led multinational panel that North Korea was the "only plausible" perpetrator of the attack.
"If South Korea continues to trespass our waters we will carry out real military action to protect our territory," KCNA reported today. North Korea's military sent the warning in a message to South Korea today, the agency said.
North Korea said it would shell South Korean positions that tried to blare propaganda over the demilitarized zone that marks the border between the two countries, which are still formally at war following their 1950-1953 conflict. The border is one of the most heavily armed in the world, with U.S. and South Korean troops facing off against North Korea's million-strong army.
To contact the reporter on this story: Bomi Lim in Seoul at blim30@bloomberg.net
To contact the editor responsible for this story: Bill Austin at billaustin@bloomberg.net