Jamaica Opposition Seeks Prime Minister's Resignation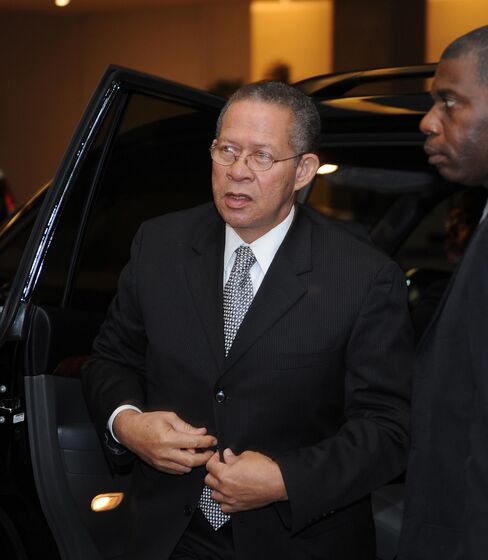 Jamaican Prime Minister Bruce Golding caused a "fiasco" by delaying the extradition of an alleged drug lord to the U.S. and should resign after deadly street violence subsides, an opposition lawmaker said.
Golding, speaking to Parliament, said police confirmed that at least 26 people have been killed in street clashes between police and supporters of Christopher "Dudus" Coke, the target of a three-day manhunt.
Golding allowed gangs time to arm themselves as he delayed carrying out the U.S. request for extradition for nine months, said Peter Bunting, general secretary of the People's National Party and the opposition's spokesman on national security.
"Even though the government inevitably buckled to pressure, the prime minister and his cabinet must be held accountable for this fiasco," Bunting said in a phone interview from Kingston. He added that opposition parties will push for a vote of no confidence that could force new elections after the situation is brought under control.
"We don't want to contribute to the instability as there are pitched gun battles in the street," said Bunting, a founder and former chief executive officer of Dehring, Bunting & Golding Ltd., an investment bank bought by Bank of Nova Scotia in 2006.
Golding told lawmakers in Parliament that he regretted the loss of life as the government tries to capture Coke, efforts that have provoked three days of street clashes between security forces and his supporters. He vowed to quell the violence by going after "criminal gunmen in whatever community they may be ensconced."
Six officers were shot and one died yesterday after trying to serve an arrest warrant on Coke in his stronghold in the Tivoli Gardens neighborhood of western Kingston, the government said in a statement.
Coke's Record
Coke is accused by the U.S. of leading an international criminal group known as the "Shower Posse," with members in Jamaica and the U.S. He is charged with conspiracy to distribute marijuana and cocaine and conspiracy to illegally traffic in firearms, according to the office of the New York Attorney General. His lawyers have denied any wrongdoing by Coke.
Jamaica's borrowing costs rose to a three-month high today. Dollar bonds yielded 5.38 percentage points more than U.S. Treasuries, the highest since Feb. 16, according to JPMorgan Chase & Co.
The crisis has caused businesses and schools to shut on fears of further violence, Bunting said. Tourism is also expected to suffer as travelers cancel their trips for fear of being caught in the crossfire, he said.
Tourism Revenue
Tourism accounts for about 10 percent of the country's gross domestic product and 50 percent of foreign exchange earnings, according to the Jamaican Tourist Board.
Any drop-off in travel from fighting centered in Kingston could be short lived as most visitors skip the capital for beach resorts, said Joe Kogan, the head of emerging markets strategy at Scotia Capital Markets in New York.
"Maybe if the violence lasts for months, then tourism will be affected," Kogan said today in a phone interview. "But Jamaica has its own brand with Bob Marley and the music that gives them an advantage."
The U.S. State Department on May 21 warned travelers that civil unrest in Kingston could block access to the international airport. Air Jamaica Ltd., the country's largest carrier, yesterday canceled three night-time flights connecting Kingston and the U.S. to assure the safety of its passengers and crew.
IMF Mission
The International Monetary Fund in February approved a 27-month, $1.27 billion stand-by credit agreement to help the Caribbean country of 2.8 million people recover from the global financial crisis, which depressed prices for bauxite and aluminum exports. It also reduced inflows from tourism and remittances sent by Jamaicans living abroad.
An IMF mission to Jamaica on May 18 recommended the board disburse $93.5 million after the government met its fiscal targets by controlling spending and improving tax collection. Jamaica's debt is equal to about 130 percent of gross domestic product, according to the IMF.
The IMF expects Jamaica's economy to shrink 0.3 percent this year, after contracting 2.8 percent last year, according to a May report.
Before it's here, it's on the Bloomberg Terminal.
LEARN MORE