Frank Says Lincoln Derivatives Measure 'Goes Too Far'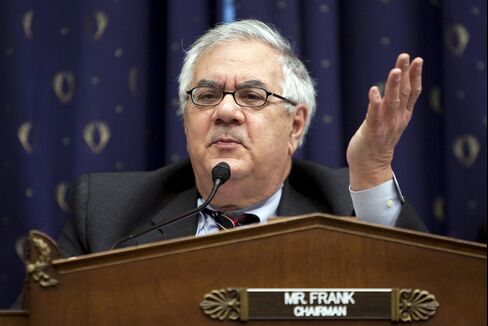 U.S. Representative Barney Frank, who will lead congressional talks to produce a financial-regulation bill, said Senate language that would require commercial banks to wall off their swaps-trading operations "goes too far."
Frank's comments today at a conference in Washington are the latest indication that the contentious swaps-desk provision may not survive final negotiations over the legislation.
A separate measure in the Senate bill that would restrict banks' proprietary trading -- the so-called Volcker rule named for former Federal Reserve Chairman Paul Volcker -- may address concerns targeted by Senator Blanche Lincoln's swaps-desk plan, Frank said.
"I don't see the need for a separate rule regarding derivatives, because the restriction on banks engaging in proprietary activity would apply to derivatives," said Frank, who is chairman of the House Financial Services Committee.
The Massachusetts Democrat will lead a bipartisan panel of lawmakers assigned to merge the House and Senate versions of legislation that will overhaul rules governing Wall Street. The House approved its bill in December and the Senate passed its measure last week.
Legislators must resolve differences over how to regulate derivatives, financial instruments based on the value of another security or benchmarks such as stock options. Lincoln's provision requiring banks to push out swaps desks has drawn opposition from the banking industry and government officials including Volcker, now an adviser to President Barack Obama.
'Too Disruptive'
Frank's "comments today mean that the language will eventually get pulled out before the bill is signed," Paul Miller, managing director at FBR Capital Markets in Arlington, Virginia, said in a telephone interview. "It's too disruptive. The regulators themselves are lobbying to get this out."
Fed Chairman Ben S. Bernanke and Federal Deposit Insurance Corp. Chairman Sheila Bair oppose the Lincoln language, saying barring commercial institutions from owning swaps desks will increase threats to the economy by forcing U.S. banks to look overseas for cheaper ways to hedge.
Lincoln, the Arkansas Democrat who leads the Senate Agriculture Committee, said her provision would allow banks to continue using swaps to manage risks in their loan portfolios through subsidiaries.
"However, using swaps to manage risk and using depositors' money for casino-style swap dealing are two very different things," she said today in a statement. "The Senate bill moves this risky activity out of the bank and into fully regulated entities."
Campaign Ad
Lincoln, who is facing a June 8 runoff with Arkansas Lieutenant Governor Bill Halter as she seeks the Democratic nomination for re-election to the Senate, unveiled a new television commercial today highlighting her efforts to impose tougher rules on Wall Street banks.
The Senate today named 12 negotiators, including Lincoln, to work with Frank and other House members to narrow differences between the two bills. Senate conferees will include Tom Harkin, an Iowa Democrat who backs Lincoln's measure.
"It's been self-evident that the White House, the Treasury and everybody involved has thought" the Lincoln language is "unnecessary, irrelevant and is not going to be part of the law that passes," Senator Bob Corker, a Tennessee Republican who will be one of the negotiators, told reporters today. "Volcker is less harmful."
Staff for Frank and Senate Banking Committee Chairman Christopher Dodd, another negotiator who wrote the Senate bill, will meet this week and next to look for areas of compromise. Negotiators plan to begin official meetings in two weeks.
Frank and Dodd have said they want to get a merged bill to Obama by July 4.
*T *T
Before it's here, it's on the Bloomberg Terminal.
LEARN MORE