Foster's Plans to Spin Off Wine Division; Shares Rise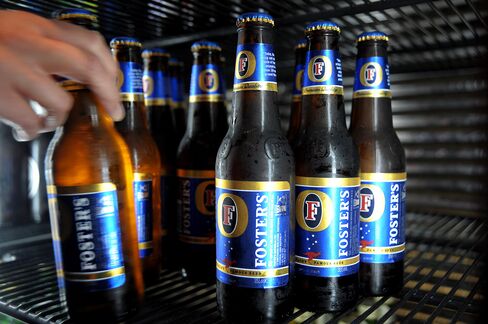 May 26 (Bloomberg) -- Foster's Group Ltd., Australia's biggest liquor maker, plans to spin off its wine unit, unwinding a A$6.8 billion ($5.6 billion) expansion marred by falling prices and shrinking profit margins.
Foster's shares rose the most in almost four years. Melbourne-based Foster's, which hasn't made a decision on the companies' final structure, will write down the wine unit by as much as A$1.3 billion before taxes, it said in a statement today.
Chief Executive Officer Ian Johnston is betting separate companies will be more appealing to investors as currency gains, an Australian grape glut and the U.S. recession cut earnings from wine. The brewing unit, with Australia's top-selling brand Victoria Bitter, generates 85 percent of earnings and is more profitable than Anheuser-Busch Inbev NV and Heineken NV.
"A demerger allows management and the market to focus on the beer business which is fundamentally solid," said Prasad Patkar, who helps manage about $1.3 billion in Sydney at Platypus Asset Management Ltd. "The wine business hasn't worked for Foster's since it was acquired."
Foster's gained 7.4 percent to A$5.53 in Sydney trading, the biggest gain since Aug. 29, 2006. The stock has posted just two annual gains since 2001 and is 2.1 percent lower than when Foster's paid A$3.2 billion in 2005 for Southcorp Ltd., the largest maker of Australian wine. The wine business, with brands including Wolf Blass and Beringer, is the world's second largest, trailing only Victor, New York-based Constellation Brands Inc.
Beer Unit's Value
Foster's has a market value of A$10.5 billion. The CUB beer unit may be worth A$12.5 billion alone, David Errington, an analyst at Bank of America Merrill Lynch, said in a note to clients today, before the announcement.
"We see A$1.50 per share available to Foster's shareholders if the company is split into two separate companies," Errington wrote. "The concern is that if the current performance is allowed to continue, the value of Foster's assets will erode ... permanently."
In addition to Victoria Bitter, its brews include Foster's Lager, which is sold in more than 150 countries.
A separate beer unit may attract a takeover offer from Coca-Cola Amatil Ltd. and SABMiller Plc, who are building an Australian brewery together, said Theo Maas, who helps manage A$5 billion at Arnhem Investment Management in Sydney.
Sally Loane, a spokeswoman for Sydney-based Coca-Cola Amatil, declined to comment in an e-mail.
No Takeover Offers
Foster's hired Gresham Advisory Partners to assist with the plan to separate its beer and wine units, with Foster's yet to make a decision on management, final structure or debt holdings of the entities.
"We will proceed as quickly as possible, but priority will be given to ensuring that all relevant matters are carefully and rigorously examined," Johnston told analysts on a conference call today.
Johnston said the company hasn't received any takeover offers for the whole company or individual units. John Pollaers, who became head of CUB last month, told reporters in Melbourne today that any decision on management is for the board to decide.
Foster's expects earnings before interest and tax of between A$1.05 billion to A$1.08 billion for the year ending June, excluding the impact of the new charges, it said today.
CUB posted a 38.5 percent first-half profit margin, which measures earnings before interest and taxes as a proportion of revenue. Anheuser-Busch Inbev, the world's largest brewer, has a margin of 27.9 percent while Heineken's is 12.4 percent.
Mildara Blass, Beringer
Foster's began expanding into wine 15 years ago to offset stalling beer demand. It paid A$482 million for Mildara Blass Ltd. in 1996. It moved into California with the A$2.6 billion purchase of Beringer Wine Estates Holdings Inc. in 2001, before adding Southcorp in 2005.
The Southcorp purchase was led by former CEO Trevor O'Hoy, who left the company in July 2008.
Today's charges follow A$397.6 million in writedowns Foster's took in 2009 to sell vineyards and scrap brands and A$602.9 million in one-time items in 2008.
Foster's in February reported its lowest fiscal first-half profit in four years as gains in the nation's currency slashed the value of overseas sales, a grape glut in Australia prompted discounting and the U.S. recession curbed restaurant demand.
The wine business posted profit of A$99.2 million in the six months ended December, 41 percent less than it earned from the unit before buying Southcorp.
The company gets about 32 percent of sales from overseas, almost all of which is attributed to the wine unit. Each 1 cent move in the Australian dollar against its U.S. counterpart affects earnings before interest and taxes by A$1.9 million.
To contact the reporter on this story: Robert Fenner in Melbourne rfenner@bloomberg.net
To contact the editor responsible for this story: Frank Longid at flongid@bloomberg.net