Falco Gets Out of Jail; Frump Cleans Michelangelo: John Simon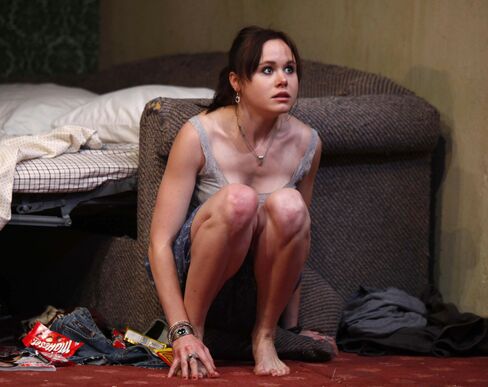 Give actresses as fine as Edie Falco and Alison Pill a halfway decent play like "This Wide Night," and you've got yourself an evening of theater.
Chloe Moss's play about what happens to women after release from prison is scrupulously unsensational and a bit uneventful. But such acting, in this production from New York's Naked Angels company, makes it an event.
Lorraine (Falco) did 12 years for a crime that involved a killing. The much younger Marie (Pill) had a lesser sentence (cause and duration unspecified), but they were cellmates who liked each other and presumably expected some nexus on the outside. Freedom, they discover, like rich food to a shrunken stomach, does not go down easy.
Marie is living in a cheap studio apartment that her messiness makes even seedier. A knock on the door frightens her and Lorraine gets a grudging welcome. How long is the visit to be? As Lorraine stays on, a somewhat uneasy friendship is reconstituted, but differences in what the women want from freedom -- or are able to get from it -- cause unease.
Moss spent three months at a British women's prison and, sympathetically, absorbed enough for 50 plays, she says. She deliberately does not spell out what Lorraine and Marie's crimes were, doubtless because the play was commissioned to be performed in women's prisons. If specific offenses are not stated, other inmates can more readily identify with the characters.
Bar Nights
Intimacy, enhanced by profuse beer consumption and even the gift of a jacket from Marie to Lorraine, does not come smoothly. Lorraine's problem is whether her grown son will forgive and accept her. Also how to find a job. Marie ostensibly works nights at a bar, but that proves a lie. Sometimes they help each other, sometimes trouble erupts. Will they stay together?
Rachel Hauck has designed the perfect seedy apartment and Emily Rebholz has provided suitably telltale clothes. Under Anne Kauffman's assured direction, the actresses beautifully convey both jolly companionableness and also the nagging fears and even despair underneath.
Through June 27 at the Peter J. Sharp Theatre, 416 W. 42nd St. Information: +1-212-279-4200; http:www.ticketcentral.org. Rating: **1/2
'Restoration'
Claudia Shear, who as author and female lead has foisted her dual presence on us in a number of exhibitionist plays, does so most uninhibitedly in "Restoration" at the New York Theatre Workshop.
Schlubby Giulia, who does picture framing in a Brooklyn garage, is the former star pupil of the eminent Professor Williams, who has taught her everything there is to know about art restoration, and who invites her to present herself for the cleaning of Michelangelo's David in Florence.
The premise is absurd. That an obscure foreigner should be picked for the job by a distinguished, but non-Italian specialist, and then passed by a board consisting of an Italian official, Dottoressa Marciante, and young and glamorous Daphne of the influential Tornabuoni family, is worse than fictitious; it is factitious.
What ensues is twofold: Giulia's ultimately triumphant struggle with Marciante and Daphne and her intimate relationship with Max, a married, highly literate museum guard.
Max is tall, handsome and newly in love with his wife. Yet we are to believe that he and unlovely, falsely modest Giulia come close to having an affair. In their farewell scene, the frumpy Giulia even wears what is described as a "nice dress," which still looks terminally tawdry and suited only for a female clown.
Showy Italian
There are funny lines here and there, and some manifest research, as well as bits of showy Italian, but nothing can compensate for Shear's charmlessness and chutzpah.
There is, though, compensation from Scott Pask, today's busiest set designer, in the form of perhaps the most spectacular set of the season. Not only are a large museum room and its elaborate lighting breathtakingly reproduced, but David is there, too, encircled by elaborate scaffolding and revealed to us only in tantalizing pieces.
Alan Mandell gives a good Gielgud impersonation as Professor Williams, but Jonathan Cake, rather too grand for a guard, is at least as British as Italian.
Chrisopher Ashley has directed competently, though without a solution for the mechanistic entrances and exits, and David Lander's lighting is variously impressive. If only he could have come up with something the opposite of a spotlight for Shear.
New York Theater Workshop, 79 E. 4th St. Information: +1-212-279-4200 or vist http://www.nytw.org. Rating: *
What the Stars Mean:
****       Do Not Miss
***        Excellent
**         Good
*          Poor
(No stars) Worthless
(John Simon is the New York drama critic for Muse, the arts and leisure section of Bloomberg News. Opinions expressed are his own.)