BHP Group Offers A$4.85 Billion for Coal Rail Assets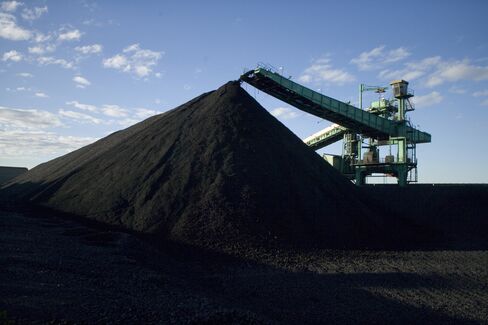 May 26 (Bloomberg) -- BHP Billiton Ltd., Xstrata Plc and 11 other coal miners in Australia bid A$4.85 billion ($4 billion) for the nation's biggest coal railroad to head off the state government's planned initial public offering.
The bid exceeds what Queensland state would achieve in an IPO, Nick Greiner, chairman of the Queensland Coal Industry Rail Group, said today in a statement. The state believes its share sale plan, which the Australian newspaper said may raise A$3 billion, "is the right decision," Treasurer Andrew Fraser said.
The mining companies, including Rio Tinto Group and Peabody Energy Corp., are seeking control of the tracks as demand from Asian steelmakers expands and congestion stalled exports. Taking control would eliminate the risks of an independent operator raising fees on the monopoly asset.
"The rail group is bidding more for the track alone than what the government was hoping to achieve for the whole network," said Andrew Harrington, an analyst at Patersons Securities Ltd. in Sydney. "The incentive for the coal miners is to get more of their coal on ships, which means more tracks and cheaper transport. There is little incentive for a privatized vertically integrated enterprise to expand track."
The Queensland government's planned IPO is for Queensland Rail's tracks and trains, while the mining companies' bid is for the rail network only. The state is reviewing the bid, Fraser said today. The government hasn't said how much it intends to raise from the IPO, which was scheduled for the end of this year.
Expand Railway
The mining group, which accounts for 98 percent of Queensland's export coal industry, plans to spend A$2.05 billion on the railroad and has arranged a loan of A$1.35 billion for the bid, Greiner said. The network operates in a "sub-optimal" way, he told reporters today.
Australian Rail Track Corp., which manages tracks in three states including the Hunter Valley coal network in New South Wales, would run the railroad under the group's plan, Greiner said. Australian Rail Track intends to participate as an equity owner and discussions are advanced, he said.
QRNational Coal, a unit of the Queensland state-owned QR Ltd., operates more than 540 train services from 56 mines for 23 customers each week in Queensland and New South Wales, according to its annual report. The business booked sales of more than A$1.3 billion in 2008 and 2009, and transports about 185 million metric tons each year.
"The decision that we've made about the structure of QR into the future and the nature of the sale program that we've decided upon is the right decision," Treasurer Fraser said today. "It's not just about the price, it's actually what's best for the workers and the long-term benefit of the Queensland economy."
Asset Sales
Queensland Premier Anna Bligh said in June that the non-passenger parts of its rail network may be worth A$7 billion. The state planned to keep a 25 percent to 40 percent stake.
Bligh is selling assets to prop up finances after forecasts the global recession will cut government revenue by A$15 billion over four years to 2012. Credit Suisse Group AG, Goldman Sachs JBWere, Merrill Lynch, Royal Bank of Scotland Group Plc and UBS AG are managers for the share sale.
There is a "strong case" for the government to consider the bid, John Quiggin, a federation fellow in economics and political science at the University of Queensland's School of Economics, said from Brisbane today by phone.
"The offer looks more appealing than what they're going to get in a float," he said. "They've managed to carry it off without giving any reasons for what they've done. They can certainly change their minds."
Rail Congestion
Rail constraints in Queensland's Bowen Basin will persist for as long as two years, hindering export growth, Deutsche Bank AG said in March, citing an independent report.
"This is about guaranteeing that investments are made in the regulated assets at the right time or early," Greiner said. "The coal companies are incentivized to invest more in the track, maintain the track better and operate it better."
The Dalrymple Bay port, which ships steelmaking and power-station coal from Queensland, may be constrained for as long as two years, possibly limiting export to as little as 65 million tons of coal this year, compared with a terminal capacity of 85 million tons, Deutsche said.
Coking Coal
BHP and Mitsubishi Corp., which own the world's largest coking coal exporter, won a 55 percent price increase from JFE Holdings Inc. for a three-month coking coal accord started in April. BHP expects an annual demand growth rate of 5.5 percent until 2025, Hubie van Dalsen, the president of its metallurgical coal operations, said May 5.
BHP, Rio, Xstrata, Peabody, Anglo American Plc, Macarthur Coal Ltd. Vale SA, Wesfarmers Ltd., Ensham Resources Pty, Felix Resources Ltd. and Jellinbah Resources have all signed equity commitments for the bid. New Hope Corp. and Aquila Resources Ltd. support the offer and have the opportunity to contribute equity at a later stage, Greiner said.
The acquisition loan is underwritten by ANZ Banking Group Ltd., BNP Paribas SA and Citibank NA. the group said.
"There's a general industry view that the IPO is not the way to go," Russell Tipper, general manager of iron ore for Aquila, said in an interview in Perth today.
To contact the reporters on this story: Ben Sharples in Melbourne at bsharples@bloomberg.net; Jason Scott in Perth at jscott14@bloomberg.net
To contact the editor responsible for this story: Andrew Hobbs at ahobbs4@bloomberg.net