Wright Bros., Lindy and Earhart Grounded in Show: Jeremy Gerard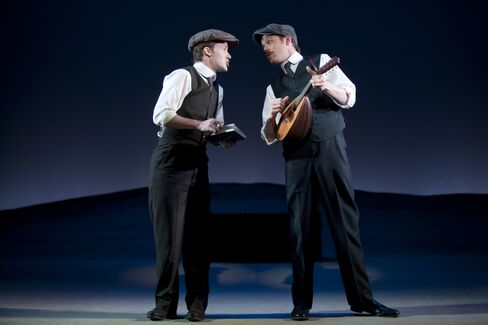 "Take Flight," a new musical having its U.S. premiere at the McCarter Theatre in Princeton, New Jersey, begins with Wilbur and Orville Wright on the chilly wide expanse of beach at Kitty Hawk, North Carolina. It's 1903, some weeks before their December flight of 120 feet.
They have little more than a steamer trunk, Orville's mandolin and a book full of someone else's erroneous mathematical calculations. They take in the sandscape, the wind and the hungry flies swarming them. Then they're gone.
Suddenly a trapezoid descends from above, stopping midway between stage and proscenium. Inside, a begoggled man sings, "Nothing but me and the drone of a plane, I could not be more alone here." The pilot is nodding out, hallucinating halfway through his solo transatlantic flight.
Then it happens again: Faster than you can say Lucky Lindy, the scene shifts to the New York office of publisher George Putnam, where a young nobody implores him to let her be the first woman to do what Lindbergh did. He's no match for Amelia Earhart, who sings:
"My mother's a saint, say I. Saints make no complaint, or cry. They accept what occurs and avoid making stirs and if my life should end like hers, I'll die."
Earhart's Egg
When Amelia does fly, she gets a feminine ovoid swing to offset Lindbergh's angular cage. Neither looks much like an aircraft, and if you go to "Take Flight" hoping for a glimpse of the Wright Brothers' biplane, well forget about that, too.
This is, to use a relationship phrase, a very withholding musical, and one with ADD, to boot. Constantly jumping among the three stories that defined the early days in the age of aviation, it's enough to make you dizzy.
The talents behind "Take Flight" are experienced hands. Composer David Shire is best known for his film scores ("The Conversation," "Norma Rae"). Lyricist Richard Maltby Jr. put together "Ain't Misbehavin'" and "Ring of Fire." John Weidman is a frequent collaborator with Stephen Sondheim ("Pacific Overtures," "Assassins"). Director Sam Buntrock staged the excellent recent revival of Sondheim's "Sunday in the Park With George."
The unhappy result is a hodgepodge that lacks focus, skitters across the surface of its characters and fails to deliver a single original-sounding tune. Shire's musical phrasings repeatedly echo the Sondheim of "Sweeney Todd" and "Sunday."
With all that scene shifting, it's little wonder that David Farley's sets are perfunctory or that the actors barely sink their teeth into their roles before having to switch gears, though Jenn Colella gets plenty out of the persistent Earhart.
You know that at some point Orville is going to play that mandolin. I kept wondering, "So, where's the damned Spirit of St. Louis?"
"Take Flight" runs through June 6 at the Roger S. Berlind Theatre, 91 University Place, Princeton, New Jersey. Information: +1-609-258-2787; Theatre, 91 University Place, Princeton, New Jersey. Information: +1-609-258-2787. Rating: **
What the Stars Mean:
****       Do Not Miss
***        Excellent
**         Average
*          Poor
(No stars) Worthless
(Jeremy Gerard is an editor and critic for Muse, the arts and leisure section of Bloomberg News. The opinions expressed are his own.)
Before it's here, it's on the Bloomberg Terminal.
LEARN MORE