Thai GDP Grew Most Since 1995 Before Unrest Erupted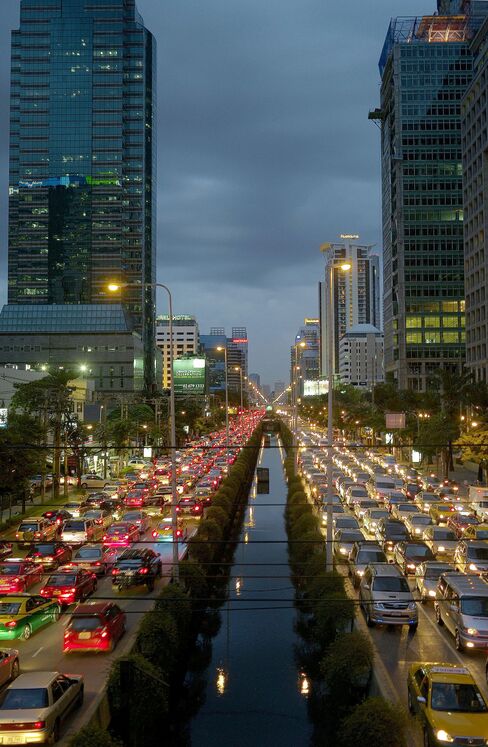 Thailand's economy expanded the most since 1995 last quarter, before the nation's worst political violence in 18 years undermined the country's recovery.
Gross domestic product rose 12 percent in the three months through March from a year earlier, beating the 9 percent median estimate in a Bloomberg News survey of nine economists. The economy grew a revised 5.9 percent in the fourth quarter of last year, the government said in Bangkok today.
Asian economies have benefited from an export rebound that's helped lift growth from Singapore to Taiwan, an acceleration that may be slowed should Europe's debt crisis hamper the global recovery. Thailand may be among the most vulnerable because its domestic demand is endangered by the protests and rioting that killed more than 80 people.
"With the first-quarter GDP growth coming strongly as a pleasant surprise, the image seen from the rear view mirror is a rather rosy one," said Wellian Wiranto, an economist at HSBC Holdings Plc in Singapore. "However, the unfortunate events in the past few weeks must have dealt the second-quarter GDP with a bumpy ride."
Thailand's benchmark SET Index dropped 2.4 percent to 747.44 at the 12:30 p.m. lunch break in Bangkok, reflecting the global stocks rout on May 20 and May 21 when the bourse was closed because of violent clashes between demonstrators and security forces. The baht gained 0.2 percent to 32.39 per dollar as of 12.53 p.m., according to data compiled by Bloomberg.
Protest Camp
Rioting erupted across Bangkok on May 19 after Thai security forces backed by armored vehicles cleared an anti-government protest camp and forced its leaders to surrender. More than 30 buildings were set alight, including the Stock Exchange of Thailand's building, the nation's biggest shopping complex, owned by Central Pattana Pcl, and at least eight branches of Bangkok Bank Pcl, the country's biggest lender.
The impact of the political unrest on the Thai economy has been "critical, especially on confidence," Ampon Kittiampon, secretary-general at the National Economic and Social Development Board, the government's economic advisory body, said at a briefing in Bangkok today. GDP may have expanded by between 6 percent and 7 percent this year had it not been for the violence, Ampon said.
"But from the protests and unrest that have happened, we have to maintain the 2010 GDP forecast at 3.5 percent to 4.5 percent," he said. "We still have a chance to grow more than this if we stay focused on fixing the problems."
'Negative Growth'
The economy grew 3.8 percent in the first quarter from the previous three months, the government said today. That compared with the 1.7 percent median forecast of six economists surveyed by Bloomberg News.
"If the unrest can't be settled, we may see negative growth in the third quarter" from the previous three months, Ampon said. "And we will be in very deep negative growth in the fourth quarter."
Thailand's political violence may cost the economy as much as 150 billion baht ($4.6 billion) and curb GDP growth by 1.5 percentage points this year under the agency's current forecast, he said.
Prime Minister Abhisit Vejjajiva's government has already seen consumer confidence drop to a nine-month low, leaving economic growth reliant on exports. The central bank forecasts that Southeast Asia's largest economy after Indonesia may grow as much as 5.8 percent this year on overseas demand.
Investors to Return
Thailand's economic fundamentals remain "promising" if the government can quickly deal with the political unrest, bourse president Patareeya Benjapolchai said in an interview with Bloomberg Television on May 21. "Investors will come back."
The first-quarter GDP figures show the economy's "strong fundamentals," Abhisit told reporters in Bangkok today.
"The government will have to assess the impact from protests in May or June to see which sector has been affected, especially the tourism sector," he said. "The government needs to restore confidence quickly."
Bank of Thailand Deputy Governor Bandid Nijathaworn said today's numbers were "in line" with central bank expectations. Strong exports and supportive fiscal and monetary policies helped boost the economy in the first three months, he said.
Political tension and deadly demonstrations in Thailand haven't hurt the nation's credit fundamentals, Moody's Investors Service said today as it maintained its negative outlook on the debt rating.
Credit Rating
"The political conflict has yet to damage its core credit fundamentals to the extent that a more negative action would be warranted at this time," the ratings company said in a statement. "However, a protracted undermining of investor sentiment would have adverse effects on Thailand's longer-term credit fundamentals."
Moody's has a Baa1 rating on Thailand's long-term foreign- currency debt, the third lowest investment-grade ranking.
Japan, Singapore and Taiwan last week reported growth in their economies accelerated last quarter as companies from Nissan Motor Co. to Taiwan Semiconductor Manufacturing Co. increase exports and domestic spending strengthens. Still, Asian stocks fell May 21 as European leaders struggled to contain the region's debt crisis, raising the risk of a slowdown in exports.
European Crisis
Fiscal woes may push Europe into a "double-dip" recession while growth in advanced nations will be "anemic," New York University professor Nouriel Roubini said this month. The European Union and the International Monetary Fund have offered as much as 750 billion euros ($940 billion) to countries in danger of financial instability.
The Bank of Thailand last month kept the benchmark one-day bond repurchase rate unchanged at 1.25 percent, the lowest level since July 2004, saying it "views the heightened political risk as a key factor affecting confidence, tourism, private consumption and investment." The central bank will next meet on the key rate on June 2 and will look at the latest information before making a decision, Bandid said today.
"The central bank is unlikely to raise the rate at its meeting next week," said Somprawin Manprasert, an economist at Tisco Securities Ltd. in Bangkok. "The risk for political uncertainties remains high. They may want to wait to see the consequence of the political chaos to the economy first before making a decision. Once they decide to raise the rate, they can't take it back."
Manufacturing jumped 22.8 percent in the first quarter from a year earlier, compared with a 9.9 percent gain in the previous three months, according to today's report.