U.S. Stocks, Euro Retreat, Treasuries Gain on Debt Crisis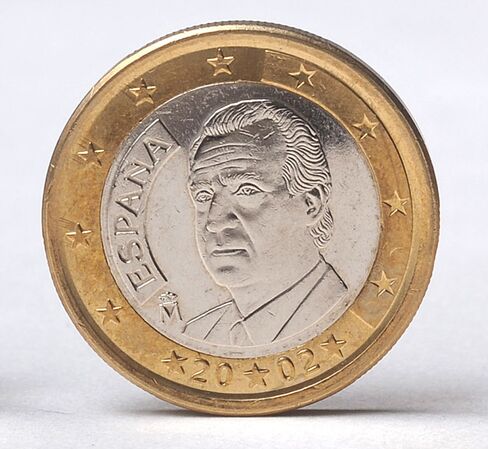 U.S. stocks slid and Treasuries rose, with 10-year yields near the lowest level in a year, while the euro erased most of last week's gain versus the dollar as the seizure of a Spanish bank fueled concern the fallout from Europe's debt crisis isn't over.
The Standard & Poor's 500 Index fell 1.3 percent to 1,073.65 at 4 p.m. in New York and the Dow Jones Industrial Average tumbled 126.82 points, or 1.2 percent, to 10,066.57, its lowest close since Feb. 10. The yield on the benchmark 10-year Treasury note fell 3 basis points to 3.21 percent, near the 3.1 percent low reached May 21. The euro lost 1.6 percent to $1.2374, near its level before last week's 1.7 percent rally. Oil and copper gained on signs China may delay measures to slow economic growth.
Signs of strains in credit markets are emerging as European leaders struggle to halt a debt crisis triggered by swelling government budget deficits. The Libor interest rate banks charge each other for three-month loans in dollars has climbed to the highest since July. The Bank of Spain removed the managers of CajaSur, a savings bank crippled by property loan defaults, and put the lender under a provisional administrator.
"There's a little new twist to the European crisis," said Bruce McCain, chief investment strategist at Cleveland-based Key Private Bank, which manages $25 billion. The seizure of the Spanish bank and a higher Libor rate "enhance fears about the European banking system and the impact that could have in the U.S. banking system and the economy worldwide."
Financials Lead Declines
JPMorgan Chase & Co. and Bank of America Corp. lost more than 3.5 percent to lead the Dow lower and financial shares tumbled 2.9 percent as a group for the biggest drop among 10 industries in the S&P 500. Apple Inc. jumped 1.8 percent after Morgan Stanley advised buying the stock as one of its "best ideas" picks and raised its price estimate.
Corporate bond sales are poised for their worst month in a decade, while relative yields are rising the most since Lehman Brothers Holdings Inc.'s collapse, as the response by lawmakers to Europe's sovereign debt crisis fails to inspire investor confidence. The U.S., Spain and Greece are among developed nations whose borrowings put them in a "ring of fire" amid sovereign debt concerns, said Pacific Investment Management Co., which runs the world's biggest bond fund.
'Ring of Fire'
"While the support declared by European leaders and the International Monetary Fund quelled concerns of sovereign risk spreading, Greece's ability to refinance near-term debt remains a risk," said John Wilson, head of the Australian unit of Newport Beach, California-based Pimco, in an e-mailed statement today. "Other developed countries in this 'ring of fire' are Ireland, Spain, France, U.S., U.K., Italy, Portugal and Japan."
The London interbank offered rate, or Libor, for three-month loans in dollars rose to more than 0.5 percent for the first time since July 24, data from the British Bankers' Association showed today. The rate climbed to 0.51 percent, the highest level since July 16, from 0.497 percent at the end of last week, on concern about the quality of banks' collateral amid the euro-region's financial crisis.
"At what point does this end?" said Jason Cooper, who manages $2.5 billion at 1st Source Investment Advisors in South Bend, Indiana. "We need more definitive answers to what's going on over there."
Spain's Ibex 35 Index tumbled 1.3 percent, erasing most of its 1.5 percent advance in the previous session.
Spanish Banks
Spain's worst recession in 60 years has driven up defaults at the country's banks, which have until the end of June to seek aid from a government fund of up to 99 billion euros ($123 billion) as the regulator seeks to hasten mergers between ailing lenders to ease over-capacity and help them recapitalize.
Four Spanish savings banks plan to combine to form the nation's fifth-largest banking group with more than 135 billion euros ($168 billion) in assets. Caja de Ahorros del Mediterraneo, Grupo Cajastur, Caja de Ahorros de Santander y Cantabria and Caja de Ahorros y Monte de Piedad de Extremadura have submitted their proposal to Spain's central bank, they said today in a filing.
The decline in U.S. equities came even as the Stoxx Europe 600 Index rose 0.4 percent to rebound from a six-month low, led by gains in mining shares, amid speculation equities may have fallen too far on concern about the region's debt crisis. Rio Tinto Group jumped 1.7 percent to lead gains in basic-resources companies.
Brazil's Bovespa index erased an earlier advance to close 0.6 percent lower. The MSCI Emerging Markets Index climbed 0.4 percent after China's shares rallied on speculation the government will delay taking more steps to slow its economic growth.
Oil, Copper
The speculation over China policy also boosted commodities. Crude oil for July delivery rose 17 cents, or 0.2 percent, to $70.21 a barrel in New York. Prices are down 12 percent this year and up 14 percent from a year earlier.
Copper futures for July delivery climbed 8.65 cents, or 2.8 percent, to $3.1475 a pound on the Comex in New York.
The Shanghai Composite Index rallied 3.5 percent, the biggest gain since Oct. 9.
Policy makers in China, the world's fastest-growing major economy, should be cautious in introducing new tightening measures as the global economic environment is complex, Xu Lianzhong, an official with the National Development and Reform Commission's price monitoring center, wrote in a commentary published today in the China Securities Journal.