Ford Invests $135 Million, Adds 220 Electric-Car Jobs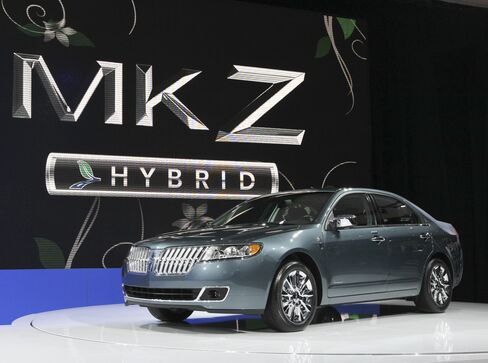 May 24 (Bloomberg) -- Ford Motor Co., working to make a quarter of its vehicles run at least partly on electricity, plans to invest $135 million and add 220 jobs at three Michigan facilities to help it introduce five such models by 2012.
About 50 engineers will be hired for a research and development center to be created in the Detroit area, John Stoll, a Ford spokesman, said today in an interview. Ford plans to add 170 production workers at two Michigan plants, he said.
Ford has said it will begin selling two electric vehicles and three new hybrids by 2012 and that such models will constitute 10 percent to 25 percent of its worldwide fleet in a decade. Automakers are developing models powered entirely or in part by electricity to meet U.S. fuel-economy standards.
"Ford has been at the forefront of layering this new technology into their vehicles," Michael Robinet, an auto-industry analyst with CSM Worldwide in Northville, Michigan, said in a telephone interview. "It's been an incremental strategy, but one that's well thought-out and bodes well for their future."
Ford fell 25 cents, or 2.2 percent, to $11.01 at 4 p.m. in New York Stock Exchange composite trading. The shares have gained 10 percent this year.
Hybrid Sales
Sales of the four hybrids Ford now offers are up 55 percent this year, according to researcher Autodata Corp. of Woodcliff Lake, New Jersey. Hybrids made up 1.6 percent of Ford's U.S. light-vehicle sales through April, up from 1.4 percent in 2009.
Ford plans to introduce a gasoline-electric version of its Lincoln MKZ sedan, the brand's best-selling model, this year. The company also is rolling out electric versions of the Transit Connect van this year and Focus small car in 2011 in the U.S. The electric models will come out 6 months to 12 months later in Europe, Ford said.
For hybrid sales to gain, gas prices must rise and governments must provide incentives to consumers, Mark Fields, Ford's president of the Americas, told reporters after an announcement at a factory in Ypsilanti, Michigan. The plant will get 40 new positions to build hybrid and electric-car batteries.
"Sales of hybrids always depend on the price of a gallon of gas when folks roll up to the pump," Fields said. "Our view is that gas prices will continue to rise."
U.S. rules require an average companywide fuel economy rating of 35.5 miles per gallon in 2016, up from 25 mpg now.
Ford has eliminated 47 percent of its North American workforce since 2006, and had 70,000 workers in the region at the end of the first quarter. The company has cut costs and overhauled its model lineup to become less dependent on sport-utility vehicles and pickup trucks.
More Hiring
There is a "high probability" Ford will hire new workers at the two Michigan factories making parts for electric vehicles beginning in 2012, Fields said. Those new workers would make $14 an hour, half of what workers now make, he said.
"We've got to work the process, but at the end of the day, we'll probably see some hiring," Fields said.
Ford is adding about 1,500 positions this year at plants in Chicago and Wayne, Michigan, while laying off 900 workers at a Mustang factory in Flat Rock, Michigan. Ford now has about 450 workers on indefinite layoff, Fields said. That number could grow to 900 once the Mustang factory ends its second shift in July, said Marcey Evans, a Ford spokeswoman.
The automaker ended three years of losses with a $2.7 billion profit last year as the U.S. auto market fell to the lowest level in 27 years.
To contact the reporter on this story: Keith Naughton in Southfield, Michigan, at Knaughton3@bloomberg.net.
To contact the editor responsible for this story: Jamie Butters at jbutters@bloomberg.net