Fed May Send Record $70 Billion to Treasury, CBO Says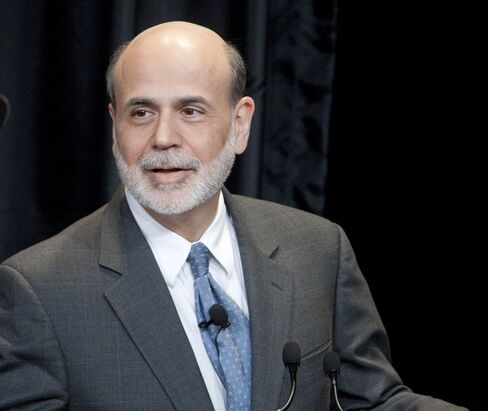 The Federal Reserve will probably transfer record earnings exceeding $70 billion to the U.S. Treasury Department this year on income from assets including mortgage-backed securities, according to the Congressional Budget Office.
"The Federal Reserve's actions to stabilize the financial markets are likely to significantly increase the amount of its remittances over the next few years," the CBO said in a report released today. It was prepared at the request of Senator Judd Gregg of New Hampshire, the senior Republican on the Senate Budget Committee.
The Fed returned $47.4 billion of its income last year, primarily from interest earnings on its assets, according to the Fed's annual consolidated financial statements. The central bank earns interest income from its holdings of Treasury securities, loans to banks and its holdings of housing debt, the Fed said. The amount returned to the Treasury in 2009 was $15.7 billion higher than in 2008.
The Fed's interest earnings soared as it purchased $1.43 trillion of housing debt to support mortgage lending, housing and credit markets. The mortgage-backed securities and Federal agency debt purchased by the Fed have higher yields than the Fed's traditional holdings of Treasury securities.
The CBO report estimated that the value of subsidies from the Fed's aid during the financial crisis was $21 billion. The biggest subsidies occurred through the Term Asset-Backed Securities Loan Facility, or TALF, where subsidies totaled $13 billion, according to the CBO's estimate.
Risk of Losses
"The TALF exposes the Federal Reserve to the risk of losses from defaults because it provides multiyear funding against risky asset-backed securities," the report said.
Those risks are partially offset by the Treasury's commitment to absorb the first $20 billion in realized losses, collateral haircuts which limit the amount of the loan to less than the value of the assets backing it, and interest income, the report said.
"The expansion of the central bank's activities has also significantly increased the uncertainty associated with its remittances over the next several years," the report said. The Fed's programs "entail considerably more risk of losses -- from increased interest rates, defaults, or prepayments of the mortgages backing its MBSs," the report said.
The CBO's assessment supports the assertion of Fed officials that the purchase of toxic assets from Bear Stearns Cos. and American International Group Inc. will eventually be profitable. The CBO estimates that the Fed will earn $2 billion each from the two programs it created to help AIG and $200 million from the Bear Stearns rescue.
The CBO report estimates the earnings will remain above $70 billion in 2011 and fall to $41 billion by 2013 before rising to $55 billion by 2020.
Before it's here, it's on the Bloomberg Terminal.
LEARN MORE