BP's CEO Says Chance of 'Top Kill' Success About 70%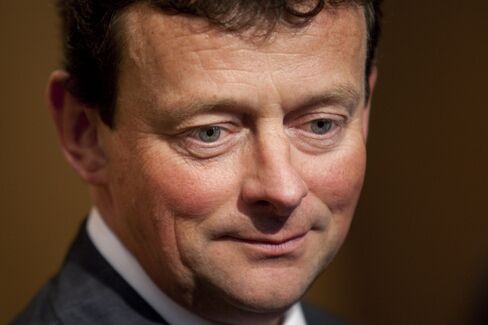 BP Plc's efforts to plug a leaking Gulf of Mexico oil well by pumping heavy drilling fluids into it have a 60 percent to 70 percent chance of success, said Chief Executive Officer Tony Hayward.
The "top kill" process is expected to start the morning of May 26 with results known that day, Doug Suttles, chief operating officer for exploration and production, said today in a conference call. Should top kill fail, BP is willing to cut the pipe just above the blowout preventer and drop a tight-fitting line over it to redirect oil to the surface, he said.
BP is trying to shut the monthlong oil leak that began after the Deepwater Horizon rig burned and sank, killing 11 crew members. Hayward, speaking to reporters near Port Fourchon, Louisiana, said the company would clean up "every drop" of oil and is prioritizing responses to shut the well.
"This is clearly a major reputational issue with BP," said Hayward. He said he was "gutted" by the environmental damage to the Gulf Coast.
The Environmental Protection Agency today ordered BP to immediately reduce the amount of dispersant chemicals it's using to break up the oil. The U.S. wants the company to "scale back" the amount of chemicals, especially on the water's surface, said EPA Administrator Lisa Jackson on a conference call.
BP appeared to want to "fight" rather than change the type of chemical it's using, Jackson said later in a news briefing in Louisiana. She said she wasn't "satisfied" with BP's response to the EPA's request last week that the company use a less toxic kind of dispersant. BP told the agency in a letter dated May 20 that the chemical it's using is a "better choice" for subsea application than other alternatives.
Affect on Profit
Stopping the spill with a column of mud, sealed with cement, would cut more than $1 billion off the cost of containment and cleanup, Lucy Haskins and other London-based analysts for Barclays Capital wrote today in a note to clients. Should top kill fail, BP's share of cleanup and containment costs will be $1.97 billion, reducing 2010 profit by 6 percent, the analysts wrote.
"The longer it takes, more costs are going to be incurred," Greg Smith, managing director of research firm Fat Prophets in London, said in a telephone interview today. The final bill, which depends on litigation, may be as much as $10 billion, he said.
BP fell 13.7 pence, or 2.7 percent, to 493 pence at 4:35 p.m. in London. The stock is down 25 percent since the April 20 explosion.
Costs Soar
The spill has cost BP about $760 million, or $22 million a day, compared with an initial estimate of $6 million a day, the London-based oil company said today in a statement. BP's net income in 2009 was $16.6 billion, or $45.4 million a day, according to data compiled by Bloomberg. The shares fell to a 10-month low.
The Barclays cost estimate was based on figures provided by BP May 18, when it reported costs to date of $625 million.
The top kill operation will involve pumping fluids with twice the density of water into the valve assembly that failed to stop the initial explosion. A flow of 50 barrels per minute is designed to force the oil and gas down the 18,000-foot (5,486-meter) well so it can be plugged with cement.
Should the mud flow the wrong direction, back up to the sea, engineers may inject thick fluid mixed with rubber scraps through valves higher in the blowout preventer to halt it, Suttles said.
Next Method
Oil is leaking at two points from the severed and kinked riser, a 21-inch, 53-centimeter pipe that once connected the well to the Deepwater Horizon.
Should top kill fail, a device called a lower marine riser package cap is on the seafloor and ready to be installed, Suttles said.
"We have other options," he said. "We want to capture as much of the flow as possible while we prepare those."
A month of study has persuaded engineers that the rate of spill would rise about 15 percent if the pipe was cut away, Suttles said.
BP today pledged as much as $500 million over 10 years to research the environmental impact of the spill, including the effects of chemical dispersants used to break up the oil. Louisiana State University will get an initial grant to assemble data that will be compared with later research, the company said.
Government Pressure
U.S. government officials stepped up pressure on BP in the face of criticism that they have been too lax in their oversight of the company's response. Oil has washed ashore along more than 65 miles (105 kilometers) of coast lining the Gulf of Mexico, according to Louisiana Governor Bobby Jindal.
U.S. Interior Secretary Ken Salazar yesterday threatened to "push them out of the way" if BP doesn't do enough to halt the leak. Salazar is scheduled to visit Louisiana and fly over the oil slick today, along with Homeland Security Secretary Janet Napolitano and a group of U.S. senators. Environmental Protection Agency Administrator Lisa Jackson went to the region yesterday.
"Everyone is very, very frustrated that we haven't been able to get this well to stop flowing," Suttles said. "I probably share that with the secretary. I wish this thing would come to an end."
The federal government is making sure BP Plc is doing all it can to stop the spill, U.S. Coast Guard Commandant Thad Allen said during a briefing at the White House. Only the private sector has expertise on a leak at that depth, and the company is "exhausting every technical means possible to deal with that leak," he said.
Some Recovery
BP has been diverting some of the spill for about a week, using a pipe to a drillship on the surface. The average recovery rate was 1,885 barrels of oil a day and 9 million cubic feet per day of natural gas from May 17 to May 24, David Nicholas, a BP spokesman, said today. In the past 24 hours, oil was recovered at a rate of 1,120 barrels a day.
BP is drilling two relief wells, which are scheduled to be finished in August, to shut the leaking well permanently.
Before it's here, it's on the Bloomberg Terminal.
LEARN MORE