Namibia Expands Uranium Mines as Diamonds Lose Shine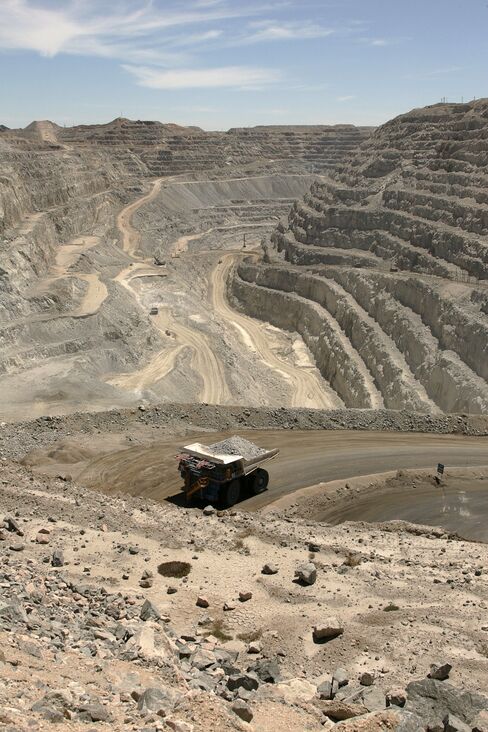 May 24 (Bloomberg) -- Namibia, stung by the collapse of the diamond industry two years ago, is trying to diversify its $8.2 billion economy by exploiting uranium deposits that are the second-biggest in Africa.
This week, the country will hold its first mining expo, where companies including Areva SA, the world's biggest nuclear reactor builder, and Rio Tinto Plc may announce further details about projects they are starting in the southern African nation.
Namibia's economy contracted 0.8 percent last year, after expanding 4.3 percent a year earlier, as mining output halved. Diamond production plunged to 929,006 carats from 2.22 million carats a year earlier, according to the central bank. Demand for the gems plunged as the worst recession since World War II deterred buyers of luxury items like necklaces and earrings.
"The uranium sector is on the verge of surpassing the diamond industry as Namibia's biggest," Luise Nakatana, a mining analyst at Investment House Namibia, a Windhoek-based brokerage, said in an interview on May 18. "If all the proposed projects come on stream, the uranium sector will play a significant role in the country's economic growth."
Namibian output may quadruple by 2015 as new mines are opened by companies including Extract Resources Ltd., more than doubling uranium's contribution to the economy, according to IHN. The industry accounted for 5.6 percent of Namibia's gross domestic product last year.
'Big Knock'
The southern African country is the world's largest producer of offshore diamonds, most of which are mined by Namdeb, a joint venture between the government and De Beers, the world's No. 1 diamond company. Last year, uranium sales totaled 4 billion Namibian dollars ($530 million), beating diamond sales of 3.8 billion Namibian dollars for the first time, according to Old Mutual Plc's Namibian unit.
"Diamonds have taken a big knock from the global financial crisis and we're still reeling from that," Veston Malango, general manager of the Chamber of Mines of Namibia, said by phone from Windhoek. "Uranium has taken center stage."
Projects coming on stream may boost uranium production fourfold to 40 million pounds (18,144 metric tons) within five years, Robin Sherbourne, group economist at Old Mutual Namibia, said in an interview. IHN estimates it may increase to 50 million pounds over the same period.
"We might end up producing a fifth of all mined uranium," Sherbourne said.
Russian Interest
Uranium companies are planning to spend more than $3 billion starting operations in Namibia, he said. In 2008, the country became the world's fourth-biggest producer, up from sixth. The Moscow-based State Atomic Energy Corp., known as Rosatom Corp., said last week that Russia is prepared to invest about $1 billion developing uranium deposits in Namibia.
The nation has "significant" reserves and isn't plagued by political instability like some rival producers, Marino G. Pieterse, a uranium analyst and editor of Uraniumletter International, said by phone from Amsterdam.
It does have a water supply problem, which is a "major concern" for companies planning to start production in Namibia, said Heike Smith, head of research at Windhoek-based IJG Securities Ltd. The country is mostly desert or semi-desert.
Insufficient or expensive water supplies, together with current uranium price levels, may hinder development, said Leon Pretorius, managing director of Deep Yellow Ltd., the Australian company exploring for uranium in Namibia. Existing operations, generally, are "only just" profitable at current price levels, he said.
Rio's Rossing
RBC Capital Markets cut its 2010 uranium forecast by 11 percent to $44.50 a pound from $50 last month as supplies increase, and said the metal may trade at $55 a pound next year and $75 a pound in 2012, when the market will move into deficit.
Among projects set to come on stream in Namibia is Rio Tinto's extension of the world's third-largest uranium mine, Rossing. The London-based company also has a 15 percent stake in Extract Resources, which plans to build the world's second-largest uranium mine nearby. Areva, based in Paris, is constructing the $750 million Trekkopje mine. Bannerman Resources Ltd., based in Leaderville, Australia, is studying a $555 million mine east of the coastal town of Swakopmund.
Korea Resources Corp., a state-run resources developer, reached an initial agreement with Namibia to cooperate on mining projects, Ahn Jong Ryung, a spokesman for the Seoul-based company, said by phone today. Korea Resources is conducting a feasibility study into two mines, he said, without elaborating.
Direct Participant
The Namibian government is also likely to become a direct participant in the industry, after forming exploration and mining company Epangelo late last year. Epangelo may form joint ventures with foreign investors, Energy Minister Erkki Nghimtina said in December.
While Namibia has had a moratorium on awarding new uranium exploration licenses since 2007, that's "not holding back the industry," said Willem Odendaal, coordinator of the Land, Environment & Development Project at the Legal Assistance Centre in Windhoek, adding that mining licenses are still being awarded and projects are going ahead.
"If the government is using the time to put the best policies in place to ensure the best use of income from non-renewable resources, then it's doing the right thing," he said.
Processed uranium, or yellowcake, traded at $41.25 a pound on May 21, having declined 7.3 percent so far this year, according to Metal Bulletin data on Bloomberg.
To contact the reporter on this story: Carli Lourens in Johannesburg at clourens@bloomberg.net
To contact the editors responsible for this story: Amanda Jordan in London at ajordan11@bloomberg.net